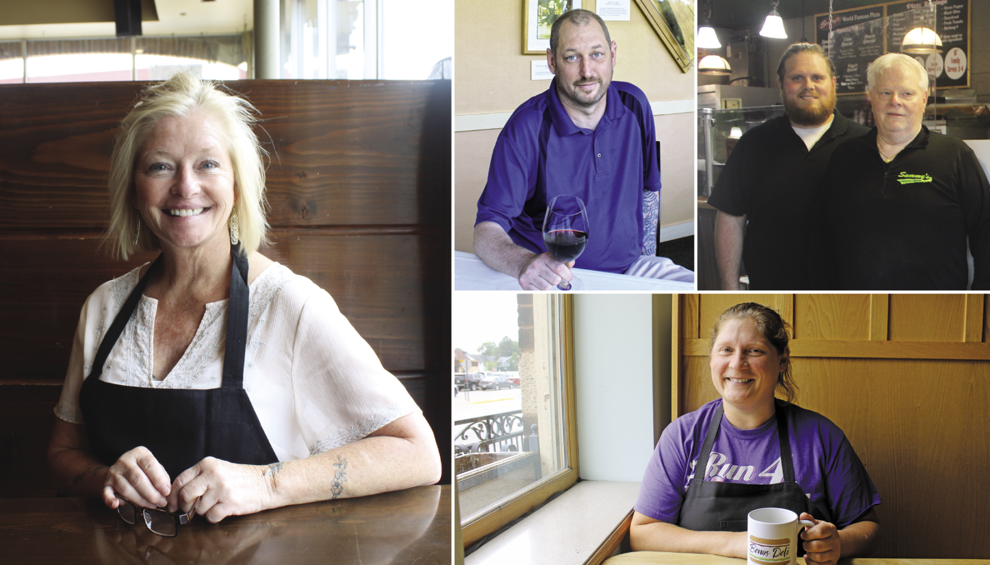 Despite the unavoidable drop in traffic from college students and tourists last year, Winona restaurant owners and managers of Acoustic Café, Beno's Deli, Sammy's Pizza and Signatures kept the lights on—in large part because of community support.
As the 1972 folk hit "Rocky Mountain High" by John Denver played in the background, Lori Nagle stood at the cash register, greeting customers and ringing in their orders at Acoustic Café in Winona, Minnesota. Nagle manages the eclectic, artsy gathering spot for hipster musicians, college students and local Winonans alike.
The corner café at 77 Lafayette Street is owned by Jerry Heymans, whose son Blake handles all the business aspects—and drives in each week from his Eau Claire, Wisconsin, home to mix their secret hoagie sauce. Not even Nagle knows the family recipe, and neither did the manager who came before her, who was there for 12 years. Heymans' ex-wife, Lois Sieve, owns the Acoustic Café in Eau Claire.
"The unique thing about this place is that nothing is on trend here at all," Nagle said. "We've literally had the same thing the whole time…We don't advertise at all in anything ever, just strictly word-of-mouth. We rely on our base customers to tell other people our café is great."
A make-shift stage was propped against the wall in the back half of the café. Typically, musicians perform every weekend—a tradition that's been paused since the start of the pandemic, but as of press time, Nagle was thinking about restarting. As the sole manager, Nagle is in charge of hiring and training the staff of 20. Only two are not college students, and one of them is Nagle's daughter. When the pandemic hit, Nagle saw a big drop in foot traffic—from 300 customers per day to about 30—a reduction largely driven by college students being sent home and less tourists traveling.
When an employee tested positive for COVID-19, Nagle closed the business and posted the news, and reasoning behind her decision, on Facebook. "Hundreds of people responded and said, 'thank you so much for being honest,'" she said. "It was a really great response. Jerry called me and said thanks for doing that, because it was better to be open about it. Then other businesses followed suit after that and started putting that info out there."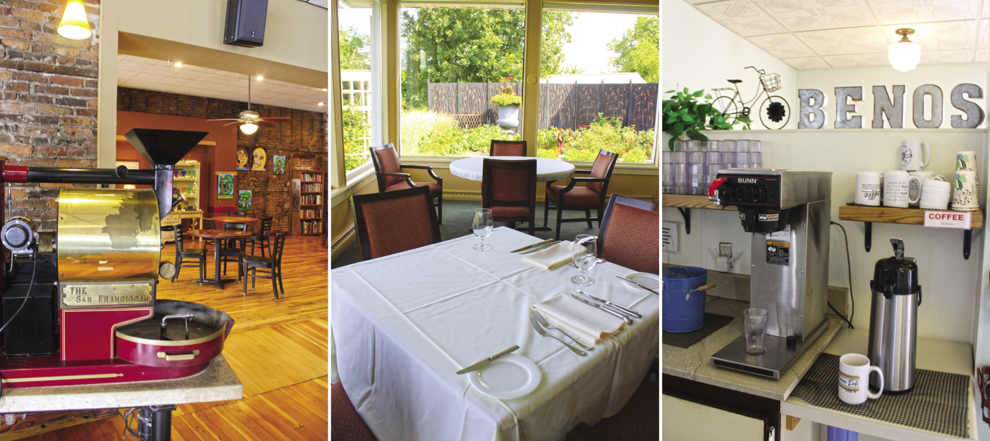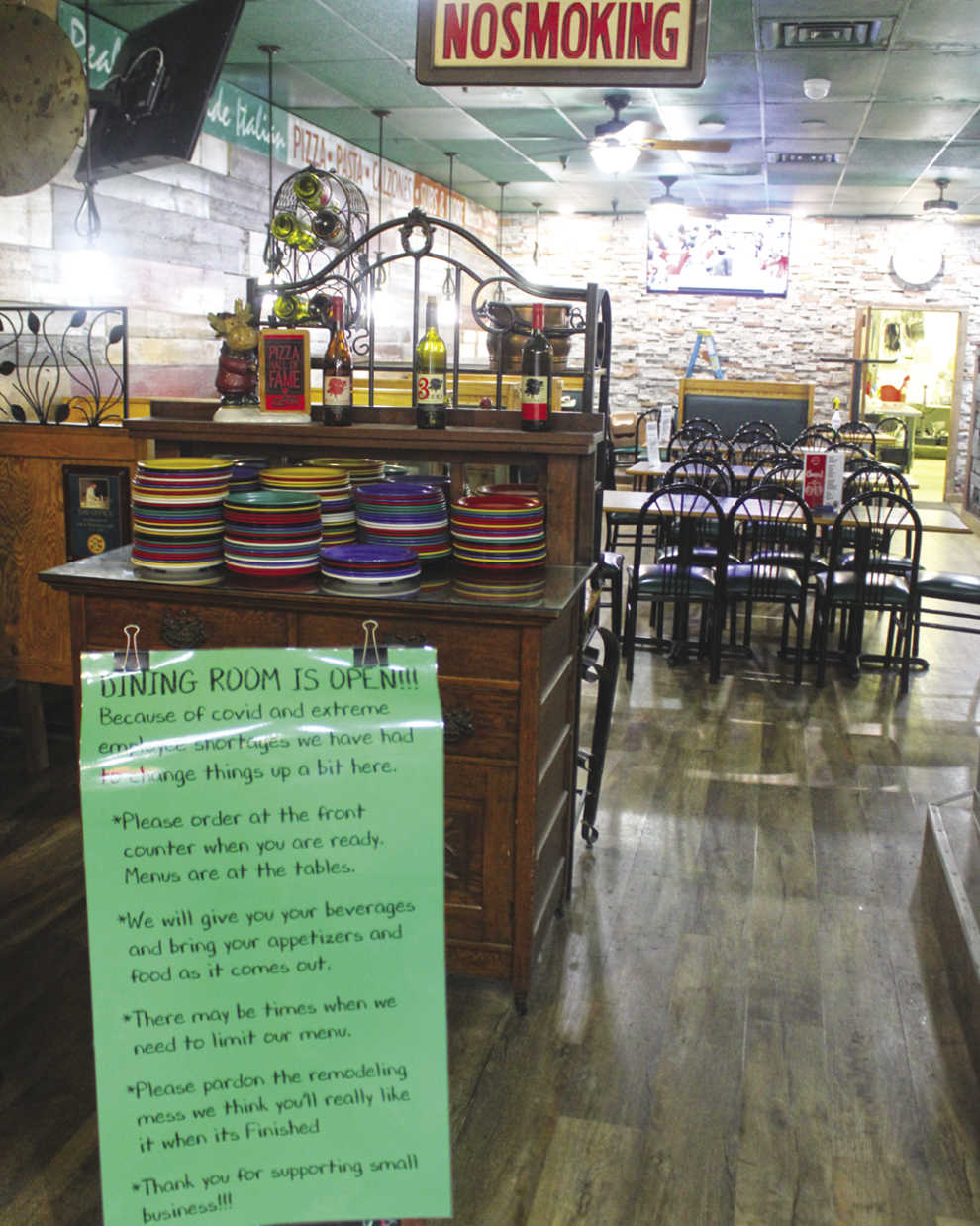 Winona is set in bluff country alongside the Mississippi River and began on the Native American village of Keoxa. The leisure and hospitality industry in Winona County accounted for more than 2,600 jobs in 2019 and brought in $97 million in gross sales, according to the Minnesota Department of Revenue.
Corinne Loomis, a native of Winona, described her hometown as mellow and laid back, with "a little bit of an Andy Griffith feel, but yet there's hustle and bustle." She bought and took over the 37-year-old Beno's Deli at 78 East 4th Street—which has served as both the jail and city hall at one point—in June 2014.
"Winona in general is just a weird kind of town," Loomis continued. "What works a lot of times for other cities, for whatever reason, does not work here. I get a lot of people wanting to advertise for us, calls from California and New York who say, 'do this, do this, it's working for us.' It won't work here, but I can try."
For instance, one idea Loomis attempted was requiring customers to enter their email addresses to get access to the deli's free WiFi. "People were like, 'I'm not doing that, it's weird.' It didn't take off," she said.
"I don't mind trying new things, but at what point do you realize, 'this isn't working?'" Loomis added.
Loomis felt the hit from the pandemic when the deli's main source of sales, the lunchtime business crowd, started working remotely. She had to close down her second location of Beno's at the mall in October, despite having a drive-thru option, because for half the week, they rarely saw a single customer enter after 11 a.m. "It became a lot of work for what we were getting out of it…a lot of running back and forth between stores to make sure both had what they needed, and we ended up throwing a lot away after a few days because it wasn't selling," she said.
Beno's was fortunate however, that much of its business came from to-go orders before COVID-19, so nixing the dine-in option didn't have a huge impact. She cut back on staff and some products, and never had to close because a staff member was sick. Loomis started offering curbside service during the pandemic and partnered with DoorDash in April this year.
Industrial and construction distribution giant Fastenal Company is headquartered in Winona, so Loomis said she was also fortunate that Fastenal would order bulk box lunches for its crew, which helped her restaurant stay afloat. Some donated so that Loomis could gift meals to community members in need. And a lot of locals bought gift certificates.
"Gift cards give you cash flow, but if they come in to redeem it right away it's gone. It's a short-term solution, but I'm still thankful for the people who came in and did that," Loomis said.
Nick Perrella, the owner of the iconic Sammy's Pizza in Winona at 126 West 2nd Street, also leaned into giving back to the Winona community during the pandemic. The 67-year-old pizza chain is up to 15 locations across Minnesota, Wisconsin and North Dakota, which are all owned by a family member or close friend. Perrella and his son, Zach, donated pizzas to hospitals, clinics, fire and police stations and other front-line workers during COVID, though they didn't keep track of how many pies they delivered total.
Like many pizzerias, Perrella's business was already comprised mainly of takeout and delivery, but it also introduced curbside, no-contact delivery. They put up plexiglass barriers in the store, and with the rise of the Delta variant of COVID-19 are keeping them up until conditions improve.
They also 86ed their salad bar buffet, which some customers have complained about, "but we're just not ready for it yet," Perrella said. About six other Sammy's Pizza owners plan to never bring the buffet back because of the high labor needed. But that didn't hinder Perrella's pizza shop, which he said saw "substantial growth" in sales in 2020—mirroring the success of the pizza segment nationwide.
"We're doing the best we can with what we have, and we're thankful the community supported us so well and still has," Zach said. "If it wasn't for the community, we wouldn't be here. All of it comes back to them."
And then there's Chad Rielander, president of Winona Golf and Dining, who had to lay off almost his entire staff during peak shutdowns. However, "the owner (who is one of the founders of Fastenal) went ahead and paid them all for an extra two weeks and provided meals for them for the entire first shutdown," he said.
Winona Golf and Dining includes Bridges Golf Course, Signatures Restaurant and Event Center and "The Grill" at Signatures. With just half of his cooking and golf course staff and no servers, bartenders, event or banquet employees, Rielander tried his best to leverage himself and his salaried workers to get by. They introduced takeout, but didn't choose to jump on the delivery bandwagon.
"It just wasn't making sense because of where we're located," Rielander said about the space nestled in the sandstone bluffs at 22852 City Road 17. "Third-party delivery didn't make sense. I didn't want someone delivering our food in their pajamas or have to raise prices 30 percent just to pay someone else to deliver, so we opted out of that one."
"Plus, I don't think our product travels real well. You order a steak from over here, it comes in a little plastic thing, crammed in there, and there's not the same elegance to it. Fresh-cut fries start getting soggy—I would rather have our product be what it's supposed to be all the time," Rielander added, spoken like the true chef he is.