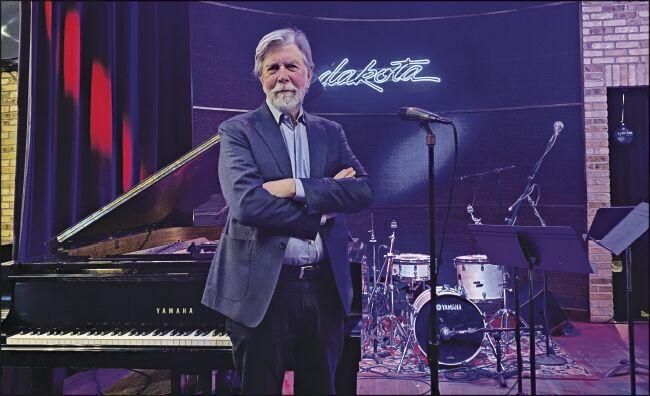 This was not the Dakota I remembered from the numerous times I sat at an upstairs table overlooking the stage to hear some notable musicians play their own brand of jazz. The stage in the middle of the now disheveled room still had a glossy grand piano, a pale yellow-colored set of drums and some stray standing microphones, but there was no hope that at any moment the musicians would make their way through the curtain and onto the stage.
There were no sounds of dinner preparations in the back and no spirits in the empty bar, no garnishes being prepped.
All the chairs and tables had been pushed aside to make room for the landlord to do some repairs above the dining room ceiling, and the dark room was in disarray, serving as storage space while the work was being done. It was sad to me as a consumer, but in no way did my sorrow top the chart of the owner's.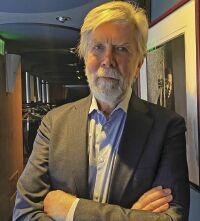 At one of the tables that had been shoved aside, the Dakota's owner Lowell Pickett sat washed in the red and blue strobe lights that shone down making a pool of purple on the stage to talk about what the pandemic has cost the music-loving community.
During the past year, Pickett has emerged as one of the voices of reason and urgency for the downtown restaurant owners who have banded together to find some solutions to the lack of people in downtown Minneapolis, the real and perceived issues of downtown crime and the limited numbers of seats restaurants can offer the dining public.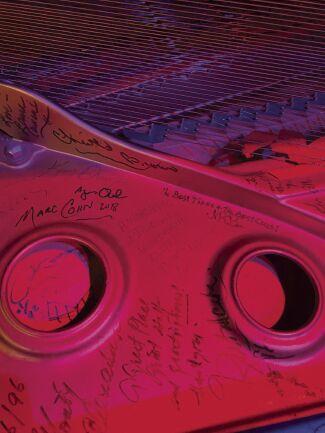 On the day I interviewed him, he had just gotten off a call with the West Coast Jazz Presenters and had learned that some of the members weren't planning to return to live shows until the fall. That is a long time to wait after being dark for most of 2020—with only the option of live streaming a few holiday shows.
"I tend to be an optimist," Pickett said, "which right now we need to be optimistic because we are going to get through this. Too many things are being pulled together to get us through.
"We see vaccines as a means to get back to shows. The experience here requires a full audience." He (and I) are hoping he's not forced to reschedule trumpeter Chris Botti for a third time and that he can do four nights of shows in late May. "We've scheduled and rescheduled scores of artists," he said. And when your job is scheduling almost 365 shows a year, that's a lot of phone calls.
Live music venues have had additional challenges during the pandemic since they are part restaurant/bar, part entertainment. A restaurant has the ability to stagger seating and reservations. But for a live music venue, all the patrons come pretty much at the same time and sit in the same seats for the hour-and-a-half show. On an average night there are two seatings, with a limited amount of time for staff to sanitize and clear away the dishes.
Add to that the additional responsibilities of keeping three groups safe: employees, guests and artists—who are singing and playing horns.
Reopening too soon "may be an unknown amount of risk, especially at a time when we can see the light at the end of the tunnel," he said. But not reopening was an economic challenge—even with the carrot of PPP loans and other grants.
On a positive note, when the doors can open, the venue has better ventilation than what is required for Covid safety, plus the bar area is pulling in outside air.
As we talked about the Dakota's back story, I was surprised that Pickett was as enthusiastic about naming the chefs who had worked for him as he was the famous artists who have graced the stage.
His first job in the industry was a prep cook at First Street Station. It was a side hustle for his day job as a nonprofit film maker. "This was not a chef-driven restaurant," he said. It featured crab legs, steaks, kabobs and a salad bar. Pickett spent his nights tearing up heads of lettuce and assembling kabobs, until he was tapped to be bartender, host and later general manager.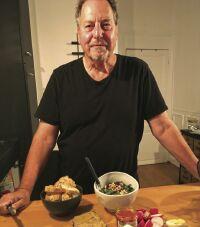 Pickett proved to be the kind of general manager every restaurateur dreams of: honest and responsible. After one shift he discovered he had lost the key that always hung on a peg by the door and he paid out of his own pocket to get the restaurant re-keyed (later he discovered the key had slipped off the ring and fallen behind a chest).
He described his switch from films to food as: "People only see one movie a year, but they eat every day."
He was asked to join three investors in a new restaurant, Faegre's, so he could continuing to make his independent documentaries on the side.
Faegre's was a pioneering chef-driven restaurant before it was commonplace. "We had some of the best chefs," he says ticking off a litany of names, that only a longtime Minnesotan would remember. I did recognize the names Lenny Russo and Ken Goff.
"Joan Siegel (of the Minneapolis Star), back when food critics could close a restaurant or make them, gave us four stars," he said. "The night the review came out there was a line down the block."
Sue Zelickson, WCCO food reporter and foodie philanthropist, remembers the restaurant fondly. "They had the best French fries and the music was out of this world," she recalled. Another detail that stuck in her mind were the restrooms, where the stalls had one-way glass where the occupant could see out, but others in the restroom couldn't see in. "It was a shock because you thought they could (see in)," she said with a laugh.
When Pickett was approached by the owners of a unique property in Bandana Square in St. Paul in 1985, he decided to risk opening a restaurant, even though most experienced operators wouldn't have been attracted to such an out-of-the-way property.
"I tried to think of why I'd go to a place out of the way," he said. "I'd go for outdoor dining, food I liked, good wine by the glass and music that was unusual." He figured if those things attracted him, they'd attract others as well.
He started booking local jazz artists and then national. He had made friends with jazz pianist McCoy Tyner when he had booked him years earlier for a joint event for the Walker Art Museum and Guthrie Theater, and Tyner's visits to the Dakota encouraged other national acts. Prince didn't perform at the Dakota, but he did occasionally sneak in the back way to listen to the touring acts.
Pickett was modest when it came to bragging about the national attention his venue has garnered, but not when it came to the food.
"Historically music has been a side to the food or vice versa," he said. "Our approach is one is not an accessory to the other." It's all about the food—and it's all about the music.
He asked Chef Ken Goff to be his head chef. When Goff left Faegre's­­—where the cooks were dipping French fries into Bearnaise sauce after someone had reported back that's what chefs in France did­—he wanted the menu to fit Pickett's musical choice of jazz.
He developed an American menu that focused on regionalized foods. "We cut out pineapple, avocados, that stuff," he said of foods that weren't indigenous. "No tuna, we were going to serve things based on what was local and specific to the upper Midwest: trout, apples, duck, walleye." He said he always scoffs when a chef says they're cooking Midwestern cuisine and then serves tuna—"tuna casserole, maybe," he quipped.
They found local purveyors and farmers willing to grow specific small batch items for them like arugula. It paid off.
The menu had to take into consideration that they would be delivering more than 100 plates at a time. Goff also wanted to stay within the food sensibilities of the upper Midwest. For instance, he said, a restaurant can serve a piece of cake slightly larger than a petit four with a melon-ball size scoop of ice cream on top, but they're not serving a Minnesotan dessert. "There's nothing Minnesotan about a small dessert," he said. "If you're going to serve ice cream, serve a lot of ice cream." Which is why he put a root beer float on the menu.
Goff also put a dish on the menu he called pork and beans. "I thought I'd make it fun—oh, god, it was really good, but it didn't sell," he said. Not until he changed the name to reflect that it was wild boar bacon with garlic sausage and Tongue of Fire Beans. Beef Stew had a similar fate until its upscale ingredients were spelled out. "I thought the funny name was the best," he said, still not conceding to popular naming norms.
Most of the menu was a la carte, he said, and so servers heard the classic Midwestern refrain, "What comes with that?"
In 2003 they moved to the Dakota's current location on Nicollet Mall, where Pickett added a business partner, Richard Erickson, who wanted a Blue Note-style place in the Twin Cities. Blue Note is the famous jazz club in New York City, where Chris Botti plays for the entire month of December. They also needed more space, and "We thought we'd be near the new Guthrie, but then this space came up."
"We tried very hard at the Dakota to make people feel comfortable. To have high expectations met," Goff said. "We wanted to be professional, warm, service with grace and it's not that easy and it's getting harder."
Pickett said they have a great staff who have amazingly mastered the art of serving without disrupting a guest's enjoyment of the show.
One of the perks of the job, Goff admitted, was that after the second shift was pretty much done, he could slip out and listen to the end of the show. They could hear the music faintly in the kitchen, but were usually too busy to enjoy it.
As far as working together all those years, Goff enjoyed their collaboration. "People love the guy, but he could also be infuriating, but that's what working with someone is like and no doubt he felt the same way about me," Goff said with a laugh. "You understood how much he cared about people and he wanted everyone to feel good about being there. Whether you were an employee or a guest."
Over the years they've received a wealth of positive reviews for the food and for the music. And if having a world-class jazz venue in downtown Minneapolis isn't enough to bring the people downtown, we need more magic than a vaccine.