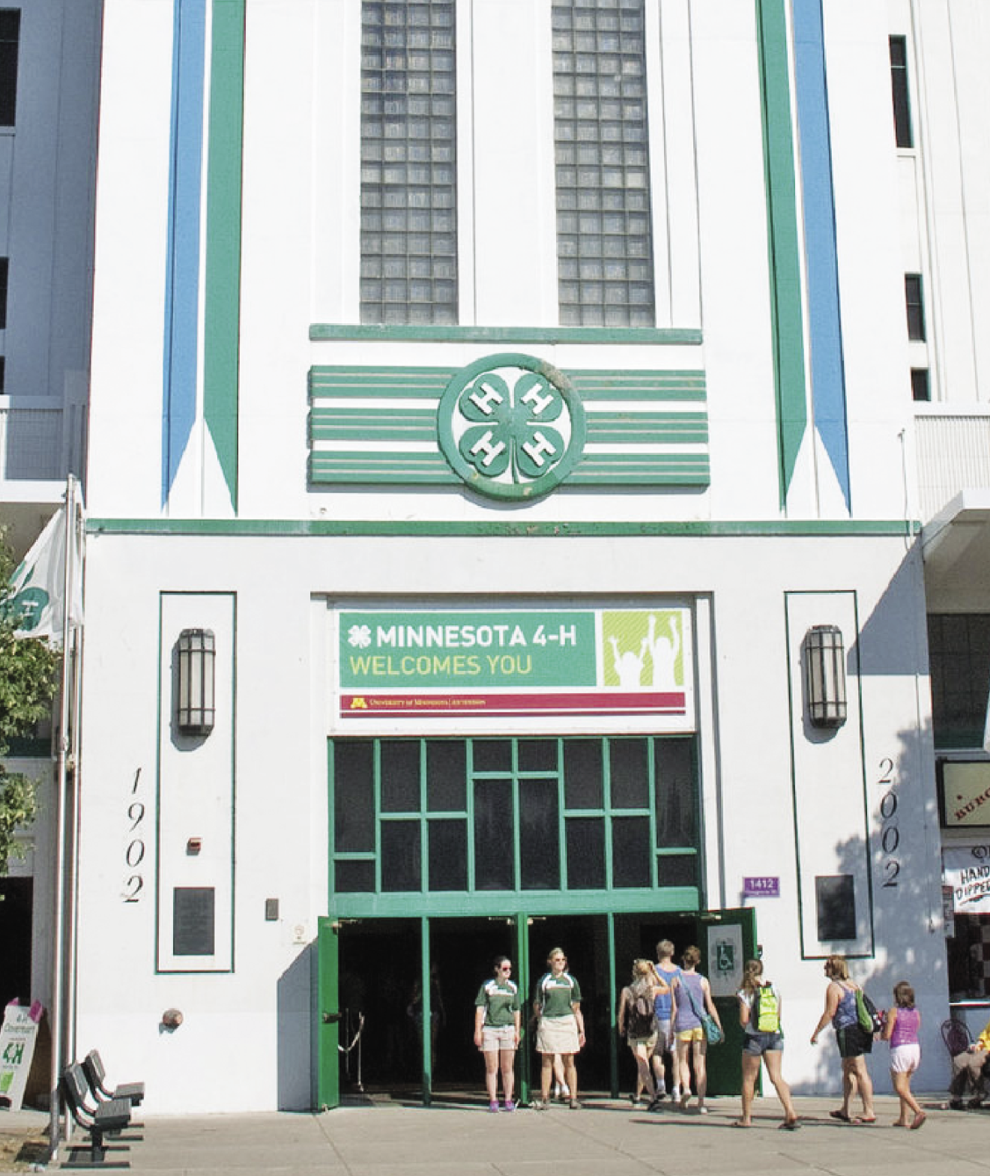 When thousands of 4-H participants descend on the Minnesota State Fair and its 4-H Building for the first time in two years, they must be fed. The 4-H cafeteria is ready to meet that need.
Diners served by the "caf staff" enjoy three full meals a day. They will also see added cleanliness and food handling precautions as a result of the pandemic.
"We are making changes to provide safety for everyone who uses our cafeteria," said Amber Greeley, director of state and county fairs programs for University of Minnesota Extension Service.
More than 33,000 meals were served in 2019.
The center of the Minnesota 4-H universe is an Art Deco building circa 1939 known as the "4-H Hilton." The public sees the main floor project displays. Upstairs are dormitories for 4-Hers and staff, and a large cafeteria and kitchen.
Meals are $8.50 each, which Greeley said is a bargain. 4-Hers certainly can and do enjoy the offerings at the fair's array of food stands and diners. For those who don't want a steady diet of food on a stick, the cafeteria offers familiar fare such as lasagna, pancakes, sausage and spaghetti and meatballs. Fruit, salads, desserts and beverages are also served.
Some 4-H youth and staff stay in the 4-H Building for the entire fair. That includes performers for Arts-In, an arts education experience complete with the performance of a musical featuring a huge cast, pit band and crew. 4-H Ambassadors, who assist with programs and greet building visitors, also stay for the duration.
Others come and go. During the first four days of the fair, many meals are served during the "livestock encampment." Youth bring their animals and birds to show. Hot meals are trucked to a tent near the barns and served there.
Then youth come in for other projects to be judged. Four groups come in from around Minnesota, by region. The 30 cafeteria staff members also prepare food for the Minnesota Livestock Buyers' Association banquet and the Dairy Showcase attendees.
Greeley said changes were made in 2019 to accommodate special diets. Food science graduates came in to develop menus. Diners get special cards stating meal restrictions.
The pandemic has brought more changes. Anyone working in foodservice must be masked. There will be increased vigilance to make sure people who show any symptoms of illness stay home. 4-Hers won't clear dishes and help out as they have in the past.
"We're going to try to keep the kids out of the kitchen," said Greeley.
Surfaces will be sanitized and cleaned more frequently. Dining tables will be spaced out. Diners may also see fewer buffet options. Past cafeteria managers agree that food safety is vital and that standards are never constant. "I think that change has always been part of foodservice," said Falcon Heights resident Elaine Christiansen. She managed the 4-H cafeteria for 30 years. Christiansen stepped down in 1984 and now spends her time volunteering at the Hamline Church Dining Hall.
"It seemed as if we were constantly updating equipment and practices to keep up with the times," Christiansen said. "With the pandemic, it's even more important."
"Over the years we've seen so many changes in licensing and food safety regulations," she added. "We were always careful, of course. But we didn't have the protocols that are in place now."
Shields weren't always provided between diners and servers. Nor were there "sneeze shields" for self-service counters or buffets. "We would not think of serving food without those shields now," Christiansen said.
Greeley said the intent is to provide good food as part of a good fair experience for 4-Hers. Last year, 4-H projects were judged in a virtual showcase. A survey earlier this year indicated that 4-Hers are more than ready to be back at the fair.
"And we will be ready for them," Greeley said.