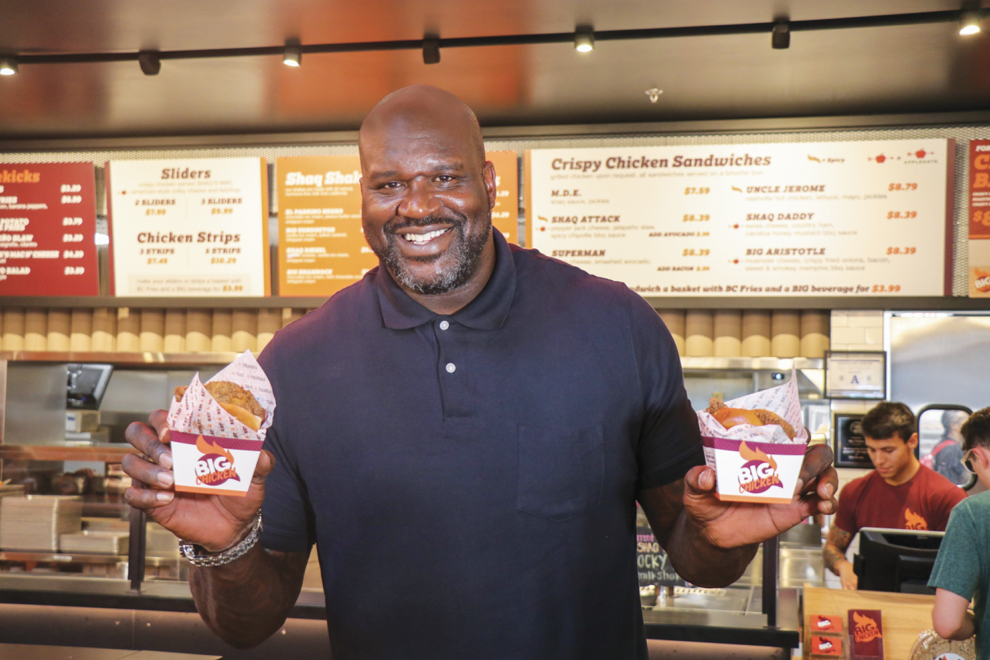 Shaquille O'Neal takes a bite of white American cheese, nodding his head as he chews. "Oh yeah, that's good. American. I like that one. That passes," he says in his distinctive, deep voice. "High-quality cheese, high-quality chicken equals a high-quality sandwich."
The tasting at Applegate Farms' headquarters in Bridgewater, New Jersey, part of a tour to visit restaurant suppliers, wasn't just for the cameras filming an episode of O'Neal's Facebook Watch series, "Big Chicken Shaq," but is demonstrative of the NBA Hall of Famer's commitment to creating—and now franchising—the fast-casual concept Big Chicken.
"He didn't want it to be some cheffy homage to himself," said Josh Halpern, hired earlier this year as CEO to grow the brand and drive the franchise program. "He's deeply involved."
O'Neal is the largest shareholder in Big Chicken, noted Halpern, and its ownership group also includes multi-billion-dollar brand development and entertainment company Authentic Brands, and JRS Hospitality, which owns several Las Vegas restaurants and venues.
"The 'R' in JRS is Perry Rogers, he's Shaq's agent," Halpern pointed out as he explained the connections.
The first Big Chicken opened in 2018 on Paradise Road in Las Vegas. "I made an executive decision, we're going to go off the strip," said O'Neal in the first episode of "Big Chicken Shaq," which follows O'Neal and his restaurant team. "We're going to make this a destination where people want to go. …We're going from the strip to a strip mall."
The menu, which O'Neal helped create with chef and JRS partner Matt Silverman, features crispy chicken sandwiches such as a Nashville hot chicken version and one with buffalo hot sauce and blue cheese.
Expansion via franchising, which O'Neal has experience with from his franchise ownership in Papa John's, Krispy Kreme and Five Guys, was always part of the plan, said Halpern. The rollout of a strategic franchise program aimed at multi-unit investors comes after a second Big Chicken opened in Glendale, California, in February 2020, and a location opened last year on a Carnival Cruise ship, the Mardi Gras. Carnival will put Big Chicken units on two more cruise ships, and the concept is slated to open inside Climate Pledge Arena in Seattle and UBS Arena in New York.
As Halpern and Sam Stanovich, Big Chicken's senior vice president of franchise leadership, begin working with prospective franchisees, Halpern said they'll consider everything from two-unit agreements to larger multi-unit development deals but always with operating experience in mind.
"My first and most important job is protecting the legacy of Shaquille O'Neal," said Halpern of finding franchisees who are serious about growing a successful brand and not just in it for the star power of O'Neal.
"Shaquille is going to be very active in our marketing. Shaquille is going to be very active in our messaging, but not in a cheesy way," he added. "This is not a gimmick."
The cost to open a Big Chicken restaurant ranges from $653,000 to $1,567,000, including a $40,000 franchise fee. The royalty fee is 5 percent of gross sales.