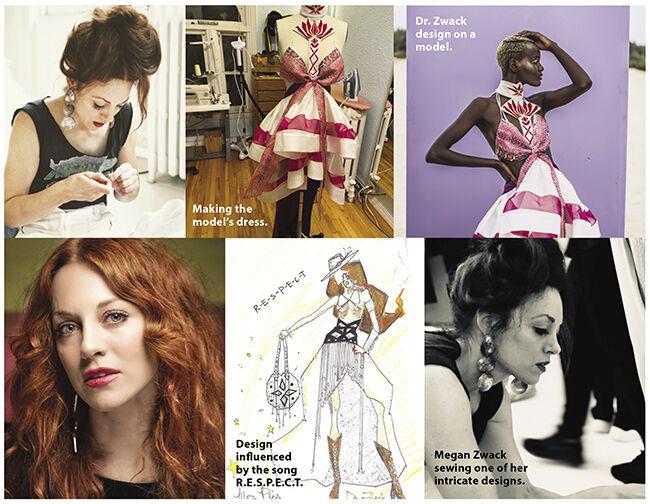 The beauty of being a server is one minute you're clearing the remains of a stranger's dinner off the table and the next you're on an international flight to London to show your couturier collection at London Fashion Week.
Or at least that's been the experience for The Lynhall's Megan Zwack.
Neither serving nor couturier design was on Zwack's radar growing up in a rural farm town in central Minnesota. "It's hard to be a creative person and grow up in that stifling environment," she said about the small German Catholic community she was raised in. "As soon as I had my driver's license, I don't think my parents saw me again; I was driving to the Twin Cities to see friends."
Fashion and rock 'n' roll were her passions, and it was her grandmother who taught her to sew. While her friends were "pegging" [tapering] their pants, she was scouring vintage stores and turning cords into bell bottoms.
"I wanted to go to fashion school in Colorado but didn't have the tools to do that at the time," she said. "Then I became a young, single mom, so it was about survival." She had a second child a few years later. She worked in a food co-op to support her girls. "It was daytime work," she said. "It didn't pay much, but it was good healthy work." The downside was that it didn't fulfill her need to be creative.
When she got up the nerve to go to school for fashion design, the logical career pivot was to go back to being a server. She took out loans and joined the staff at Grand Café, where a number of her friends worked. "I followed my heart through school, but it wasn't practical, not something to pay the bills," Zwack explained. The materials she chose for her courtier evening wear—silk and leather—were not only expensive, but harder to sew. The statement pieces, each inspired by a rock 'n' roll song, required intricate handwork. It took years to perfect her sewing skills and figure out how to "engineer" the one-of-a-kind looks.
After the years of struggling and questioning her talent, being spotted on Instagram and invited to show her collection during New York Fashion Week was a turning point.
"For me it's just really about my self-expression. And to be honest, the ideas and inspiration come to me in dreams, they're downloaded to me in still times," Zwack said. She originally named her line Dr. Zwack and the Fashion Show in honor of one of her favorite bands growing up, Dr. Hook and the Medicine Show, but later shortened it to Dr. Zwack.
Showing a collection at a major fashion event is more than fitting clothes on the models. The designer has to stand on the stage after the models walk the runway, and talk about their collection. For a shy, reserved person like her, she pointed out, this is out of her comfort zone.
And while fashion design is more than a hobby, serving is more than a job.
"It's transformational to find myself at The Lynhall," she said. "I can't imagine working for anyone else during COVID. Anne's (owner Anne Spaeth) values are similar to my values; it feels like being part of a family. It feels that Anne is running this enlightened business."
Adding to Spaeth's list of worthy causes she supports, Zwack was given the Linney Studio at Lynhall on May 1 to show off her new collection while raising money for Simpson Housing Services, an organization that addresses homelessness. "It means so much to show a collection at a place that means so much to me," Zwack says.