You say "food insecure," Andrew Zimmern would say, "hungry." You call them "food deserts," the award-winning chef and TV-host, thinks "'food apartheids' is more accurate." It's not just mere semantics.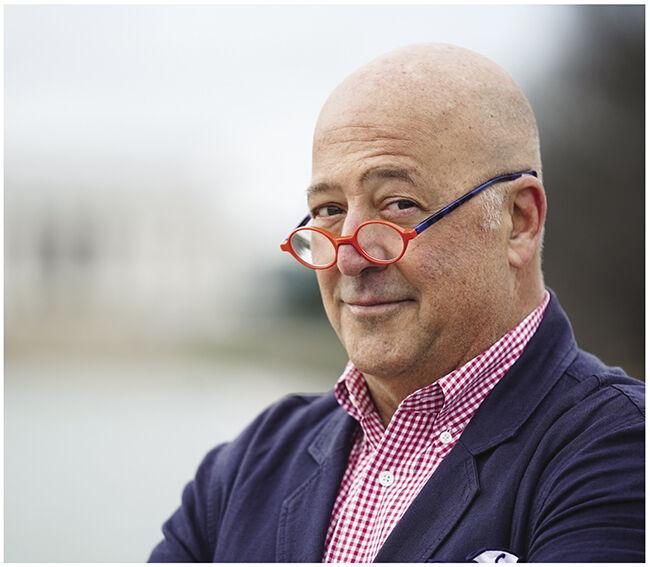 "Public policy is my love language," Zimmern said during a recent keynote address for a Zoom conference by GENYouth on the state of America's schools. "I think we need to change the conversation and the law to feed everyone. We have the skill, what's missing is the political will."
Zimmern, who is not shy about sharing his down-and-out lifestyle before becoming sober and a host of food-related TV travel shows, is using his celebrity status as a platform to help call attention to the dichotomy of widespread hunger in a wealthy country. He told the viewers at the event that he's never known a time when he didn't feel the best way to communicate was through food. "You can tell everyone's story through food," he said. And with a camera lens toward anthropology and history, he's choosing to broaden his platform from telling people's stories for the entertainment value, to a way to teach people and create action.
"I find it strange that books, transportation, are paid for in schools, but their (students') food is not. We need a national food program, 365 days a year," he said. "Food needs to be nutrition, but also delicious, we owe that to our kids."
The guidelines for receiving federal dollars to supplement school lunch programs often come with unplanned-for consequences. Zimmern shared a story about being a guest at a school in central Iowa, where the day's lunch was several 100 calories short of the federal guidelines, so the staff made up the calories by adding a dinner roll to the plate. "The dessert was pound cake and the meal was pasta: carb on carb," he pointed out, adding, "If I could wave a magic wand, I would eliminate processed sugar."
The National School Lunch Program, which provides dollars for nutritionally balanced, low- or no-cost lunches to school kids, was first signed into law by President Harry Truman in 1946.
Back in 2018 there were 461,200 "food insecure" people in Minnesota, or 8.2 percent. About 59 percent of that number were below the SNAP threshold of poverty (gross monthly income of $2,839 for a family of four).
The Wilder Foundation reported that in July of 2020 those numbers were drastically different: "Rates of food insecurity have varied week to week, but, by July 21, 37 percent of Minnesotans reported some level of food insecurity. Not all Minnesotans are impacted equally though. Black and Hispanic/Latino Minnesotans reported food insecurity at more than double the rate of white residents (83 percent of Black residents and 70 percent of Hispanic residents, compared to 32 percent of white residents); 52 percent of Asian residents and 55 percent of people of other races, including American Indians, also reported some degree of food insecurity."
To help mitigate the higher risk of hunger due to COVID, the USDA is providing nutrition assistance to hard-hit families, and on January 22, in support of President Biden's call to action on hunger, the USDA increased the Pandemic Electronic Benefit Transfer (P-EBT) benefit by about 15 percent, which will provide more money for millions of children missing meals due to school and child care closures, according to the USDA's website.
"Through P-EBT, eligible school children receive temporary emergency nutrition benefits loaded on EBT cards that are used to purchase food. Children who would have received free or reduced price meals under the National School Lunch Act if their schools were not closed or operating with reduced hours or attendance for at least five consecutive days are eligible to receive P-EBT benefits," the government website says. Minnesota was one of 30 states to be approved to operate a P-EBT program during the 2020-2021 school year.
"The people who take care of our kids are unsung heroes," Zimmern said. "We need to stop putting on Band-Aids and (implementing) one- to two-year solutions rather than long-term, substantial (solutions)."