Roots for the Home Team participants still had their produce, they just didn't have a home team to sell their salads to once baseball at Target Field opened to a fanbase of just cardboard cutouts in the stands. Their salad cart had been a mainstay at the baseball field for the last few seasons and served as both a healthy option for fans and real-world business training for the youth, who come up with the recipes, make the salads and then operate a small business selling them.
But the founder of the nonprofit, Susan Moores, wasn't about to let the program go on hiatus and with the help of a lot of friends and supporters, the youth hit the curve ball thrown by COVID out of the park.
To continue their salad-making work, the youngsters partnered with organizations feeding the hungry, including Open Arms, where they prepared and packaged 1,200 of their salads for the nonprofit's clients who are dealing with life-threatening illnesses, and with Minnesota Central Kitchen, where the youngsters' salads were in the menu rotation for the North Minneapolis neighborhood.
Jametta Raspberry, owner of catering company, House of Gristle, coached the youth in July through their Essential Worker initiative, at the Octo Fishbar's kitchen space, along with help from Chef Tim McKee and the chef tenants working in his St. Paul space at that time.
 "In an effort to abate some of the food insecurity in their homes—and have some Top Chef-style fun—Roots is dropping off bi-weekly 'salad kits' to our Roots participants," Moores said. "Our youth take turns creating a list of groceries for each salad kit challenge. Roots buys the groceries, makes drops at their homes, then asks each young person to take the goods and create a meal for four from it. They're allowed to use five additional ingredients from home. They then name their dish and pitch it (sell it) to the rest of the participants thereby mimicking some of the sales skills learned/honed at Twins games. Best pitches win prizes."
Revol Greens, a big supporter of the program, donated the greens for the salads, including the ones that went to Bethesada Hospital's essential workers. They also had the help of their co-op  and garden partners.
Roots for the Home Team participants show off the salads they just packed for clients of Open Arms, a nonprofit that provides healthy meals to people dealing with life-threatening illnesses.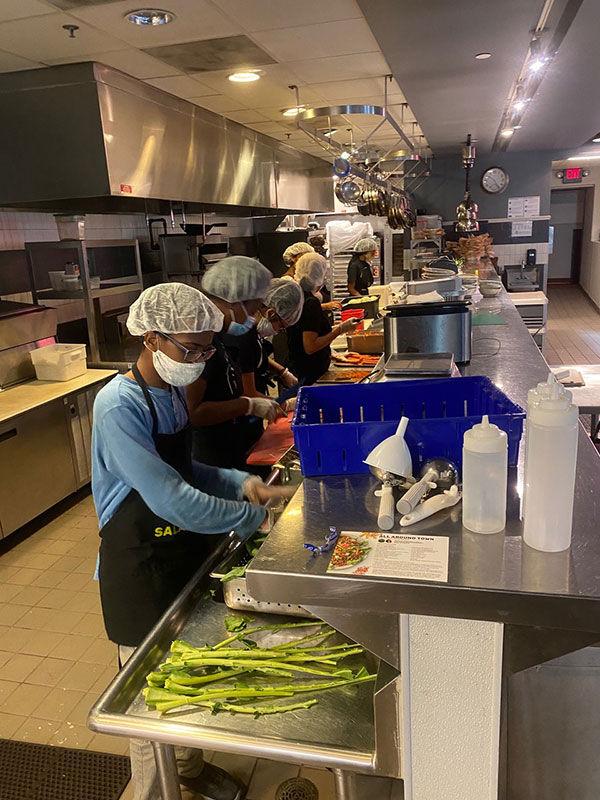 Urban Roots youth creating one of their salads for delivery to Bethesda Hospital's essential workers. Around 200 salads went out the door, thanks to the youth and to Chef Jametta Raspberry, who led the group through the essential workers initiative.