The French revival is complete. With two letters added to its signage and a menu full of Franco-American dishes, Le Town Talk French Diner and Drinkery is ready for its public debut.  Since announcing in July that they'd bought Minneapolis' historic Town Talk diner on Lake Street, owners Emilie Cellai and husband Ben Johnson have been hard at work creating an inviting neighborhood space they describe as a working class French bar and restaurant.  Incorporating family recipes from her native Marseille, Cellai also gives a contemporary twist to the menu and draws from her culinary and hotel/restaurant management background—she worked at an Eiffel Tower restaurant in Paris and came to the Twin Cities to work at Hotel Sofitel.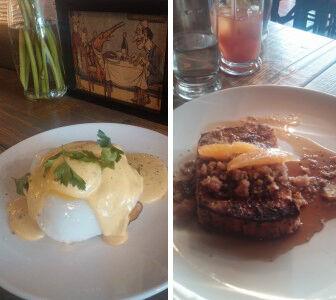 On Sunday, September 14, the last day of their soft opening, staff served up Le Town Talk's full brunch menu, including perfectly prepared crêpes salées (delicate crepes with egg, ham and gruyere), a French toast cake of brioche, cinnamon crunch, maple syrup and orange, plus the decadent Madame Benedict: ham and gruyere nestled inside a pocket of brioche bread, with Dijon and béchamel, topped with a fried duck egg and brown butter hollandaise.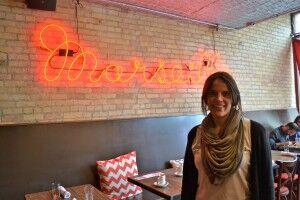 Above: Le Town Talk's Emilie Cellai.
Cellai and Johnson warmly greeted customers, and while Cellai acknowledged there are some wrinkles to be ironed out in the service, they're ready to open for dinner Tuesday, September 23. "Everyone on staff is so great, our cooks, they're all working really hard and we're excited to be here," said Cellai.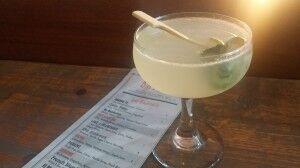 Julien Masson of Intercontinental, Hotel Dieu in Marseille, who Cellai met in culinary school, developed the beverage program featuring wine, craft beer and cocktails with an international flair. Among those sampled during brunch were the Paname (Noilly Prat, rum, citrus, vanilla syrup, peach bitter) and PS I Love You (pictured above with gin, verbena syrup, lemon, cucumber), both $7. It's worth noting there's not a cocktail priced above $9, and brunch entrees topped out at $12, though most are between $5 and $9. This is keeping in line with Cellai and Johnson's goal of maintaining Town Talk's legacy as a working class diner from the 1940s.
Le Town Talk also has a full dinner menu featuring more family recipes that incorporate locally sourced ingredients with a focus on organic: dishes such as bouillabaisse (a Marseille fish stew), steak frites and vol-au-vent, a puff pastry with chicken and lobster in a cream sauce.