Currently wearing masks in public is a strong suggestion in the Twin Cities for people sheltering at home, but it should be more than a suggestion for people on the frontline serving or delivering meals.
Caviar is routinely providing its drivers with gloves and hand sanitizer, and while other providers are attempting to get safety gear to their delivery drivers, drivers report there are wait times to receive them, according to Nicholas Upton, reporter for Food On Demand. So far no one has raised their salaries for employees, other than providing bonus pay in busy times—and we're seeing drivers wearing mask around town as hit or miss.
While masks were in short supply a few short weeks ago, a number of companies have stepped up to make them, including local ones such as BA Craftmade Aprons, who is diverting sewers from aprons to cloth masks. The Guthrie Theater and Jungle Theater have both started making masks from their costume shops. 
A unique twist is that Birchwood Café is providing masks for their customers. Cafe owner Tracy Singleton and Minneapolis-based fashion designer Joy Teiken of Joynoëlle teamed up to provide reusable face masks for Birchwood Cafe's curbside pickup and delivery, with 100 percent of proceeds from sales of the $20 masks to go to supporting The Food Group. The masks will be available on the cafe's website as well. 
Teiken will be making the masks out of her South Minneapolis studio using a 1500 MPR (microparticle performance rating) ultra allergen furnace filter sandwiched between two layers of 100 percent cotton. The masks will be made with two different fabrics, and will be washable, re-usable, and reversible.
There are also several sources online for making your own masks, including one from the Star Tribune on how to make one without using a sewing machine with a paperclip as the nose pinch. Cheaper than Teiken's design, sure, but not as chic.
 And then I had one dubious source in my email yesterday offering me regulation masks for just 85-cents each. The catch? I had to order one million.
Other Creative ideas:
Smack Shack sold an online cooking class the night before Easter on how to make a jumbo prawn boil at home. Participants ordered their cooking kit ahead of time and watched the cooking class live on Facebook. The cost of the kit for two was $40 to $60, with the option of ordering the hurricane cocktail kit for $5 (rum not included). They are doing a similar promotion for April 18 with Jambalaya, and a Moscow Mule Cocktail kit.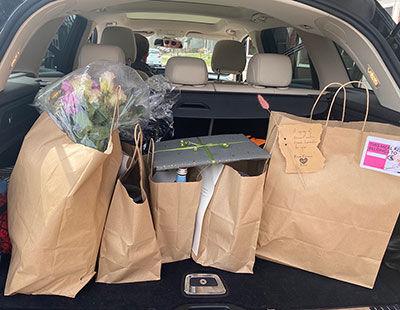 Jamie Malone's Grand Café did a meal kit for a week, featuring a combination of already cooked meals and ingredients to prepare dishes like pancakes and Coq Au Vin. Included in the multi-bagged pick-up were fresh flowers and a wrapped gift that turned out to be watercolors and paper. An email followed with links to the "GrandCafe" playlist on Spotify, and Instagram posts with videos of Chef Britt St. Clair making pancakes, floral arranging by Shana Brownell and watercolor for beginners with Teaghan Persons, plus a chapter from one of the chef's favorite books, How to Cook a Wolf by M.F.K. Fisher. According to the description by Amazon, the book was written to inspire courage during wartime shortages, and rallies cooks during times of plenty to remember providing sustenance requires more than putting food on the table.
Birchwood Café doesn't normally accept tips, but in deference to the number of customers wanting to give cash and tips at the time of pick up and delivery, the café has added a 15 percent Staff Support Fund Service Charge. The funds will provide free hot meals plus groceries to staff that has been laid off, as well as those working the "Good Real Food front line," while continuing to pay their remaining staff their pre-COVID-19 wages and benefits. Anyone who objects to the chargecan have it removed from their order.