On the first Saturday the Biscuit Breakfast Bar popped up at Stanley's Northeast Bar Room in Minneapolis, biscuit lovers were lined up six feet apart in the parking lot to score a $5 breakfast sandwich on an oversized biscuit. Buy two and they tossed in an order of fried biscuits rolled in cinnamon sugar.
The pop-up is just one in a long list of innovations from the team of Craft & Crew Hospitality, headed up by David Benowitz and Luke Derheim. And true to their brand, there's a dog-centric biscuit with muffloaf on the menu as well. For $6, customers can purchase a meal to be delivered to a healthcare worker on the frontlines. To date, they've delivered 2,500 meals thanks to their customers, Derheim said.
Craft & Crew also own The Howe Daily Kitchen & Bar, Pub 819 and The Bar Draft House, along with a speakeasy above Stanley's, Al's Place.
Serving breakfast at four restaurants is a new revenue stream, and thanks to guerilla marketing they were able to get the word out by calling back furloughed workers. The sandwiches are big and priced at $5, a price point that allows families in their neighborhoods to indulge. "People are buying comfort food," Derheim said.
Adding breakfast was also a way to use some of the Payroll Protection Program (PPP) funds from the government, Benowitz said.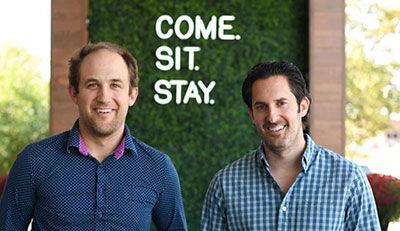 The recent law change to allow takeout beer and wine during the pandemic shutdown has also benefited them, Benowitz said, because they can now add a bottle of sparkling wine with their mimosa cocktail kit. The Bloody Mary kit still requires adding your own alcohol.
The revenue from alcohol sales isn't significant. "Any revenue helps, but it's not substantial," Derheim said. "We may do a couple of hundred dollars a weekend. I think customers are used to going to liquor stores."
Their Hopkins restaurant, however, has an off-premises liquor license, "so we're doing Old Fashioned kits," Benowitz added.
They're also adding a coffee beer for brunch takeout, which Derheim is bullish on.
Craft & Crew's restaurants were already moving in the direction of takeout and delivery before it became the only foodservice option in town. They had an online platform already established and added additional third-party delivery services. They currently use four.
Takeout will not go away once the restaurants are opened back up, so Craft & Crew are using this downtime to get to maintenance and cleaning projects they didn't have the funds to do previously. They're reconfiguring the kitchen and entrance at Stanley's to accommodate more off-premises orders.
Fortunately, they are their own landlords, so PPP funds can help out there as well.
Another idea they're working on once things open up again is extending their dining rooms into their parking lots in order to space people out better. To do that, however, they need to have regulatory approval, especially since it involves serving alcohol.
They've approached Hospitality Minnesota with the idea, which they've dubbed the "MN Picnic Act."
"It's a creative idea that may work for some operators that have parking lots," said Liz Rammer, CEO of Hospitality Minnesota. "We have to do our due diligence to assess legal/zoning issues at both state and municipal levels. It will also include food code/MDH regulations as well, so we are just starting to explore these aspects."
And if the governor's orders to stay closed last much longer, Benowitz and Derheim will have to keep going back to the drawing board for more ideas.
"The more out there, the better as far as ideas" said Benowitz.  "Some will work, others won't. But we're making memories, and our customer base will remember these efforts."