Cheers to the Afton House Inn for the great Italian Ruffino Wine Dinner they featured in January. It really gave us an escape from the wintery outside with the tastes of sunny Italy and no airfare, just the short drive to Afton along the St. Croix. The inviting Wheel Room at the historic Afton House Inn was brimfull, with more than 80 hungry diners on hand to be greeted by our hosts, Afton Owner Dave Jarvis and Executive Chef Ryan Kaliher.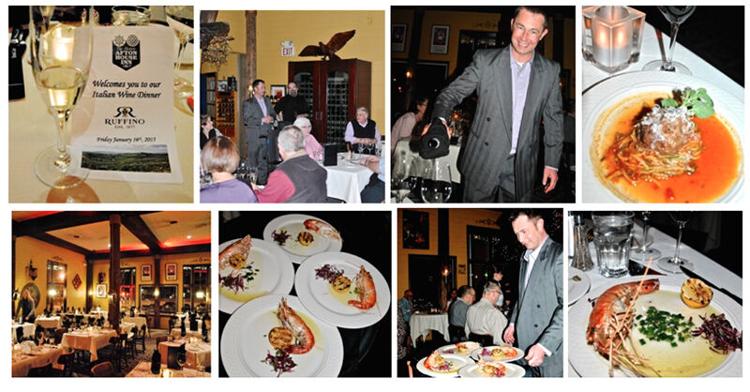 This Italian five-course dinner was a great example of the inn's ongoing and inviting wine events. Chef Ryan and his team outdid themselves, too, from passed canapés and Prosecco for starters to a first course of giant shrimp in garlic butter, and a second course of a shredded zucchini with giant turkey meatball in marinara. Then a classic intermezzo of raspberry sorbet served in frosted shot glasses. Very refreshing! The foruth course was a tender espresso-rubbed beef short rib with polenta and ratatouille served with a Chianti Classico. If you were not full yet, the grand finale was a wowzer. They served up a bubbly Moscato D'Asti with a delicate tiramisu, which Dave spray misted with Compari before serving to each guest. Oooh la la. Makes for great memories at a historical setting.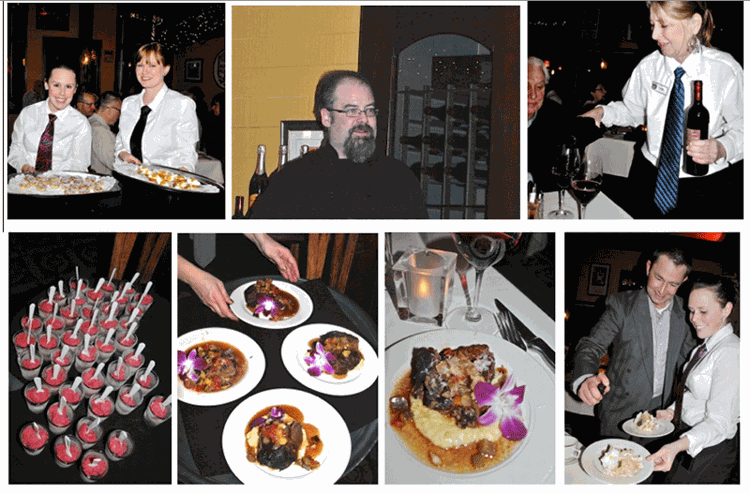 Speaking of history …
The original Afton House, built in 1867, has always been a fun setting for those of us who've followed its recent history, as far back as the late 1960s for me. I recall the addition of the Catfish Saloon when exploring St. Croix as old river boaters. We also saw the addition of the big Wheel Room dining area (where they host the wine dinners), which was added in 1967 for the inn's 100th anniversary.
Newly revamped this decade, the Catfish Saloon is now called the Current, and there's also the new Swirl Wine Bar, which was added in 2010 with the inn's tempting wine store along the old main street. The saving of the inn with all this remodeling and growth can be attributed back to the parents of current owners and brothers Dave and Dan Jarvis. Their parents, Kathy and Gordy Jarvis, purchased the historic inn back in 1976 and spent more than two decades remodeling and serving us while their boys were growing up in the business. Their hard work and dedication set the stage for the wonderful format and second generation Jarvis operation of this historic property today.
By 1986 they had remodeled 12 hotel rooms and went into the '90s adding three more guest rooms (complete with fireplaces and jacuzzis). Between 1999 and 2001, sons Dave and Dan joined the business and it was also the time to purchase the adjoining building, where they added nine more rooms and four retails shops—including the Swirl Wine Bar. They also started the pattern of offering more wine tastings and monthly wine events such as this January wine dinner.
Two wine events are coming up this month as well. The first is a Valentine's Day three-course dinner at Swirl with 6 p.m. and 8:15 p.m. seating times Saturday, February 14. Then, on Friday, February 20, they're offering a four-course Sweet Heart Wine Dinner in the Wheel Room, complete with passed canapés and paired wines. (Visit the Afton House Inn website at www.aftonhouseinn.com to view the menus and make a reservation.)