For the uninitiated, a meal of chicken bones, vegetables and dried fish might sound like the start of a "Fear Factor" episode. For lovers of Japanese cuisine, it's the umami-licious foundation for the fabulous Triple Tori Paitan Ramen—a chicken-based ramen that's a rotating special at Zen Box Izakaya in downtown Minneapolis. 
Now six years after opening on Washington Avenue, which has matured into one of the hottest neighborhoods in town, this palace of Japanese comfort in the heart of the North is worth celebrating with frequency. Beyond limited-time specials, there's the Tonkotsu, Miso and Kimchi ramen staples that are arguably the best you'll find this far from an ocean, along with sashimi, poke, yakisoba, udon, curries and various fried delights that pair well with sake or a drink from the notably adventurous bar program.
Co-owners and fearless spouses Lina Goh and John Ng will be the first to tell you: Zen Box isn't a sushi restaurant—this is something different, meatier, more filling and, arguably, more addictive than a light meal of fresh fish and rice that's now widely available from Tokyo to Target. Their collective focus is playing the long game to develop a culture of ramen cuisine for Twin Cities diners, and pairing it with an atmosphere that's more big-city than what's common even in downtown Minneapolis. 
Seated at a booth with the enterprising couple, doing my very best to eat ramen like a civilized human while simultaneously conversing, I asked Ng who's cooking the second-best ramen in Minnesota. His answer included a helping of Minnesota humble, but pointed toward their larger mission of expanding and deepening the Japanese culinary scene in the land of 10,000 lakes. 
"It's really hard to say, because everybody has their own style and different flavor profiles—it's kinda like burgers," he said. "Everybody has their own favorite burgers, In-N-Out Burger, Shake Shack, you have some crafty burgers like Jucy Lucys … but everybody has their favorite and what's more important is what's behind the chef himself. We are all trying and learning, so there's no such thing as saying who has the best ramen."
After mentioning that Ivan Orkin recently visited their restaurant, of New York's famed Ivan Ramen, I asked if he had similar dreams of one day moving to Tokyo to put his product up against the world's best. 
"This is the ultimate goal of any ramen chef in the world," Ng said of playing in Tokyo's sandbox. "One day I [might] do a small pop-up in Japan to bring my obsession with ramen and my style to Japan itself, but how and when will be another question." 
Goh jumped in, not dismissing the idea, but adding that such a move "doesn't come easy," especially considering Orkin's loss and grief that was a big part of his episode on the Netflix series "Chef's Table." 
It was a transition point in the conversation, spurring each to talk about their own sacrifices—and how far they might push—in their lifelong quests to perfect the Japanese dining experience in a city that's neither spouse's hometown. Ng grew up in San Francisco, while Goh originally moved to the U.S. from Malaysia. 
"It takes a lot of sacrifice in terms of your personal life, but it's worth it," she said. "We're lucky in a way that we work together, it's usually a spouse working in a different field and you don't get to see them that often."
Part of the sacrifice has included eating copious amounts of ramen as they've traveled the world, typically a heavy, high-calorie dish with loads of pasta and fatty slices of meat.
"We try to beat our goal when we travel to Japan," Goh said. "One time we ate 15 bowls in eight days … and the last time we did 25 bowls in eight days." 
"We couldn't even drink water, because when you're in Japan in a ramen shop and you're eating in front of the chef, the custom is if there's a good bowl of ramen, you're supposed to finish every single drop," Ng said. 
Assuring them both I was doing my best, as I slurped another mouthful of Triple Tori Paitan, they both said that pushing the boundaries and raising the bar of the local Japanese scene is something they hope to be able to look at in the future, when they expect the metro will be thickly populated with notable chefs and ramen variations. 
Describing the intended front-of-house ambiance, they said their communal goal was combining the "controlled chaos" of Tokyo with a big-city vibe that's more common in New York, San Francisco or Chicago. 
"That's the culture in Tokyo—a lot of things going on, lots of people, lots of activity, but it's not pure madness," Ng said, adding that his back-of-house sense of urgency probably makes him the chaos part of the equation. 
"It's the environment that makes you feel like you're in a chaotic, fun, energetic place, but yet there are protocols, rules," she said. When we have monthly staff meetings with the front of the house, we want you to yell welcome, irasshaimase, when you come in because this is how it is in Japan—we want to give people that feeling, the energy." 
Drawing that balance is everything from Zen Box's energetic music, the food, the open kitchen right behind the bar and how close the tables are to each other—yet not close enough to be uncomfortably intimate. 
"As a chef, there shouldn't be a separation," he said. "Without it, the restaurant wouldn't work."
While she's managing the front of the house, Goh said her favorite part of being a GM is getting to know repeat customers, learning their personal stories and what they like best on the menu. Given their location, with cranes on the horizon in all directions, their client base includes Guthrie Theater-goers, hotel guests, newly relocated Wells Fargo employees and residents in the fast-growing Mill District. 
"We call ourselves the Japanese version of the TV series 'Cheers,' because that's how it feels," she said. "That's the concept of izakaya, you come in, you know the guest, you become friends and you chat with them."
When Zen Box was still shiny and new six years ago, its crowd tended to include a higher percentage of industry people, who the co-owners credit with spreading the word to their own customers throughout the city. 
Knowing they can't both touch all tables when the restaurant is full, the front-of-the-house management encourages employees to be sincere, be themselves and avoid being overly scripted. 
For themselves, maintaining sanity while commuting into the city and running a restaurant together, they underscored the importance of carefully dividing duties and remembering that they're both experts in their respective realms. 
"We have to have a clear mind," Ng said of working so closely together as a partnership. "She's good at what she does, I'm good at what I do, and then by combining them together, we can somehow find a balance." 
---
Triple Tori Paitan Ramen
Ingredients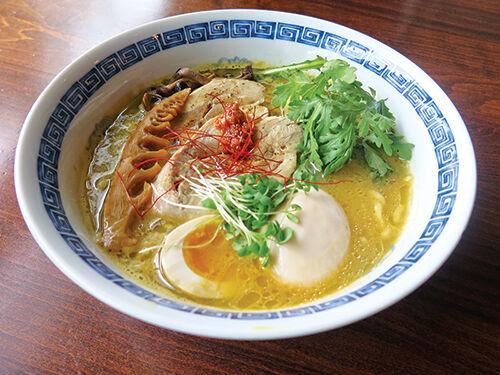 Whole organic chicken
1 yellow onion
1 clove garlic, potato
½ cup chopped scallion
4 dried shiitakes
8 quarts water 
5 sq. in. Kombu kelp soaked overnight
1 cup Katsuobushi
2 cups water 
1 cup sea salt 
1/4 cup mirin
1/2 cup chicken oil from broth 
2 ounces ginger 
2 ounces scallions
For the broth:
In deep stockpot, add water, chicken and bring to boil. Simmer, skim off floating foam until clear, set aside. Turn heat to high, return to boil for 4 hours until chicken breaks down completely. Strain out chicken and discard, add rest of ingredients to boil for at least 2 hours. Cool down, using a blender to blend broth and vegetables until creamy.
For the tare:
Soak kombu kelp in water overnight. Next day, bring kelp with water to simmer for 15 mins, discard kelp. Add Katsuobushi in liquid and steep for 10 mins, strain out Katsuobushi. Add sea salt and mirin to Dashi liquid, simmer until sea salt dissolves, cool down and set aside. 
For the infused chicken oil:
Add ginger and scallions in chicken oil and simmer until golden brown. Strain out and set aside to cool down. 
Assembly:
In a soup bowl, combine 1 ounce tare, 1/2 ounce infused chicken oil, 11 ounce hot broth and cooked noodles. Top with boneless and skinless chicken thigh (sous-vide or grilled), chrysanthemum greens or spinach (washed, served raw), soft-boiled egg, chili paste, micro-greens for garnish and fresh ramen noodles.