The narrow passage between the chef's bar and the kitchen at Young Joni is a high-speed gauntlet of servers, runners, chefs and cooks. Every restaurant has those little spaces between the front and back of house, but not all bridge those gaps so well. It's one small indicator of how hard Chef/Owner Ann Kim and Assistant General Manager Dan Springrose worked on a culture that unites everyone under the Young Joni flag.
To Kim, a former actress-turned restaurateur, collaborative leadership is the key to sustainable execution. The celebrated Minneapolis chef behind Pizzeria Lola and slice shop Hello Pizza works as hard on her highly acclaimed pizza as she does to offer high wages, good benefits and sane work-life balance. Now she's back in the limelight with Young Joni, named one of 12 Best New Restaurants in 2017 by Eater's food critic; and earning three-and-a-half stars from StarTribune reviewer Rick Nelson. Kim owns the three restaurants with husband Conrad Leifur, who runs the business end of their Vestalia Hospitality group. The duo just hired James Beard award-winning chef Paul Berglund, who was the opening chef for the equally lauded The Bachelor Farmer.
Young Joni is yet another avenue for Kim's inspired pizza and dishes that blend her Korean heritage, unique ingredients and great fine-dining mainstays. It's also one more place to create a culture where the only barrier between the front and back is physical. 
"There is no back or front, we all work seamlessly together to create an energy and create a flow. To me it's about a really clear communication, clear expectations, being accountable for that and really sharing in creating that collaborative environment," says Kim. 
That means putting staff above all else. "The old adage is the customer always comes first. On one hand that's true, but for us, the way we look at things is we put our staff first, then our guest, then the owners," says Kim. "The reason we do that is not because we don't care about the guest, but because we do care about them."
That's some egalitarian talk for a restaurant and it's something that might get a few eye rolls if it weren't the exact thing that attracts seasoned leaders like Dan Springrose. His resume includes managerial positions under a multitude of FSN Top Chefs. Kim says the perception of the restaurant group is one of the biggest changes since opening her first spot, Pizzeria Lola.
"We were hiring people because they had a pulse, but now were hiring people like Dan who have heard how great it is from his peers," says Kim. "It wasn't his background, but he really wanted somehow to get into the organization because he heard positive things about our culture—that means a lot to me."
Springrose was persistent, applying at Hello Pizza originally, following up and finally being brought on at Pizzeria Lola before transitioning over to Young Joni when it opened. He says the culture is unique among restaurants, even the best. 
"It's a huge part of what brought me into the business, the importance of the team and family is really important to me," says Springrose. "It's definitely unique, it all goes back to the sustainability of what we do here. I think it just resonates with my own belief about how people and guests should be treated. We need to treat our team with the utmost respect or they can't share that spirit with our guests."
Putting the staff first and bringing everyone together has been his mission since coming on board at Pizzeria Lola then Young Joni. The most important part of that mission is just listening.  
"I'm always getting feedback from the team about what can we do to improve guests' experience—they're the front lines, they have the interaction with the guest every day, they work with the equipment and they know if there needs to be a change or an improvement. So just taking the time to sit down to listen, and time is not something we always have, but making that time and really sitting down is key," explains Springrose. 
That communication goes both ways. Leaders continually discuss what can be done better, new strategies and how to better connect with the guest in pre-shift meetings and one-on-ones. While the well-known culture of quality and connection helps the labor headache somewhat, finding the right people for that culture is still tricky. "When it comes to hiring, that's really where you start all this. You can train someone to do the job, to serve from the right and all those little fine service steps," says Springrose. "But it's the heart and the warmth that isn't innate in everyone—you can nurture it but it's either part of you or it's not."
People with the right qualities are hard to find. As Kim points out, they have to be choosy. "For us, it really is an investment. We're looking for more qualified people, they often demand a higher salary, but in the end, it's an investment for us and we believe it's a key to our success," she says. "Where a lot of restaurants might be cutting back, saying we need to cut back on ingredients or staff, we're doing the opposite, we're spending money, building staff and being pretty choosy about who is a part of our culture. That all starts with the leadership, it's not a culture of 'do as I say,' it's 'do as I do.' It's hard to find really great leaders like Dan because they can be picky and choosy about where they want to go." 
But leaders like Springrose prove themselves time and time again. Kim says during the financially and emotionally draining period between signing the lease and opening Young Joni, Springrose was "a rock." 
Since opening, Springrose and the management team have continually refined the service model not just by reinforcing service guidelines, but laying out a guiding philosophy and developing language around what creates good experiences. 
"It really gets to the heart of what creates memorable experiences for guests and what will cause them to think about us in a positive way," says Springrose. "We're not talking specifically about service steps or even the little details—it's more ethereal than that. We're talking about a genuine connection with our guests, a sincere spirit of warmth and connection and things like that." 
Then it's up to leaders to live that philosophy, not just shout it down from the proverbial mountain. 
But it's not all kumbaya and talking philosophy. Maintaining that culture means leaders at Young Joni can't shy away from conflict.  
"If you think something feels off, dig deeper," says Kim. "It might be as simple as a bad day, and that is how it's being reflected. But instead of letting that conflict stew and become bigger, we mine for it; we really want to dig at what's going on so we can find a solution to it. We say that conflict is really a source of creativity. We can come up with creative ideas that can actually make things better that were negatively affecting people—and we can come to these beautiful things, so for us that's a really important part of it."
All this might sound like a front-of-house dreamland, but it's building synergy between front and back of house that creates Young Joni's culture of sustainability. 
"In the front of house, this comes more naturally, and in the back of house, it's traditionally 'just do it,' but we want to change that because we don't think that A, it's sustainable or B, healthy, so we want to change that culture so it is sustainable so young chefs can come in and see it as something they can go through longer than 30," explains Kim. 
All the work that goes into the culture, getting buy-in from staff and really living the service philosophy means the restaurant executes every single day. Kim says the biggest compliment she gets is when people are confounded that she's not behind the scenes directing every day. But that, she notes, just doesn't work. 
"My restaurant should be able to run and function for decades to come whether I'm here or not, it shouldn't depend on one person," says Kim. "My goal isn't to be the 'it' and 'now' restaurant, but a restaurant that can maintain into the future." 
---
Roasted Baby Carrots with Carrot Top Chimichurri​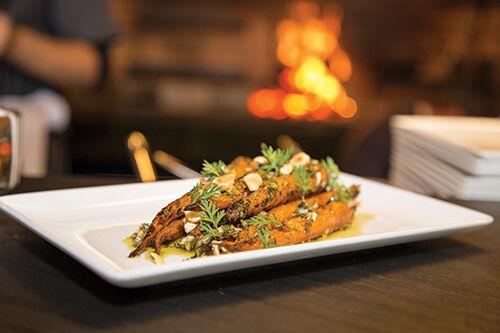 For the Carrot Top Chimichurri:
(Makes approximately 2 cups of chimichurri)
60 grams chopped carrot top greens, leafy portions only
15 grams chopped parsley
67 grams minced shallots
18 grams minced garlic
7 grams minced Fresno chilies, seeds removed
28 grams fresh lemon juice
75 grams sherry vinegar
275 grams olive oil
Salt to taste
Add olive oil, lemon juice, sherry vinegar, shallots, Fresno chilies and garlic to a bowl and whisk until incorporated. Add chopped carrot top greens and parsley to the mixture, adding salt to taste (approximately ½ tablespoon). Set aside and let rest.
For Roasted Carrots:
2 lbs. baby carrots with carrot tops
1/4 cup olive oil
1/4 cup of toasted hazelnuts
salt and pepper to taste
Preheat oven to 400°. Wash carrots and remove carrot tops, reserving the carrot top greens for chimichurri. Toss carrots in olive oil and salt and pepper. Spread carrots on sheet tray and bake in oven for 15 - 20 minutes until slightly charred and cooked through. Be careful not to overcook. Carrots should still have a bite to them. Serve carrots on a platter and drizzle desired amount of chimichurri sauce on top of carrots. Garnish with hazelnuts and carrot top fronds.