The Wilder Scratch Kitchen is a little off the main tourist thoroughfare of marinas, antique shops and shopping that the St. Croix River Valley is known for. But for Chef Jeffrey Lundmark, he's happy to get off the main drag after spending almost a decade at the Stillwater restaurant Domacin. 
"I've been in Stillwater for 10 years now. Bayport was always one of those cool little towns that you pass through on your way to something else," said Lundmark. "I love being here, the area has been very welcoming." 
In fact, the fall season means things are just getting busy. Unlike the typical summer surge, a lot of the Bayport locals are gone during the summer, working on the river or at one of the tourist hotspots. 
"Once people settle in for the winter, we get them walking in the door," said Lundmark.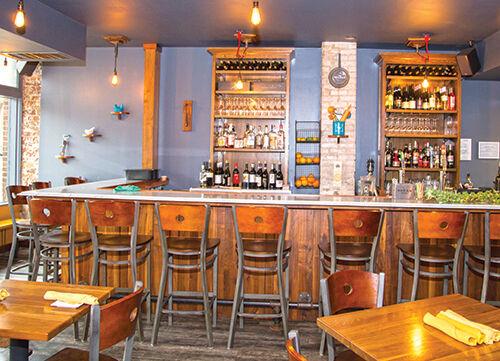 But in the shadow of the Anderson Windows factory and down river from the hustle and bustle, it's a different strategy from the typical Twin Cities restaurant and it has to balance elevated cuisine with a modest price. 
"You have this really awesome culinary mecca in Minneapolis, and you get to the outer ring, there's sporadic restaurants here and there, but you're in Applebee's territory," said Lundmark. "To compete with places like that is a challenge, but it's still something I welcome because I think we can offer something 10 times better than any chain restaurant." 
You're not going to find any foams, gels or steak tartare here despite Lundmark's fine-dining education and experience. His first step was to tailor his "American regional" cooking style to fit the community.  
"It's a smaller community, not downtown Minneapolis, you're not going to get the diehard foodies looking for the next huge trend. To be able to take something as familiar as a burger and make it a little more modern or high end, that's fun," said Lundmark. "That's kind of always been my jam." 
Wilder Scratch Kitchen's weekly burger special captures that balancing act well. Burgers like a Spanish chorizo patty with piquillo slaw and Manchego cheese, or the shrimp burger with yum yum sauce, lemon cheese and wild cress, or the jerk turkey burger with a ginger remoulade keep people coming again and again. The ingredients sound like something out of a foodie daydream: adventurous and modern. But between a bun the inventive cuisine is suddenly approachable. 
The novel burgers are a crucial traffic driver for the restaurant, and keep  people coming back to see what Lundmark comes up during any given week or for the weekend steak date night. When fall comes, he said it's not uncommon to see locals three or four times a week. There are some good options nearby for high-end, moderately priced food. But they keep coming back for Lundmark's culinary vision. 
He's not one to wax philosophically about what the whole stalk of Brussels spouts a local farmer brought directly to the restaurant means to him, or how the local proteins of St. Croix River Valley inspire him. He simply wants to create great food using the best ingredients available. 
"The philosophy is care and respect," said Lundmark. 
And it shows. His Brussels sprouts are loaded with flavor, but the freshness of the sprouts is front and center, as is the tart local apple. 
"It's a few simple ingredients, brought together with a great sauce, that's really what we do here," said Lundmark. 
The other sourcing of fresh and local may be more difficult than coming up with approachable modern cuisine. As he's quick to point out, "there is no lemon farm that we can call." That means changing the menu with the seasons and acquiescing to the sourcing realities for important things like lemons or tater tots that would be a huge undertaking in Wilder's small kitchen. 
"Most of the produce we get is from a 30- to 35-mile radius," said Lundmark. "It's funny, a lot of these people they want to sell you the product as badly as you want to buy it. So you get a lot of people knocking on the door saying, 'I grew this.' The only problem there is finding a one-stop shop. So I do work with a co-op for that," said Lundmark. 
But to bring an elevated approach to American regional cuisine that one might think goes unnoticed in a smaller town, he takes on the extra challenge of using mostly local ingredients to make all the infused oils, condiments and even the "Cheese Whiz" topping for his regional delicacy, the Philly cheesesteak. 
"It's pretty simple to make. It takes five minutes and it's 100 times better taste of what you get in the store," said Lundmark. 
Right now, he's working on the fall and winter menu. When he puts together a new menu, he first heads to the co-op. 
"I start with availability, we're changing the menu now because Brussels sprouts, squash, beets all these things are in season. I just kind of think through stuff I've done in the past or things I've wanted to do and build a dish around those seasonal items," said Lundmark. "And there's a lot of online research." 
He just cranks up some metal and gets to his craft. But the real inspiration comes when he's plating. Somehow, Lundmark can make a slice of Midwestern fish look like the cover of a magazine, or a simple Philly look like a million bucks (but still charges $15 with a side.) 
"There's a lot that goes into every dish, but I put a lot of care into making really nice looking plates. It's true what they say, you eat with your eyes," said Lundmark. "We want to set ourselves apart from all the things here, to offer that type of cuisine here alongside a burger, fries or a hot dog and a Philly is a lot of fun." 
---
Wilder Scratch Kitchen Fried Brussels Sprouts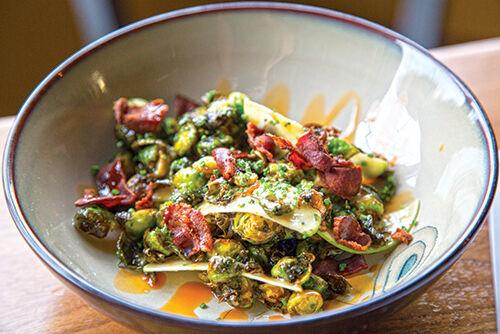 Ingredients
1 lb. Brussels sprouts, halved
6 oz. membrillo vinaigrette
1 Granny Smith apple, cored and thinly sliced 
4 oz. bacon, cooked and chopped
2 oz. chives, thinly sliced
2 oz. chorizo oil 
Heat oil in a fryer or Dutch oven to °350. Add Brussels sprouts (carefully, there will be spatter) and fry 45-60 seconds until sprouts open up slightly and are golden brown. Season with salt and pepper and dress with vinaigrette. Put in a large serving bowl and garnish with remaining ingredients.
Membrillo vinaigrette
5 oz. membrillo
2 oz. dijon mustard 
4 oz. apple cider vinegar 
8 oz. grapeseed oil
Salt & pepper to taste 
Blend first four ingredients in a blender until smooth. Add oil in a slow stream to emulsify. Season with salt and pepper. 
Chorizo oil
1 8 oz. piece Spanish chorizo 
1 cup grapeseed oil 
Cut chorizo into small pieces and put in the bowl of a food processor. Pulse until chorizo is finely ground. Put chorizo and oil into a small saucepan and slowly render on low heat, 45-60 minutes. Strain out solids and allow oil to cool.