The Octopus appetizer at Vann in Spring Park, already the subject of several early reviews of the restaurant, is here to stay. "It was never intended to be on the menu this long," points out Erik Skaar, the executive chef and owner of the four-month-old, fine-dining establishment on Lake Minnetonka. 
It's a three-step cooking process, and the end result is a tender caramelized, tortoiseshell-colored swirl of suckers dotted with translucent radish slices atop a pool of verdant green sauce. And it tastes as exotic as it looks. 
"Octopus is such a such a tough cut to cook," Skaar says. 
Its first hot water bath is to set the curl, and then it's shocked in an ice bath, before settling in for its four to five hour sous-vide simmer at low temperatures. When an order is put in, it's back in an ice bath before it's hard roasted then moved to a second pan for the reduction, which he says is similar to a Japanese eel sauce. 
He uses Spanish octopus, rather than the Alaskan variety, because the Mediterranean Sea has warmer water and there's more for the octopus to eat, therefore it's more tender than its Alaskan brethren. 
All those baths are fitting for a restaurant whose name means "water" in Norwegian. Water is his lifeline, from the seafood and fish on the menu to the dining-room view of Lake Minnetonka across Shoreline Drive. He takes the allegory further saying water is needed for wine grapes to grow, as well as vegetables, for fish to swim in, and it was the original roadway connecting different cultures. 
His diverse menu reflects his home country of Norway, as do the pictures of the town named after his ancestors hanging in the modestly furnished dining room. There are Japanese highlights incorporated as well in the smallish menu that features four selections for first and second courses and three desserts. 
This may be Skaar's first restaurant, but he's not just off the boat. "I've been in the kitchen 20 years," he says, "and through a series of what not to do, you develop a style and you get a bit more tunnel vision." That so-called tunnel vision has led him to focus on seafood, which he's always loved (there's also pork loin and vegetarian dishes on the menu.)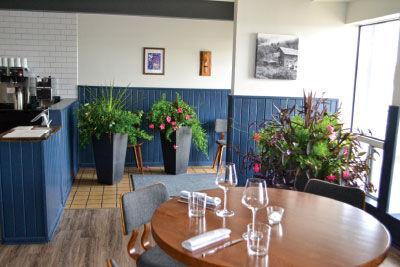 Before gaining the confidence to open his own restaurant, Skaar worked at fine-dining establishments in Denver, Seattle and Florida.  He moved back to Minnesota to raise his family, and worked for Steven Brown at Tilia and in private dining at Bachelor Farmer. 
He didn't work with Brown long enough to call him a true mentor, he says, however, "Steven has always been someone I can call and he'll tell me straight."
He studied cooking at the school of hard knocks, he says, and music at the Institute of Production and Recording, which used to be located in the building where the Hewing Hotel is now renting out rooms on Washington Avenue in Minneapolis. 
He earned his associate degree in music production, but one of the requirements at the time was to do a one-year unpaid internship. "I was fresh out of school," he says, "and I could cook and get paid."
He also had an affinity for cooking, and isn't afraid of hard work and long hours. His first job in the industry was dishwashing, with some time spent prepping. It helped that he could throw on his headphones and listen to music. `
"I love music, I can't go a day without it, but I don't have it in the kitchen," he says about Vann. "It's a distraction." When he does listen, his music choices run the gamut from Miles Davis to Scandinavian to death metal.  "It's mood based," he says, about his soundtrack for the day.  
His CD collection rivals his love of cookbooks, which took over an armoire, before books were "shoved in cabinets and on shelves."
Skaar has that restrained Nordic demeanor, but one gets the sense that along with his earnestness, there's a subtle humor lurking below the surface. 
There are some brief moments when he lets his guard down and some levity shines through, such as when asked if his wife is the one who cooks at home, given his schedule at the restaurant. "She heats things up," he says trying not to smile. 
Opening your own restaurant demands significant self confidence, he says, adding, "It's a humbling business." The notion of Vann "was always floating" in his subconscious, he says, but it took a lot of self-critiquing to get him to the point of taking his internal dream live. 
The 43-seat Vann also isn't flashy, although its transformation is still in the early stages.  Skaar took over the lease of the former Tonka Bar & Grill, which for years occupied the space in a strip mall between an insurance agency and a dive shop. It had been vacant for quite a while and Skaar put money into noncosmetic changes, such as a new ceiling and bathroom upgrades. The wainscoting was painted a marine blue and the rear wall is wallpapered in a Nordic pattern. The tables are round and can be set for two or four, depending on reservations. A bar with seating will be added later. 
He met his general manager, Genevieve Globus, while they were both working at Tilia. She's also the expert behind the wine list.  And his kitchen staff is also former coworkers who were looking for jobs.
"With a new restaurant you have no idea, no baseline on how busy it will be, who will come in," says Globus. "It's a risk, but that's the fun part."
Skaar might not think of it as the fun part, but running his own show is something that he's been building up confidence to do for years. It fits the old saw: If you give a man a fish, he'll eat for a day, but if you teach a man how to cook that fish, he'll open a restaurant. 
---
Octopus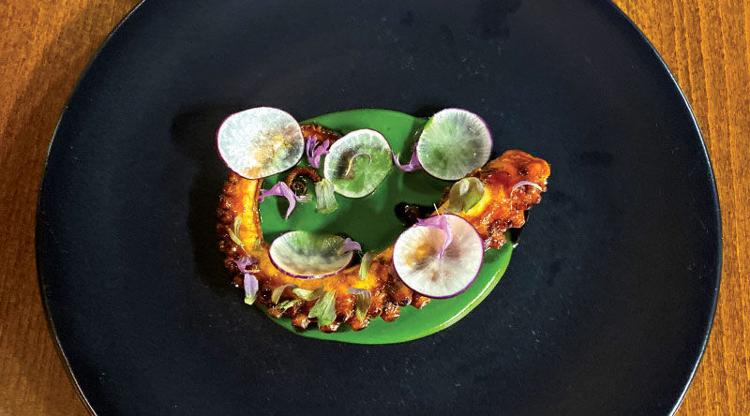 Ingredients: 
130 grams lemongrass (outer layers peeled, smashed with meat tenderizer, finely minced)
2 Tbsp. grape seed oil
65 grams ginger, peeled and minced
20 grams garlic clove (smashed into a paste with ginger in a mortar and pestle)
110 grams shallots, peeled and julienne
2 Thai chilies, stems removed and chopped. (Use seeds and all)
1 cup Fumet
1 cup mushroom stock
400 grams spinach, blanched, cooled and rung dry
50 grams fermented turnip greens
Shio Koji, to taste
White shoyu, to taste
Moshio Sea Salt, to taste
Xanthan Gum, .02% of total weight
3 TBS Cold pressed lemon olive oil 
1 cup Mirin
1 cup Shoyu tamari
1 cup sugar
Tentacles from a large Spanish octopus
Instructions: Add lemongrass to an appropriate sized heavy-bottom sauce pan with the grape seed oil. Cook on low heat for 20 minutes. Add fumet and mushroom stock. Cover with a lid. Cook on low heat for at least 2 hours. Constantly stir during this process. Add water as necessary to keep from drying out or scorching. After 2 hours add garlic, ginger, shallots and Thai chili. Cook for an additional 30 min. Remove from heat and let cool at room temperature. Add mixture to blender. Puree on high speed for 3 minutes. Add spinach, xanthan gum. Continue to blend and slowly stream in lemon oil. Cool immediately. Pass through 120 micro sieve. Season with moshio salt, Shio koji and white shoyu.
Combine: Shoyu tamari, sugar and mirin in a heavy-bottomed saucepot on medium-high heat. Reduce by 33%.
Cool in a bain-marie over an ice bath.
Heat a water bath to 176 degrees F. Vacuum seal octopus tentacles individually. Cook sous vide for 5 hours then chill octopus in an ice bath.
Roast octopus in a pan on high heat, moving constantly to caramelize all sides. Brush octopus with shoyu, mirin, sugar reduction. Serve with lemongrass puree.