To find a top chef mentored by Tim McKee, all one has to do is stand blindfolded in front of a map of the Twin Cities culinary scene and throw a dart. Hit Heyday on Lyndale Avenue South, and you've scored 2015 Food & Wine Best New Chef Award-winner Jim Christiansen, who started as an intern at McKee's La Belle Vie when it was in Stillwater. Hone in on Monello in the Ivy Hotel and you'll hit another protégé, Mike DeCamp. Move closer to Washington Avenue and there's Saffron's Sameh Wadi, who started as a line cook at Solera. Locate the home of Jamie Malone and Erik Andersen and you hit a bullseye with two Food and Wine award-winning chefs who worked with McKee in a variety of venues before branching out to open their own restaurant, Brut (as soon as the perfect spot is located). 
There's more, but you'd run out of darts before tagging all the talented chefs who worked with McKee and then went on to either open their own restaurant or take the top job at highly acclaimed restaurants.
A more insecure man might lament the fact that he's been loved and left so many times, but not McKee.
"I can't hold them back," he says, sitting at a table in a bar across the street from the latest restaurant coming from one of his mentees, Tyge Nelson's Pajarito. "If I could have kept Tyge [and the rest of his interns] together, I'd have the strongest team ever, but you've got to let them go."
Mentoring is a two-way street, he adds. "I'd never be able to accomplish what I have if I hadn't had all the greats, all the stars on the line at the same time," he says. And he's not hung up on who gets credit. "If someone says, 'hey, isn't that your idea?'" he claims he just shrugs it off. "I'm going to have another idea tomorrow or the next day."
McKee, who won Food and Wine magazine's designation in 1997 and the coveted James Beard Award in 2009, is currently a partner at Parasole Restaurant Holdings and a consultant with several restaurants around town. He and partners have opened such celebrated concepts as the fine-dining standard, La Belle Vie, which closed last October after a 17-year run, and Solera and Smalley's Caribbean Barbecue in Stillwater. The restaurant list is almost as long as the protégé list.
"I started out just wanting to make good food," McKee says. "Along the way I saw I could help influence the way people in the Twin Cities eat." 
But McKee says he doesn't have to be the only influencer. "I gave them their breaks and it's their turn," he says about the chefs he's trained. But he's not sending out an army of clones. 
"At Heyday, what Jim does, I don't cook like that," he says, adding, "I wish I did."
"That dessert with paprika …," Nelson interjects and both men nod in agreement.
And then there's DeCamp. "I've always considered my pasta's pretty good," McKee says, "but he could give me a run for my money." 
Another McKee alum, Stephan Hesse, is Nelson's partner in Pajarito. Nelson, who started as an intern at La Belle Vie, went on to work with McKee at Parasole, most recently redoing the menu at Chino Latino.
When I arrived at the agreed upon location for this interview, I was ushered by a workman into Pajarito's "war room." A few creatives were gathered in front of laptops to work on the various tasks of opening a new restaurant, such as web design, menus and construction. 
McKee arrived first, and he and I made our way across the street, since the old Glockenspiel site on West Seventh in St. Paul still required walls, painted-tin ceiling tiles and appliances before it turns into Pajarito. I wanted not only a quiet place to talk, but also a chair to sit in.
We ordered beverages and it wasn't until Nelson joined us and McKee slid the solitary beer over to him that I realized how well they know each other. They weren't completing each other's sentences, but McKee knew Nelson's brand of beer and that he preferred a bottle to a glass. And like a true mentor, he picked up the tab.
Securing an internship at La Belle Vie fresh out of culinary school was a boon for someone like Nelson, who didn't want to work at a place where opening bags was considered cooking. 
"In school you get the basic tool box," Nelson says, "but not real-world skills." 
For instance, in school, you may peel garlic one day, but not gallons of garlic. In school you have the luxury of taking all day to prep one dish; but in a restaurant, you have minutes to assemble multiple dishes and get them in the window. An adequate cook crosses over to good when preparing good food becomes second nature. "The best skill is organization and timing," Nelson says. "And you won't learn that in school."
How does one go from being a good executor of someone else's recipes to defining his or her own style?
By reading cookbooks. Both chefs have a healthy stash of the hardback version—perhaps they shun electronic cookbooks because their phones and iPads have maxed out the memory with galleries of photos. What they can't get from a book, they get from an airline ticket. 
The two traveled together for a variety of projects with Parasole. While visiting great restaurants in a city like say, New York, sounds like a job perk, it's not quite as glamour as it appears. McKee says after years of being slightly jealous of his travels, his wife went on one trip and vowed never to do it again. Why? Perhaps it's because on one such trip they visited 42 restaurants in four days, ordering most of the menu for a couple of lunches a day, a couple of dinners, snacks and late night gorging. The two estimate that they walk 10 to 15 miles a day and consume northward of 6,000 calories. 
"6,000 calories may be a low estimate," McKee tells Nelson. A lot of food is pushed around on the plate, McKee adds.
If you still think it's a boondoggle, McKee can show you 17,000 pictures on his phone as to why it's work. And yet, the two chefs talk about all their culinary-induced adventures in jovial terms.
McKee isn't involved in Nelson's latest venture, although he says he can't wait to eat there. 
We all know starting a restaurant from scratch is fraught with risk, and yet McKee never tries to stop his protégés. "People like to be appreciated and that (opening your own restaurant) gives you a platform, real fulfillment," McKee says.
Nelson describes it as "trial by fire." Sure, it's risky business, but it's also a means to creating something without the constraints from someone else's vision. The restaurant was expected to open in late November with casual-dining Mexican food with a chef's touch.
McKee gently reminds him that there's always some constraints, if not from a boss, then from the guests. 
Yes, but it will be his risk, his shoulders—along with his partner's—that bolsters everything up. And the confident Nelson's ready to prove something. He's had good training, solid role modeling. 
Did McKee have a mentor early in his career? 
"I was heavily influenced by Jay Sparks [of D'Amico]. On Friday we did a family style [meal] and we'd go to different regions of France," he says. "We'd sit down as a group and figure out our menu—and it wasn't an option to not have ideas."
Azur, where McKee cut his teeth in the kitchen and Sparks was in charge, was cutting edge, French-Mediterranean food unlike anything else in the Twin Cities, McKee says. 
"I think it might be the best ever," he adds as his eyes crinkle in a smile, "with maybe the exception of La Belle Vie." 
---
Pajarito
Lamb Albondigas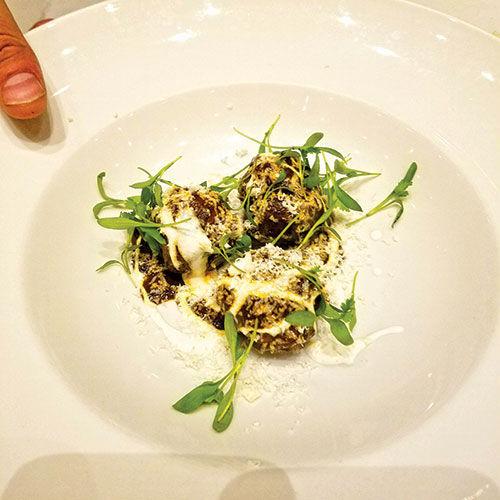 ​Ingredients:
2 pounds ground lamb
3/4 cup bread crumbs
3 egg yolks
1 onion, minced
2 cloves garlic, minced
1 jalapeño, minced
1 Tbsp cumin
1/2 Tbsp coriander
1 tsp smoked paprika
Pinch of cayenne pepper
1/4 cup cilantro, chopped
1 Tbsp epazote, chopped (optional)
1 tsp chile powder
​1/2 cup queso cotija
Method:
In a sauté pan, heat 1/4 cup canola oil over medium heat.  Add the onion and sauté to soften the onions, don't allow to color. Add the jalapeños and cook for 2 minutes. Add the garlic and cook for 1 minute. Add the spices and sauté for 1 minute. Remove from the heat and place in a bowl and allow to cool to room temp. Once cooled, add the lamb, bread crumbs, eggs, cheese and fresh herbs. Allow to cool and portion into balls, roll to smooth and place on a sheet pan. Place in a 300-degree oven and roast until they are just cooked through, approximately 15-20 minutes. Remove from the heat and allow to cool.
Mole Negra
Ingredients:
2 pasilla chiles
2 guajillo chiles
1 ancho chile
1 chipotle
1/2 onion, chopped
4 cloves garlic, sliced
2 Tbsp almonds
1 Tbsp peanuts
2 Tbsp pecans
1-inch stick cinnamon
1 clove
1 Tbsp dried apricots
1/2 ripe banana
2 Tbsp sesame seeds
1/4 pound tomatoes, roasted
1/4 pound tomatillos, roasted
1 tsp dried oregano
3 cups chicken stock
Salt to taste
Method:
Place each of the chiles on a sheet tray and place in the oven. Roast for approximately 5-10 minutes until they are very dark, red to almost black. The chiles should be very brittle when they are done cooking. Be very careful not to burn them as they will taste bitter. Place in a container and cover with warm water and allow to rehydrate.  Toast the seeds, individually, in a sauté pan until they are golden brown. Do the same with the spices and place in a container. Once the chiles have rehydrated, place them, along with the nuts and spices along with some of the soaking water, in the bowl of a blender and puree to a smooth paste. In a medium rondeau, place the lard and put over medium high heat. Once the lard is hot add the chile puree and cook. Be careful with this step as the mix will sputter and splatter, remove from the heat temporarily to cut down on the splattering. Cook until it is a thick paste. Place the tomatoes, garlic, oregano, and tomatillos in the blender and puree until smooth. Add to the chile mix. Add the chicken stock. Reduce the heat to medium low and cook until reduced to a heavy cream-like consistency. Remove from the heat, puree again in a blender and pour through a chinois. Place in the cooler and allow to cool.
Tahini Crema
Ingredients:
1 cup crema or sour cream
1/4 cup tahini
2 tsp sesame oil
Pinch cayenne
1/4 tsp cumin
1 tsp salt
1/2 clove garlic
1 lemon, juiced and zested
Method:
Combine all the ingredients in a bowl and stir to combine. 
To Plate:
1/4 cup grated cotija cheese
12 sprigs of cilantro
12 meat balls
4 Tbsp crema
2 cups mole
Method:
Place the lamb balls in a sauté pan along with the mole and 1/2 cup water. Place over medium heat and warm the meatballs through, allowing the mole to cook down and glaze the meatballs. Arrange three meatballs on each of four plates. Coat with some of the mole. Drizzle the crema over the top of the meatballs. Sprinkle on the cheese and garnish with the cilantro sprigs.