Thomas Kim's fantasy is to introduce street-style Korean fare to inquisitive Midwesterners who aren't afraid to fall down the rabbit hole into a world of intense flavors. "The menus are changing and getting more adventurous," he says, of the latest offerings at his second restaurant, The Rabbit Hole, but he has to be careful not to push Midwestern palates "so far out of their comfort zone they don't come back (to the restaurant)."
Take for instance, his plan to add silkworm larvae to the menu. "I served it to the staff and it became obvious to me no one would order it," he says. Likewise a popular sweet, smoky drink called That's What She Said. People liked it until they heard the ingredients: Midori, dashi stock and dried bonita flakes.
"Unfamiliar has been our biggest issue," he laments.
He's had more luck with the braised pig tail, although diners are surprised at the size of the tail — 12 to 14 ounces — and the look. "It's not the animated curl … it's phallic looking," he acknowledges. But it also resembles a "tasty rib" that exceeds customers' taste expectations once tossed in roasted scallion sauce. Kim tends to cook what he likes to eat, and what he's been craving but can't find in other restaurants. 
Midwestern sensibilities also struggle with another Korean mainstay: a buzzer on the table used to summon the waitstaff. "Koreans value privacy, instead of a waiter hovering," he explains. Minnesota-nice people, however, hate to bother the server and tend to wait for him or her to make the rounds. But they're catching on, Kim says.
But for all the differences, the draw to the restaurant in Midtown Global Market in Minneapolis is those hard-to-find taste profiles served by knowledgeable servers. There's also a large Korean population here looking for the tastes of home.
The decor is imaginative, combining the look of Korean street cafés with whimsy. It's been compared to Alice in Wonderland, but it's not intentional, he says. Cookbooks, strung in a floating arch, hover above the host stand. Colorful graffiti adds some authenticity to the tables, along with low metal chairs and menus hung from wire. A feathered lampshade dominates a small grassy room in the back. In the bar, an oblong chandelier is constructed from multiple sizes of paper lanterns. Kim's wife gets credit for the decor, as well as their fun website.
Kim, who is a second-generation Korean raised in Southern California, started out at the Midtown Global Market as The Left-handed Cook. (Left-handed sushi chefs, his training, are frowned upon, Kim says, so he had to learn to cut right-handed.) When the larger space opened up, he closed his Left-Handed Cook, so another chef could take advantage of the space and perks the market provides start-ups. Kim just finished re-conceptualizing the original Left-Handed Cook as a "micro-restaurant," a stationary food cart, open for lunch outside The Rabbit Hole. One idea is to serve Korean steamed buns and American "dirty-water" hot dogs, where the holding tank water will be flavored with spices such as star anise, cinnamon and coriander. Toppings also will be unexpected, such as fermented vegetables and onion marmalade. 
The Rabbit Hole is open for dinner only, because "the style of food and service tend not to work well with grab and go," he says. He's much more focused on presentation at Rabbit Hole. "I live and breathe food," he says. "The story behind cooking is personal."
---
Ro Tteok (Rou Jia Mo/Hotteok Sandwich)
3 ounces of Red Braised Pork
1 Hotteok bun
Cilantro
Green Onion
Pickled Jalapeño
Take the hotteok bun and slice it in half. Toast the outside of the bun until deep golden. Top with pork, then garnish with cilantro, green onion and pickled jalapeño. Enjoy with your favorite pickles.
Red Braised Pork
1 pound pork jowl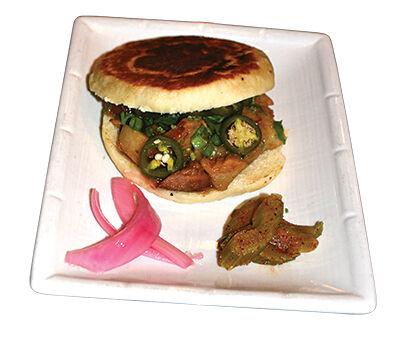 1 pound pork belly
1 pound pork shoulder
6 Tbsp sugar
3 Tbsp Shaoxing Chinese Cooking Wine
2 Tbsp mushroom soy sauce
2-inch knob of ginger, cleaned, smashed
2 whole star anise
2 3-inch pieces of cassia bark (or sub cinnamon stick)
4-5 dried red chili peppers 
Blanch the pork in boiling water for 5 minutes. Dump the water and rinse the pork. Cut the pork into 2-inch cubes. Toast the dry spices until fragrant. In another pot large enough to hold the pork, add the sugar, soy and shaoxing. Fully dissolve the sugar, then add the spices and ginger. Add the pork then fill with enough water to cover the pork. Simmer for 1 to 2 hours until tender. Remove the pork then reduce the sauce by ¹⁄³ and add the pork back in.
Hotteok 
1 cup warm water
2 Tbsp sugar
2 tsp dry active yeast
½ tsp salt
1 Tbsp vegetable oil
2 cups all purpose flour
Dissolve the sugar with the warm water. Add the yeast and let it sit until frothy, about 10-15 minutes. Add the rest of the ingredients and mix until smooth. Let the dough rest and double in size. Punch down the dough one time and let it rise again. Punch down once more, then portion to 2.5-ounce balls. Cook in a pan with oil or on a griddle. Making sure that the inside is cooked through.