Thomas Boemer, aka chef and co-owner at Revival, chef and co-owner at Corner Table, and King of Porc, is having a good year. 
Somehow, Boemer found the time to win the prestigious Grand Cochon heritage breed hog cooking title while running two popular kitchens, including the supremely busy Revival. Despite his hectic schedule, the Minneapolitan Zen master of fried chicken gives off an air of extreme relaxation, likely found through meditations over Revival's deep fryer. 
"I love frying the chicken, for me, that's the thing," said Boemer. "There's a lot of attention that needs to be paid when you do it, how you work the flour—there's all these subtleties to it to develop a beautiful coating." 
He said the opening of Revival in south Minneapolis this spring was a long time coming. Diners at Corner Table urged him to recreate the restaurant's popular fried rabbit with chicken. But it just wouldn't work. 
"To do good fried chicken, you have to focus on it. Our chicken is cooked fresh every single piece and it just takes a lot of time," said Boemer. "Your restaurant has to be solidly based around that to perform at a high level. And there just wasn't a place that I could have that, so [Revival] had to happen." 
But to find the spirit of Revival, Boemer also looked to his Carolina past. 
"After working with [Michelin-starred French chef Alain] Ducasse, working with him and within his group—which is a huge transformative thing in my career to work with him—I saw the intensity and passion in which he reached back into his own life and how proudly he stood for the food of his origin and his country," said Boemer. "I think that that really challenged me to look at my own upbringing, to look at our own sources."
All the hard work of opening and running Revival became incredibly personal. 
"To be honest, what really drives me in what I do is food that has depth and meaning to me," said Boemer. "This whole restaurant is based off of those classic fried chicken dinners I used to have at friends' house growing up. So it's a big part of me reliving that and finding that source."
The attention to detail and personal foundation made Revival one of the busiest restaurants starting on day one. While Corner Table gets busy, Boemer said he and co-owner Nick Rancone were stunned by the reception of their new spot. 
"I remember the first day of opening. We were just like, 'Oh my God, what did we do?' said Boemer. "We couldn't even believe it, there were lines around the corner." 
It was an incredibly humbling experience. 
"To take something out of your past, something that is so personal, something that is a part of you and put it in a community and embrace it this way, it's mind blowing," said Boemer. 
While there are rarely lines around the corner anymore, Boemer said the warm welcome to the food scene is an indication of a change in how local chefs are looking at Midwestern cuisine. 
"A lot of people for a long time have said, 'Minnesota needs to be more like this place or more like that place,'" said Boemer. "But I think what we're really doing is embracing some of the best characteristics of the Midwest, but allowing ourselves to grow at the same time. In the course of five years, from food standpoint, we have really created this strong identity of what it is to eat up here."
Getting comfortable with being a mid-sized Midwestern city has helped local chefs look to their own upbringings as well as the surrounding community. 
"We've got an amazing food scene that reaches so many different cultures and styles of food. And I think that the people are embracing that diversity and look at eating different things," said Boemer. "I think it's really important that we're embracing what we're doing and what our city is about and how diverse our city is rather than trying to be another city."
That same sentiment is apparent in diners as well. 
It's incredible "to see people eat chicken liver and pickled pigs feet and shrimp. And the hot sauce on our Tennessee hot style chicken, it is hot," said Boemer. "Sometimes you look at the sales and it's almost even. People are craving spice. And I think there is an adventuresome spirit with food and we're starting to really embrace our diverse culture." 
Of course, Revival and Boemer have a distinct leg up; it's pretty tough to say "no" to a piece of fried chicken. 
"I don't think it's possible for any human being to get sick of fried chicken," said Boemer. 
---
Fried Chicken Livers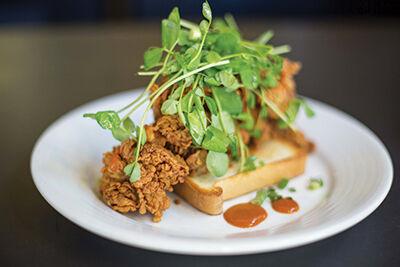 1 pound chicken livers
1 quart buttermilk
1 Tbsp kosher salt
1 tsp ground black pepper
1/2 tsp paprika
4 cups seasoned flour 
  4 cups bread flour
  1 Tbsp kosher salt
  1 tsp ground black pepper
  1/2 tsp paprika
  1 quart lard or frying fat
Add spices to buttermilk and pour 2 cups over chicken livers in a container that allows them to be completely covered. Leave in buttermilk for 6 hours to overnight. Remove from buttermilk and clean livers by separating the large and small piece, removing membrane, and removing any bile. Rinse and add back to the remaining 2 cups of buttermilk.  
Make seasoned flour and pull livers out of buttermilk and coat completely in flour mixture. Drop slowly in 350-degree frying fat, making sure there is enough fat to cover.  Use frying screen to prevent burns due to popping livers. When done, remove onto rack and season with salt. Serve on bread with your favorite hot sauce.