Patrick Donelan grew up in a family where everyone cooked, and everyone hunted. "We did everything by hand," canning the majority of their food, he says, especially sauerkraut. "My grandparents were straight from Germany."
His grandparents raised thousands of chickens on their farm, and every year they headed to Alaska to fish for the entire summer—leaving their 15-year-old in charge of their large brood of kids. 
Growing up around Battle Lake in Otter Tail County, Donelan preferred the outdoors to a classroom.  "I hated school," he says, "and I didn't see myself going to college." He graduated in 1986, and went to a tech school where "I didn't learn anything." It was all quantity cooking, not quality. Bored, he wasn't the best student, he confesses, laughing as he adds, "The other chefs would probably be surprised I'm still cooking."
And even more surprised, perhaps, at how well he does it —without foam or microgreens. As executive chef and line-cook at The Noble Lion in Victoria, he has created a menu that has people routinely willing to put up with an hour- to two-hour wait on weekends—with no reservations. A bold move when you're outside the metro area. 
 "I like to keep the flavors simple," he says, sourcing ingredients from purveyors he knows and trusts. He makes the sauces, such as his duck demi-glace, from scratch. Popular menu items include scallops & bacon atop creamed corn, the ribeye, seared halibut with lemon beurre blanc and a duck and scallops combination. The Belgian-style frites are also a crowd pleaser. When it comes time to update the menu, owner Marc Huebner runs the numbers and the items that sell the least get cut. Hueber also contributes recipes he'd like updated, Donelan says.
Before answering Huebner's Craig's List ad, Donelan had retired from the kitchen at Blue Point in Wayzata, and taken a short stint at Victor's in Excelsior. He also had a side business selling antique fishing equipment online and serving as a guide on fishing trips. 
But cooking, especially at the level he's achieved, is hard to give up. "It's part of your identity," he says. 
When he's not at the restaurant, he's in the woods foraging. The bounty of mushrooms he returns with shows up in several recipes, including Forager Pasta, the dish he shares here. The day he cooked it for the camera, it had four different kinds of mushrooms, but at the height of the season it can have as many as 12 kinds. 
"Our health inspector saw the mushrooms in the fridge and asked, 'where'd you get those?' " Donelan says, grinning at the memory of the look on his face when Donelan replied, "I picked them this morning."
Years of experience—and certification—have ensured that the mushrooms he sautés into dishes at The Noble Lion and sells to other restaurants in the area are safe. "The chanterelles are the obvious ones…but there are 50 varieties out there," he says. In a given year, he'll pick somewhere north of 300 pounds of chanterelles, plus hundreds of pounds of other varieties. He forages private land, most of it near his cabin or land owned by his grandfather's former neighbors. "You can't sell mushrooms from public areas," he says. 
Foraging is part business, part pleasure. Some day, he says, he wants to make the leap to full-time residency at his cabin near Battle Lake where he grew up. He and his wife are adding onto the cabin they originally built 20 years ago. "It's small and we're gear heavy," he says. 
His three kids are still young—10 to 16 years old—and his wife mostly isn't ready to uproot them from school and move to a town of less than 700.
Right now, he's keeping his family rooted at the restaurant. His daughter is a part-time hostess and food runner at the restaurant, his son washes dishes (and is also a certified forager) and his wife, who was a sous chef at Blue Point, fills in for the occasional shift when needed. "Never all four of us at the same time," Donelan says about the working schedule. 
The staff is small, in part because the restaurant is, and so is the kitchen. "Our kitchen is so small, you don't move more than four feet all night," he says. There's no walk-in cooler, the dish machine is on the floor, but "it's an efficient kitchen, we learned how to do it." The spot Huebner had picked out for the walk-in cooler had to be redesigned as a second unisex restroom.
Huebner has grand plans to help alleviate the wait times, since he doesn't want to get tied up with reservations. He leased the space across the patio from The Noble Lion that will be turned into The Lion's Den, a more casual bar and restaurant with a focus on more snack-type foods and drinks. It will even have a TV tuned to sports, Donelan says, which is something Huebner refused to have in the bar of The Noble Lion. 
One thing it won't ease, Donelan says, is getting him off the line. He'll be running both kitchens. He laughs when he recounts the number of times guests will ask to meet the chef, only to be told he can't come out right now. If he does, the servers explain, the food doesn't get cooked. But he's not complaining. He likes the fast-pace work and he likes being on the line, especially since his second in command worked with him at Blue Point and they get along well. And in an efficiency kitchen, you need a dance partner who knows how to follow your lead. 
---
Forager Pasta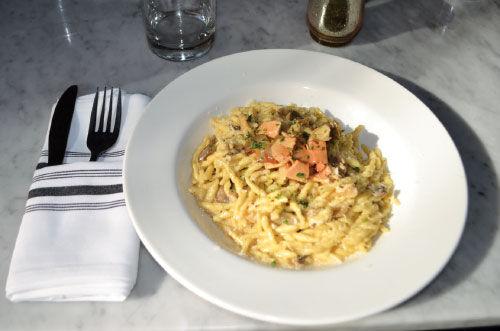 Ingredients: 
2 oz Oyster Mushrooms
2 oz Maitake Mushrooms
2 oz Chicken of the Woods Mushrooms
2 oz Hericium Mushroom
Yellow Onions, julienned
1 oz Duck Demi
3 oz Vegetable Stock
1 ½ oz Heavy Cream
1 T Butter
6 oz of Trofie Pasta
Salt and Pepper to taste
Parmesan and Parsley for garnish
Sauté julienned yellow onion and mushrooms in butter. Set aside half the mushrooms. Fold in duck demi, vegetable stock and heavy cream. Toss in pasta to coat, season with salt and pepper. Plate with rest of sautéed mushrooms on top. Sprinkle with Parmesan and parsley.