Kristin Tyborski is that coveted MVP who can play all the positions, moving gracefully from front of the house to the kitchen and back again without grandstanding. 
"I have an incredible kitchen team which makes it easy," she says of her latest job description as both general manager and chef. 
Three years ago Tyborski  helped open The Lynhall—a multi-faceted restaurant/bakery, food-business incubator, TV kitchen studio and retail operation on Lyndale Avenue in Minneapolis—first as a consultant and then as the general manager. She moved into the kitchen when their opening chef left, and when a new chef came onboard, she returned to managing, and then back to the kitchen. "This is the fourth time," she says, shrugging her shoulders, "and now I'm both." (All this coming-and-going is not a reflection on Lynhall, but on the state of the industry in these hard-to-find-employees times.)
Tyborski has that multi-tasking, never-let-them-see-you-sweat demeanor that translates so well in the crazy world of restaurants.  In addition to all the extra moving parts, Lynhall is also transporting itself into the catering business, plus a satellite location soon to be opened in Edina.
The dreamchild of Anne Spaeth, The Lynhall is a gathering place for both the Lyn-Lake neighborhood and for foodies, who enjoy a stylish place to plug in their laptop in the morning, accompanied by coffee and gourmet pastry, and table-service gourmet meals at night. Her Sober Supper events once a month on Sunday nights are sell-outs and she's brought in a number of high-profile guest speakers in her wisdom series. 
The two women met through a mutual friend, when Spaeth was looking for a consultant to help with the kitchen design and equipment. While a lot of chefs have to make due in close quarters, the kitchen at Lynhall is massive and well equipped. Such is the perk of being the consultant and then the chef. 
Although Tyborski seems a natural in the kitchen—and even though her mother was a good cook—"food wasn't calling me," she says about her early years. "I was a curious kid, I wanted to get out in the world. I knew it was bigger than Fargo," she says.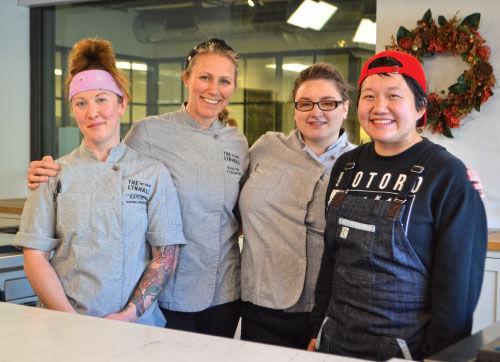 She went on a backpacking trip across Europe when she was 22 with a friend, staying in youth hostels and sampling the local cuisines. Now a parent herself, she marvels that her parents were OK with her being so independent—so far from home. "I think of my daughter…," she says, and about whether she'd allow her the same freedom, but then admits it's not a pressing issue since her daughter's age hasn't reached double-digits yet,
When she did decide she wanted to go to culinary school she didn't research the traditional route, opting instead to go to a school in Argentina. "My plan was to move to South America, learn Spanish and cook," she says. That plan, however, was shelved when she visited Minneapolis to see a show, met her now-husband and moved here instead. 
She did make it to a culinary school a bit south, at least of Fargo, in Dillon, Colorado. "It was three years of rigorous on-the-job training," she says. Students were presented with a heavy three-ring binder and had to get each task signed off by the chef they were working for—in some cases up to three chefs had to sign off.
She was executive chef at The Dakota when her first child was born. One of the appeals of the job is that she was offered a co-chef position, where she was able to share the load with another chef.  "I thought I'd see more music," she says of the position, instead she found herself in the kitchen cooking during the first part of the show and then racing home to be with her child and husband after the dishes were cleared. 
Her experience reads like the who's who of Twin Cities dining. She worked at Porter & Frye under Steven Brown, at Sea Change with Jamie Malone and for Tim McKee at Solera, where she shared the line with "Danny Del Prado, Tyge Nelson…I could go on forever."
For the recipe featured here, Tyborski chose "one of our favorite dinner entrées," Cumin Lamb Shoulder with paprika spiced chick peas, lemon-tahini yogurt and flatbread. With the weather getting colder, she says the dish gives you a warm feeling. "I love the depths of flavor with each element."  For the presentation she wanted, she says she didn't want the lamb to be picked or shredded, choosing instead a rolling technique "which feels center of the plate." The chick peas gives it texture and the lemon-tahini yogurt sauce adds a bright, balance to the tomatoey paprika taste. And the flat bread triangles "makes it more fun."
A decade or so ago a female chef/GM may have been unconventional, but not anymore. In fact, Tyborski's team is headed by women. Journalists are chastised for asking women about life-work balance since it's a gender-bias question, but in today's world, everyone who works in a kitchen, especially parents, struggles with finding balance. So it's nice to see the calm, supportive perspective Tyborski brings to her work, whether she's in the front of the house or the back. 
---
Paprika BBQ Chickpeas
Yield:
5 quarts
Ingredients:
.25 c. Vegetable Oil
12.6 oz. Yellow Onions, small dice 
6 ea. Garlic Clove, minced
7.5 oz. Green Bell Pepper, small dice
2 oz. Sweet Paprika
.25 oz. Smoked Paprika
8 oz. Crushed Tomatoes
.25 oz. Hot Paprika
2 oz Black Cocoa Powder
3 oz Button Mushroom, chopped in food processor
.75 oz. Guajillo Chili Powder
3.5 oz. Dried Figs, small chop
2 tsp. Ground Cumin
1 oz. Molasses
50 oz. Canned Chickpeas, drained and rinsed
Procedure:
Add vegetable oil to a medium-sized sauce pot and turn temperature to medium.  Add onions and cook until translucent, stir frequently to avoid scorching.  Add garlic and all spices.  Cook for approximately 3 minutes or until the spices have darkened.  Add mushrooms and cook until the moisture is reduced to half.  Add in figs, green peppers, molasses and tomatoes.  Cook for 30 minutes on low to medium heat or until all the veggies are cooked al dente.  Add in the chickpeas and remove from heat.
Season with salt and black pepper.