It's only natural that the family behind Dayton's, Target, Askov Finlayson's "climate-positive" parkas and all those North-branded stocking hats is using the culinary arm of the dynasty to define what northern cuisine really means in 2019.
Instead of cringe-worthy clichés like lutefisk, cream-based casseroles or Jell-O-whatever-the-hell, The Bachelor Farmer's new chef wants to know what's good and edible from our own forests, fields and shorelines. This ambitious mission means investing the time and experimentation to massage bitter crab-apples into a lusciously sweet sauce, to transform birch sap into an oddly savory drizzle or to soak balsam fir cones so they turn into artichoke-like delights that Chef Jonathan Gans artfully deconstructs with long-handled tweezers one tiny little piece at a time.
Hanging out in The Bachelor Farmer's kitchen is like a trip into (Minnesota born) Mr. Wizard's laboratory as a succession of little containers appears with small handfuls of locally foraged items I've never considered eating. The chef's excitement grows as he realizes he has a willing audience to explain the aromatic signature of hyssop, how carrot tops can build a new take on pesto or how he chars golden beets with a blowtorch for an unexpected texture and speckled presentation.
Gans' quest isn't just to find what's palatable, but also finding new ways to replace cooking staples like brined chokecherries masquerading as Upper Midwestern olives. And he dreams of harnessing the briny waters of Minnesota's lone salt lake into a new seasoning that's actually of this land—or, at least, more than anything dredged up from the bottom of an ocean. 
While the Bachelor Farmer first launched as a bastion of new Nordic cuisine, its fresh new chef is taking the eight-year-old restaurant in an entirely new, northerly direction that's an ode to the land we live on.
"I think that this restaurant can tell it better than any other restaurant," Gans said of its menu's now looser categories and deeper focus on locally found foods. "There is this really rich tradition of agriculture in this region, dairy farms, livestock and amazing produce that's grown here. I mean, the tomatoes from Twin Organics, they're just incredible."
Swapped out for more seasonally appropriate squash, heirloom tomatoes from the Northfield-based farm were the cherries atop the house-made cow's milk cheese toast that's simpler and more flavorful than the short list of ingredients would indicate.
The Bachelor's back-of-the-house employees are treated to a spectacular view of Nicollet Island while they slice, boil and experiment. Gans pulled out his little containers to build the shaved foie gras with charred golden beets, crabapple butter, balsam fir cone and birch syrup dish. The chef explained the story of each individual ingredient and the process, thinking and experimentation behind getting it onto this very plate.
He hired Forager Chef Alan Bergo "to really dive into the woods" as his first big move after taking the head chef spot last November. His marching orders were going beyond the ramps and morels that are springtime staples at farm-to-table restaurants. When Bergo shows up for his weekly visit, Gans and company have no idea what's coming their way. With new daily specials on the menu, this extemporaneous creation is an opportunity, not a burden.
"He'd help us figure out some of the stuff that we didn't know, and we'd just start exploring and see what's out there," Gans added, noting that ingredients like gallium, woodruff and the tiny pine cone he was disassembling are just a handful of Bergo's fruitful finds to date. Gans sometimes goes with on Bergo's food-finding day trips.
After drizzling the crabapple puree, arranging the seared beets, thin apple slices and foie gras shavings, he then carefully places the garnishing flowers and balsam bits. Gans told me to shoot the beauty shots quickly before the duck fat melted in the room temperature air. Once photographed, we sat down in a booth to eat our way through this gorgeous assembly.
The first bite of beet lands with an intensely earthy taste, which felt appropriate given the conversation. Next up, foie gras is so potently savory one can see why shavings are enough. Dab a forkful in crabapple puree and stab an apple slice for sweetness, acidity and crunch. Take the next with some balsam, and repeat. Senses suggest you're walking through the woods, and the mind wonders what else is there for the tasting in these boreal forests of ours.
As the last bits were consumed, our conversation meandered from under-appreciated fish in Lake Superior, gratitude for an especially strong kitchen crew and rising traffic numbers, to how he and his wife prefer our sunnier-but-cold winters to Seattle's wintertime gloom.
Five years on, life in the Bold North is working out well for this born-again chef who took a break from the kitchen life. One year back in the chef habit, Gans is well on his way toward redefining a regional cuisine that was in need of a makeover.
"It's not the shiny new thing, so how do we take a really solid business, give it a jumpstart and give it the energy that it had when it was a brand-new restaurant?" Gans asked rhetorically. "Having a really clear vision of where we're going will help with that."
With that, the tastes of the north slowly faded from our palettes. Pine, earth, floral, bitter, sweet, rich, butter and pungent—this is what Minnesota's food should be and this is our own version of the infamous Swedish Chef Magnus Nilsson, but without the mullet. 
---
Charred Golden Beets with Apple Butter, Shaved Foie Gras, and Candied Balsam Fir Cones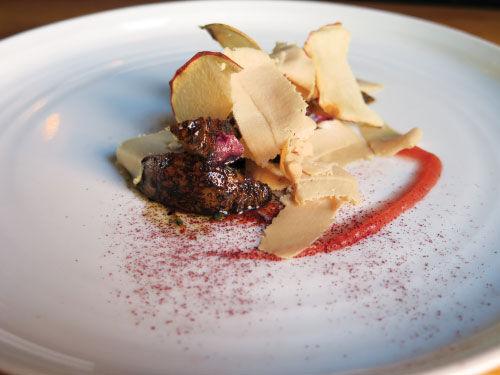 Ingredients: 
Baby Golden Beets
Apples (crab or honeycrip)
Foie Gras
Anise Hyssop
Candied Balsam Fir Cones
Apple Chips
Beet powder
Roasted Golden Baby Beets
12 baby golden beets, tossed lightly in grapeseed oil and salt, roasted at 375 degrees until just tender with a toothpick. Let chill. Char beets with blowtorch until evenly blackened on all sides. Cut in half, then marinate with birch syrup vinaigrette. 
⅛ cup Birch Syrup
¼ cup Extra Virgin Olive Oil
1 tbsp Fresh Sliced Chives
Fleur de Sel to taste
Apple Butter
2 quarts Crab Apples or Honey Crisp Apples, diced
1 cup water
2 Tbsp mixed spices (cinnamon, ginger, clove, nutmeg, allspice)
Sugar to taste
Salt to taste
Cook all ingredients slowly together in a non-reactive pot until apples have complete broken down. Push pulp through fine-mesh strainer or food mill to remove seeds and skins. Continue to cook slowly until desired thickness achieved. Process in high-speed blender for smooth texture if desired
Salt Cured Foie Gras
400g Grade A Foie Gras
8 g Kosher Salt
3 g Sugar 
3 g Curing Salt
Dice foie gras and mix all ingredients well. Set in covered metal bowl and place in warm place to render the foie. Once foie has rendered roughly 50% fat, push through tamis to remove all veins. Place in high-speed blender to re-emulsify, then pour into ziplock bags and immediately chill in an ice bath. Once foie is chilled, shape into logs and wrap tightly with plastic wrap. 
Candied Balsam Fir Cones
12 young balsam fir cones (approx. 1-½" in length)
2 cups simple syrup (50/50)
Add cones to syrup and heat on lowest setting for 6-8 hours, until tender. Put in sealed container and let soak in syrup for at least 1 week, up to 1 year before using. 
To Assemble Dish
Spread a small amount of the apple butter on a medium-sized plate.
Place 6 halves of marinated beets on top of the apple butter. 
Sprinkle flowers from the anise hyssop over the beets. 
Place petals of the candied fir cones over the beets and a few on the plate as garnish. 
Just before serving, shave chilled foie gras with a micro plate over the top of the beets.
Top with apple chips and beet powder. 
Serve immediately.