It seems like a lot of work just to get a Sunday off.
But that was at least one of the motivations behind the once-a-month Chef's Day Off dinners at Joan's in the Park. The Monday night offering fills up quickly, because the 12- to 14-course meals use only raw ingredients that grow or graze in upper Midwest fields. 
"That means no lemons or oil olive," says Susan Dunlop, the chef and co-owner of Joan's who came up with the "labor-saving" plan. "We grind our own flour (for bread) and press sunflower seeds and hazelnuts (for oil)." They also churn butter from organic cream and make condiments from scratch. "You can't do that every day," she says of the 50 covers a day they do on weekdays and 80 on weekends. 
To keep the guests from getting too stiff from sitting over the course of the three-hour dinner, she serves one course in the kitchen, where she also performs — such as in October when she butchered a duck. Only one person passed on the duck dish, a case of "seeing is not eating," Dunlop says, adding, "It's important to know where food comes from."
The dinners are another way of saying "eat locally," a phrase Dunlop thinks is overused. While the daily fare is also made from scratch, what her purveyors have fresh often determines what's on the menu. "No zucchini?" she says, "So I have three hours to come up with something" the rep does have fresh off the farm.
The day we visited she cradled a giant head of kale, showing it off with a mother's pride. There was also a box filled with misshapen heirloom tomatoes that received high praise.
Dunlop's partner Joan Schmitt is the "Joan" in the moniker. The name came from Dunlop's favorite restaurant in Los Angeles, Joan's on Third. "Joan's on Snelling didn't sound very catchy," she says, but with the eatery's location in St. Paul's Highland Park area the name is legit.
Schmitt serves as maître d' and bartender, and two of her children have joined the small staff. The couple bought the eatery complete with a pizza oven that is still their main source of heat. The large deck oven replaces a broiler, sauté station and a fryer. "You have to adapt recipes to this style of cooking," Dunlop says, adding, "You do what you do with what you have at the time."
Originally, they thought it would stay a pizza restaurant, but "two months into it, we decided pizza wasn't our dream," Dunlop says. What was there destiny is a white-tablecloth restaurant and cooking from scratch.
"It's not (just) cooking," she explains, "I love feeding people."
Dunlop had an unorthodox pathway to chef/restaurant owner. She started her career as a tax assessor in New York, then moved to California with plans to go into real estate appraisals. While she took classes, she started working in L.A. restaurants and found she liked prepping, even though at one place the sink was in the walk-in cooler.
"I like the competitive aspect of restaurants. I was active in sports and this replaced it," she says. "I have to have things ready, quality has to be there and it's a physical job with an artistic aspect. Food touches all your senses."
It's also personal. Her food is her art and if people don't like her steak or rutabaga raviolo, it's hard not to take it personally. It's made her aware that most professionals take special pride in what they do. "Now, I even thank my dentist," she says, grinning.
---
Rutabaga Raviolo
2 cups rutabaga (peeled & cut into ¾-inch cubes)
¼ tsp salt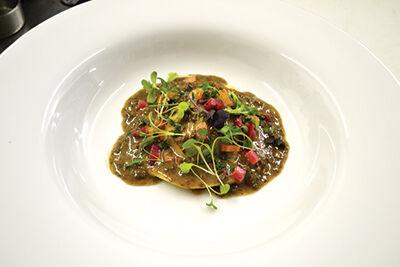 2 Tbsp heavy cream
1 Tbsp butter (soft)
Pinch salt
1 egg white
6 Swiss chard stems (cut ¼ inch, sautéed in butter for 1 minute)
2 ounces micro greens
Fresh pasta dough
Add the rutabaga and 1 Tbsp salt to a medium saucepan and cover with water. 
Bring to a boil then reduce heat and cook at a slow boil for 40 minutes until very tender. You may have to add additional water.
Drain the rutabagas and place them into the work bowl of a food processor with the butter, cream and salt and puree for several minutes, scraping down the sides of the bowl as necessary, until a smooth puree is achieved.
Taste the puree and add additional salt if necessary.
Pass the puree through a wire mesh strainer into a mixing bowl, cover and refrigerate.
Once the filling has cooled, prepare a pasta sheeter and set it to the widest setting. Using a bench scraper or knife, cut the dough into 4 equal pieces and return 3 pieces back into the plastic bag and using a lightly floured work surface, press out the dough into a flat square about ¼ inch thick.
Dust lightly with flour and pass the dough through the widest setting of the pasta sheeter. 
Fold the dough in half and pass through the widest setting again. Do this procedure 5 times, flouring the dough as needed so that it does not become sticky.
Now adjust the sheeter down one more setting and pass the dough through, no longer folding it in half. Continue this process one setting at a time until you reach the next to the last setting. You should have a smooth long sheet of dough.
Set your pasta sheet aside on a floured work surface and prepare an additional sheet just as you did the last one. (Using a pasta cutting wheel or knife, you can trim up the sides if you like, although it is not necessary.)
Once you have 2 sheets prepared, take one sheet and working left to right, center 2 tablespoons of filling 2 inches from the left edge of your dough. As you proceed, keep each addition 2 inches apart from the last. You should be able to fit about 4 portions of filling on the sheet of dough.
Whisk the egg white until it is just frothy. Using a pastry brush, lightly brush the egg white around the filling. This will help seal the raviolis. 
Now take your second sheet and gently set it on top of the first sheet. Working left to right and one ravioli at a time, using your 2 index fingers, begin pressing down the dough to seal the dough around the outside of the filling. It is important to avoid air pockets in your ravioli.
Using a 3-and-a-half-inch round cutter, cut out each ravioli and gently press the seams together to insure a good seal.
Place the ravioli on a floured sheet pan. Do not cover the raviolis.
Repeat this process for the additional dough and filling. You should have about 8 ravioli.
Prepare a large pot of boiling salted water. Drop the raviolis in the water and cook for 4 minutes.
Drain the ravioli and lightly blot with a paper towel to make sure there is no residual water.
Place a dollop of the duck sauce in the middle of a pasta bowl, place the ravioli on top of the sauce and cover the ravioli with 1½ ounces of the sauce, garnish with the Swiss chard and the micro greens.
Duck Raviolo Sauce
2 Tbsp duck fat
¼ cup diced bacon
2 Tbsp shallots (¹⁄8 inch dice)
1 Tbsp molasses
1 cup ruby port wine
½ cup ground duck heart, gizzard, liver
2 cups duck stock
1 cup apple cider
8 ounces chilled butter (½ inch dice)
1 Tbsp green peppercorns, chopped
Note: This sauce can be prepared through step 4 and then finished just before service
Method of Preparation/Procedure
Using a large sauté pan, add the duck fat, bacon and shallots and sauté on high heat until the shallots are slightly caramelized.
Add the port and molasses and cook until port is reduced to a glaze, reducing the heat as necessary to prevent scorching.
Strain the sauce of the bacon and add it back to the sauté pan. Over medium low heat add the ground duck and cook, stirring until mixture is broken up and just cooked through.
Increase heat to high, add the duck stock and apple cider and cook for about 15 minutes until sauce is reduced to about 1 cup. As sauce begins to thicken after about 10 minutes, reduce heat to medium and then again to low as it continues to thicken. Using a rubber spatula stir the sauce in the final minutes to prevent scorching.
The sauce can be held at this point.
When ready to use, heat the sauce on medium until is reaches a simmer, then reduce the heat to low and, using a wire whisk, add the butter a couple of pieces at a time, waiting until the first addition is incorporated before adding the next addition.
Once the butter is fully incorporated add the salt and peppercorns, taste and adjust seasonings as needed. Keep the sauce warm, being careful that it does not get too hot or the sauce will break.