Asked about the pre-opening hype surrounding his second restaurant, St. Genevieve in the posh Lynnhurst neighborhood of Minneapolis, Steven Brown played it cool, suggesting the frothy excitement before high-profile openings risked setting public expectations dangerously high. 
Fast forward 10 months, with a growing clientele of customers from the immediate 'hood and those willing to drive for a taste of France in the city, and Brown and Executive Chef Paul Backer are settling into a more relaxed vibe that properly suits this buvette-style neighborhood eatery. 
Before officially opening in December 2015, anxious foodie writers quizzed Brown about the design, the neighborhood, the bubbly and the beers—looking for him to expound on one of the most anticipated openings of the season—but he demurred, preferring everyone to wait to see, feel and taste St. Genevieve for themselves before drawing any conclusions. 
"We tried to not create expectations beforehand and let people experience something for the first time," he said during an interview in the restaurant. It was a sunny late-September day just after the 11 a.m. opening and, already, a classy crowd flowed in to enjoy small plates, champagne and the sunshine streaming in through beautiful floor-to-ceiling windows accented by turning leaves. "For whatever reason, that [restraint] seems to make people more interested," he added.
Brown had cause for playing coy, referencing a previous experience being part of an "amazingly over-hyped" restaurant team that ultimately landed with a big thud. Fresh off St. Genevieve being named to Bon Appetit's 50 best restaurants in the August issue, he exuded confidence as his new restaurant finds its feet, and Tilia—the new American hit on the western shore of Lake Harriet—remains one of the hottest restaurants in the city. 
Sitting down with Brown and Backer at the corner of the bar with dining guests behind us, I asked both about the pressure of expectations and how it compares with the reality of running two restaurants on a daily basis. 
Although he's been quoted saying he likes to underpromise and overdeliver, Brown denied saying that, but added, "It's not for me to tell you this is good. I can tell you what my opinion is, but ultimately it's going to be up to the customer every single time."
Backer, Brown's softer-spoken protégé and chef, chimed in: "He's said it," adding that he was unmoved by the pre-opening hype, beyond its benefits in helping him attract good employees. 
A comfortable hum
At the busy corner of Bryant and 50th within a brand-new building, St. Genevieve makes an impression with the heavy front door Brown and a friend custom built. It's just one of many details that were painstakingly sweated to give the place an established, timeworn, classic French flair.
The zinc-topped bar's patina remembers every patron and drink, ornate tile floors accent the blue-topped stools and a built-in ice chest cools the day's selection of champagne. From the warm, white shelves framing the bar to translucent windows in the back of the house, there's something interesting to see in all directions. 
As the front of the house filled to a comforting hum, Backer expounded on the challenges of building and keeping a staff in such a tight labor market. So far, it hasn't been a problem. 
"It's pretty easy for us—once people see it, they want to stay and we end up holding on to people for quite a while," Backer said. "I have less of a problem than other people when it comes to staffing, because people really like working with Steven."
Brown took a loftier approach, putting himself in the shoes of his staff that's primarily made up of 20-somethings who seem to enjoy the job and welcomed a random reporter wandering through the kitchen.
"People make money and they have to survive, but there's other reasons they work," he said. "One of those reasons is people like to feel like they're part of something—they have to have potential for growth personally and professionally."
Shifting to the beer and wine program that's a big part of St. Genevieve's allure, Brown said he was guided by "intuitive feelings" and a desire to create a relaxed atmosphere that would invite first-timers to become regulars. 
Backer speaks plainly, focused on the practical concerns of managing a still-new staff, sourcing seasonal ingredients and regularly tweaking the menu to balance creativity with appealing to the customers' tastes. With considered pauses throughout, Brown takes a more esoteric approach. 
This was the first day of a revamped menu—their fourth or fifth iteration in 10 months—that both chefs described as a reflection of seasons and what's been popular in the past, more than any sort of course correction. 
"People are more sensitive to seasonality," Brown said. "We made this brown butter butternut squash soup the first menu at Tilia, and every fall the phone starts ringing and people start asking, 'Is it there?'" 
At the same time, he added, it's also important to keep the back-of-the-house team inspired and engaged. The most recent example is a lunchtime LTO—a simple burger with two smashed patties, American cheese, grilled onions, pickles and Dijon—that gives their pastry chef the opportunity flex her bun-baking muscles. 
Down the stairs to the basement-level kitchen, Backer prepared the roasted acorn squash dish that's been one of several vegetable-based small plates dominating St. Genevieve's lively, delicate menu.
Away from his boss, Backer said Brown's mentorship can be sharp—like swatting superfluous ingredients off a plate—to softer workaday stuff, such as sourcing more cost-effective ingredients or coaching or maintaining morale in the kitchen. 
"You're good at applying heat to things and now you have to teach others how to apply heat to things and run a business—there's a big jump there," he said. "They don't really teach you how to run a business in culinary school." 
Upstairs, seated in a patch of sunshine, Brown said current mentorship experience is a balance of what his restaurant needs, versus helping talented staff members realize their potential. 
"Sometimes you fall in love and sometimes someone falls in love with you," he said. "That's how you decide where you're going to focus your energy." 
---
St. Genevieve
Roasted Acorn Squash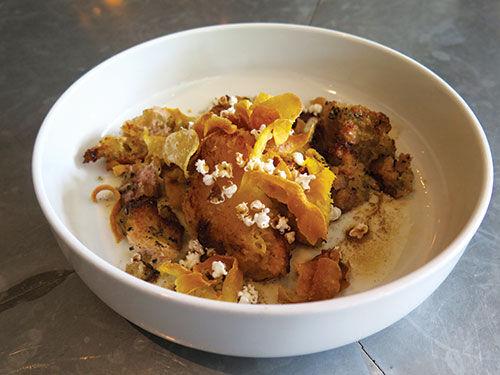 Acorn squash, halved
Salt, pepper, canola oil
Baguette, torn into 6 quarter-sized pieces
Red wine vinegar
Extra virgin olive oil
Herbs de Provence
12 grams sorghum syrup
20 grams brown butter
For the squash: Split an acorn squash in half and remove the seeds; rub with salt pepper and canola oil and roast at 350 degrees until golden brown and tender. While still warm, scoop out the flesh from the peel while keeping the flesh in large, intact pieces.
For the bread: Hand tear six quarter-sized pieces of baguette, making sure to remove any pieces of crust. Toss the bread with a little oil and toast at 350 degrees until lightly toasted and crisp. Completely cool and toss the bread with a few drops of red wine vinegar, salt, extra virgin olive oil, and herbs de Provence and let sit until tender on the outside with a slight crunch still intact in the center of the toasted bread.
Sorghum vinaigrette: Combine 8 grams red wine vinegar, 12 grams sorghum syrup, and 20 grams of brown butter in a pan; warm and season with salt.
To finish: Put the warm pieces of squash on the plate and top with a healthy amount of the sorghum vinaigrette. Top with the toasted bread, popped sorghum and squash chips.