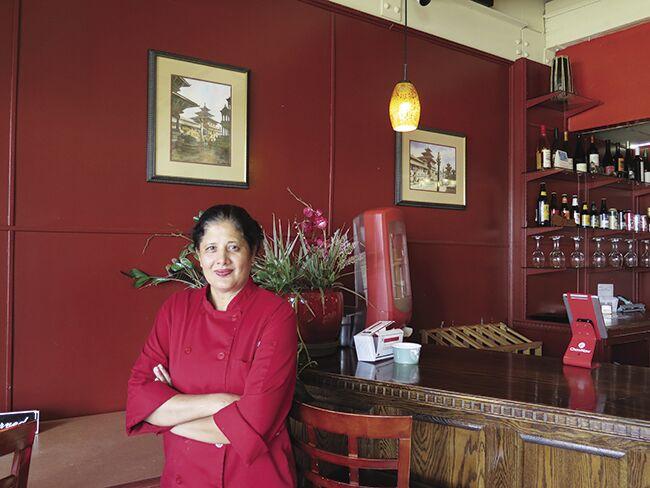 Conveniently located just down the block from my apartment building in Minneapolis, Gorkha Palace has served Nepali, Indian and Tibetan cuisine for the past decade. Striking oil paintings from Nepal depicting mountains and figures crossing bridges over cliffs decorate the orange and red walls. Rashmi Bhattachan, who grew up in Pokara, Nepal, owns the restaurant in partnership with Chef Sarala Kattel, who came to the U.S. from Nepal in 2003. 
"At the time, I didn't know how to cook commercially, but I used to watch my mom cook and was curious," Kattel said. She found a Nepali restaurant and served as a prep cook for five years there, but she craved more than they were willing to teach her. "I always wanted to learn more and watched the chefs there, but in that restaurant, there was a motion going around that it wasn't a woman's job, so they never trained me or promoted me. I went out to prove them wrong."
So Kattel moved on to an American restaurant in St. Paul in 2007, where she was able to learn and grow in a better environment. "I came to know women can also cook, and I learned to believe in myself," Kattel said. "It was a morale boost, seeing other women working in that restaurant."
The owner saw Kattel's work and dedication and told her that she could single-handedly operate her own kitchen, and promoted her to executive chef. Kattel worked in that role for almost three years until she met Bhattachan in 2006, and the two started brainstorming of collaborating together on a Nepali restaurant. "I knew she was selling food at Mill City Farmers Market, and here was this fellow Nepali woman doing something on her own, so I saw strong potential in her as a partner," Kattel said. And in 2010, their dreams became a reality when Gorkha Palace opened.
Kattel remembers the first three to five years at Gorkha as long days of work, morning to night. The two now live nearby each other in Maple Grove, but prior to that they lived even further away from the restaurant and would bring in a mattress to take two-hour naps in the back during long shifts. "It was hard on the body, but because this was my passion I was OK," Kattel said. "As age creeps in, I've made health more important, and I've been slowly stepping back since I have this amazing team in the kitchen, so I have confidence on the operations side to take care of my health. I'm extremely happy now and more relaxed, whereas before it was work work work."
For the recipe featured here, Kattel chose chicken sekuwa, a $21 dish served simmering hot on a cast-iron skillet and grilled kebab-style in a tandoor oven until golden brown. "I chose this dish because grilled meats are very popular in every culture, and especially in America during summertime, it's a part of life," Kattel said. "It brings family and friends together, and it's significantly the same in Nepal, expect there we use real charcoal with wood chips to grill our meats."
As Kattel speared the chicken and placed it in the tandoor oven, the smell of various spices around the kitchen made its way to my nose. Other kitchen staff rolled out dough and stuffed MoMos, steamed pot stickers filled with vegetables or other kinds of meat and ginger, garlic, scallions, onions, veggie oil and Himalayan spices. The kebab-style chicken takes about 10 minutes to grill, then Kattel combined the grilled chicken with the veggies and set fire to the whole dish in a cast-iron skillet for a few minutes before serving.
The made-to-order dish is also loved by their customers, and is served with vegetables and tikka masala, a sauce made of tomato and yogurt cream with traditional Indian spices such as cumin, coriander, paprika, turmeric and others. The result is a fresh, perfectly-spicy and juicy dish that my husband confirmed is even good for leftovers. Their chicken has been sourced from local farmers for the past eight years, and their quality never seems to waver.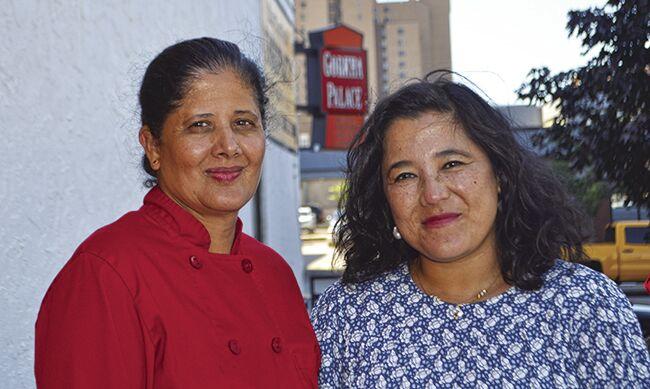 "Nobody learns this in your mother's womb. Everyone has to learn work is work, and there's no big or small work," Kattel said. "You have to be tough and strong to face challenges with positivity, which will help you move forward and have success. Lots of places think woman cannot do certain jobs, but don't listen to them, we're all equal."
Leaving the restaurant, I notice a large oil painting with a giant palace in a mountain range, with hundreds of steps leading up to it. Bhattachan tells me their restaurant is named after this real historic landmark in Nepal called Gorkha Palace, built in the 16th century at the top of a hill with an altitude of more than 3,000 feet.
"I believe work is worship. Most of the time, we spend more time at work than at home," Kattel added. "Food and hard work is our religion. We respect our work, and it eventually pays off."
(Interview translated by Rashmi Bhattachan)
---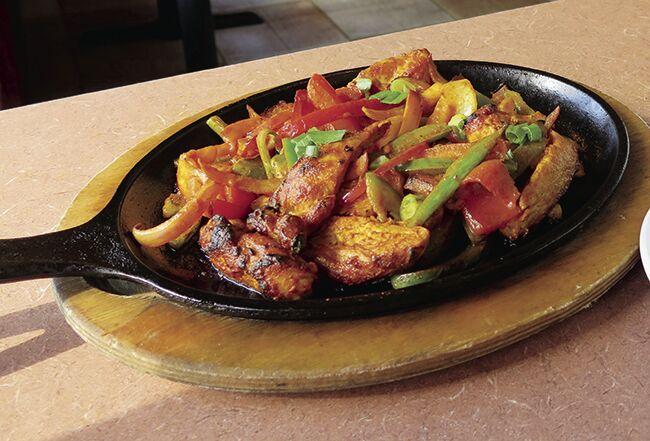 Sarala Kattel
Chicken Sekuwa
Ingredients 
Marinate 
1 pound chicken breast
Salt to taste
½ tsp turmeric 
1 tsp. cumin powder
1 tsp. coriander powder
1 tsp. garam masala
1 tsp. paprika powder
1 tsp. tandoori masala
2 tsp. chicken tikka masala
3 tbsp yogurt
Vegetables
1 green bell pepper
1 red bell pepper
1 red onion
½ bushel boy tomato
Salt to taste
¼ tsp. turmeric powder
1 tsp. paprika powder
2 Tbsp. Mustard oil
2 tsp. Lemon juice
Steps
Mix all the spices with the yogurt
Marinate the chicken in the spice & yogurt mix overnight in the refrigerator.
Once marinated, grill the chicken in the tandoor oven until it's golden brown. You can also use a conventional oven.
Mix all the vegetable ingredients together.
Combine the vegetable with the grilled chicken in a bowl.
Put about 2 tsp of an oil of your choice in a pan and sautée everything from the bowl.