Lucia Watson is held in high esteem for her commitment to local and sustainable sourcing and classical cooking techniques that yield expertly prepared dishes brimming with Midwestern wholesomeness. Which is why she is one of the Twin Cities' preeminent chefs. 
And for those cooking at the restaurant that bears her name, there's more than a little pressure to execute at a high level. 
"It's very humbling, it's very scary, if I can say that," says Executive Chef Ryan Lund. "I'm always working to live up to Lucia's name and her standards."
He's had plenty of practice. Since beginning his tenure at the Uptown restaurant as a part-time line cook eight years ago, Lund has adopted the Watson way as his own. That means getting the best of the best ingredients from Minnesota growers and producers and not screwing them up. A promotion to chef de cuisine four years ago meant working more closely with Watson, who Lund says helped rein him in.
"Back in my younger chef days I'd come up with some things that were kind of ridiculous, trying to cram six components into a dish that should only have three," Lund says, laughing. "Lucia, she's been an amazing mentor."
Now in his executive chef role, Lund leads the restaurant, its adjacent wine bar and Lucia's To Go, the small market next door selling grab-n-go items and baked goods. He's grown into the role and now says he turns toward classic pairings for inspiration. "Stuff that grows together goes together," he quips, the saying a perfect fit at a restaurant synonymous with seasonality.
In the wake of dozens (nearly 100 by one count) of restaurant openings across the Twin Cities this year — and the dining public's tendency to converge on the latest thing — the pressure to jump on new trends to attract customers could be tempting, especially for a restaurant in its 29th year. Not so at Lucia's, says Lund, where the restaurant's core approach helps it not just endure but thrive. 
"It'd be hard for us not to stay relevant because we reinvent ourselves every week," he says of menus that change weekly and a constantly rotating well of ingredients that keeps customers interested. 
And to keep himself interested and avoid falling back on the same recipes from one year to the next, Lund creates his own challenges to come up with variations of different dishes, such as one of his favorite pairings: pork with apples. On this visit it's pork loin and pork belly with grilled sweet potatoes and pan-roasted Brussels sprouts in Calvados jus, a French apple brandy. 
Like many chefs, Lund worked his way up from dishwashing, a job he took to make extra cash between music gigs. "When I graduated high school, I didn't have a career path, so to speak," he says, and so sought to make it as a drummer. Moving from Duluth to Minneapolis, Lund picked up catering work through D'Amico before a fortuitous walk by Lucia's — "back when they used to put 'help wanted' signs in the window" — brought him into the kitchen for good.
"In my opinion, there's no wrong way to get into the kitchen," says Lund, who opted not to enroll in culinary school. "We treat this restaurant and kitchen as a training tool … we have the opportunity to learn and Lucia always asks employees what their goals are."
For Lund that meant a shift to a different kind of stage — "It turned out I was a better cook than a drummer" — and perhaps one day seeing his own name on a restaurant door.
---
Pork Two Ways with Sweet Potatoes, Brussels Sprouts, Pickled Apples
4 ounces pork loin
3 ounces pork belly (cured overnight with salt and brown sugar, then roasted for 2 hours at 250 degrees, and pressed overnight)
1 sweet potato sliced, grilled and roasted until tender. 
5 Brussels sprouts (loose leaves separated)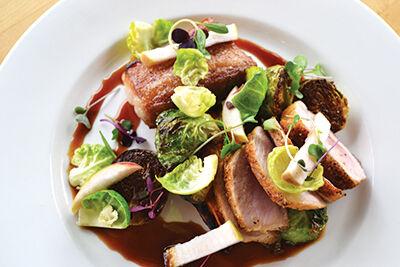 5 batons of pickled apples (2-1-1 rice vinegar, sugar, water)
Calvados jus 
1 cup calvados
1 cup apple cider
10 cups pork stock
Reduce until it coats the back of a spoon.
Pan-roast the pork loin to medium rare and rest. Sear the pork belly and just heat through. Pan-roast the Brussels sprouts, adding the reserved leaves right before plating. Slice the loin and plate everything together.