Some may have considered it a career setback, to revert to line cook when you've been head chef and run the kitchen at a well-known steakhouse in town. For Justin Sutherland, though, it was anything but. And when you learn where he went to cook and for whom, it's not hard to see why.
"It was probably the best decision I've made in my career," says Sutherland, as next to him Russell Klein, the chef-owner who hired him on at Meritage about six years ago, softly chuckles. 
"I was still young," continues Sutherland, 32. "I'd maybe jumped ahead too soon and needed to get my ass kicked."
It's a situation in which Klein often sees young cooks, cooks who aren't thinking about their career long term and who perhaps take positions they're not qualified for or not ready for. In Sutherland's case, Klein says the then-25-year-old had the sense to evaluate where he was in his career—consulting for and then leading the kitchen at Bennett's Chop and Railhouse—and reconsider what he wanted for his culinary future and how best to get it.
"We talked about that when he started, making sure we were on the same page with that," adds Klein, who had walked the seven blocks from his acclaimed St. Paul restaurant on St. Peter Street to Handsome Hog, the contemporary Southern spot launched by Sutherland and Madison Hospitality in March overlooking Mears Park.
Sutherland was part of what Klein calls a "bad-ass group" that included Kacey White (now co-owner of the recently reopened Town Talk Diner and Gastropub), Daniel Keenan (chef de cuisine at The Kenwood and Don Saunders' forthcoming 510 Lounge in the former La Belle Vie location), Jason Engelhart (now Klein's executive chef at Meritage) and Blake Nelson (now cooking at Next in Chicago).  
Klein's Meritage was the kitchen where Sutherland says he learned how to work "clean and concise," a place where discipline and striving for perfection go hand in hand and "there are no shortcuts."
"I walked into work every day thinking I might get fired but I was never gonna quit," says Sutherland of the high-octane environment, adding, with a sidelong glance at Klein, that that's exactly what he needed.
While he worked in restaurants throughout high school and college, Sutherland made a couple of stops along his path to becoming a culinary professional. Sutherland, who at one time thought he wanted to become a lawyer, wound up studying business management at Minnesota State University in Mankato. He sold mortgages for a while, but culinary school was always in the back of his mind. He opted for Le Cordon Bleu in Atlanta, figuring if he was going to go somewhere, "it might as well be someplace warmer." 
Meritage was the first place he applied upon returning to Minnesota, but at the time Klein was fully staffed and "I was probably underqualified," he says. Sutherland worked at a few different places, including David Fhima's Faces Mears Park and W.A. Frost—"Every St. Paul cook has to do time at Frost," interjects Klein—before connecting again with Klein, who was in the midst of adding the now popular oyster bar to his restaurant.
A few years later, after helping Klein open Brasserie Zentral in downtown Minneapolis, the wheels started turning as Sutherland began to envision what a restaurant of his own might look like. What he came up with is Handsome Hog, which is as pig-centric as you'd hope while also offering dishes such as jambalaya, sides of whole roasted cauliflower and, of course, chicken and waffles.  
"I had spent a lot of time in fine dining, so I wanted to do the food I really like to eat—I love fried chicken," says Sutherland. "We take Southern food and elevate it a little bit—a lot a bit."  
Sutherland and GM Joe Pirri were already scouting the space that previously housed Bin Wine Bar when they connected with Carol March, president of Madison Hospitality (Public Kitchen, Ox Cart Ale House, Fitzgerald's), whose parent company Madison Equities owns the real estate. 
For his part, as much as he may want (and given today's labor shortage need) to keep his talented people, Klein says having chefs move on comes with the territory. 
 "I've always been proud of the fact that we produce really good cooks who go on to do some great things," says Klein. "To this day, that's our formula. One of the things with having good people is they are always in demand." 
Cooks with Meritage on their resume can probably get hired just about anywhere, "and I'm proud of that," Klein continues, explaining experience in his restaurant is a sort of currency.
"At least for me and in our kitchen, we put a focus on teaching," Klein says. "I strike a bargain of sorts with cooks, that they're going to work really hard, we're going to be really busy, and if you stick around I'll share everything I know with you. To me, that's the bargain. It's the only one I can strike with them 'cause they're all underpaid. I can compensate them with my knowledge."
Sutherland strives for a similar environment, one that keeps his cooks engaged and challenged while also ensuring they feel supported.
"Five times a day I find myself in the kitchen saying the same things he used to yell at me about," says Sutherland. "The goal is to make people want to work hard for you." 
For a moment the conversation diverts to issues such as increases in the minimum wage, Minnesota's lack of a tip credit and paid sick leave, all of which are pushing restaurant owners to reevaluate their operations. But even with those challenges, Sutherland says he can't imagine doing anything else. 
"You're a restaurant person or you're not," he says simply. "You're either a chef or you're not." 
---
Handsome Hog 
Jambalaya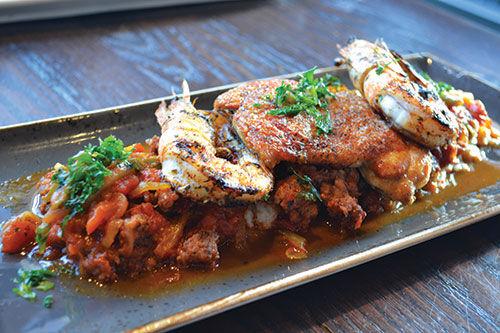 1 medium sweet onion, julienned
1 stalk celery, julienned
1 small green pepper, julienned
1 jalapeño, seeds removed, julienned
3 cloves garlic, sliced thin
1 cup canned roma tomatoes, chopped
1 cup stock (shrimp, chicken, or vegetable)
1 tsp Worcestershire
1 tsp hot sauce (Cry Baby Craig's)
1 tsp smoked paprika
1 tsp Old Bay seasoning
1 tsp Cajun seasoning
1 tsp celery seed
2 cups rice, cooked to package directions
1 skinless chicken breast, diced
½ cup ground Andouille sausage
15 small shrimp
Fried parsley for garnish
In large sauté pan, brown the diced chicken and Andouille, add onion, celery, green pepper, jalapeño, and garlic, cook until vegetables are soft. Add tomatoes, stock and seasonings and simmer 10-15 minutes. Season with salt and pepper. Toss shrimp in Cajun seasoning and grill. Cook rice to package specifications