More than 260 for happy hour every day. Up to 400 a day on weekends. Some 130 pounds of fresh fish cut daily. Those are a few statistics Robert Wohlfeil throws around, as executive chef at The Oceanaire in downtown Minneapolis.
In the chandelier-studded dining room where he presides over all those numbers, Wohlfeil explains the pace is one reason why he loves the restaurant business. "I'm an impatient person. You open, you serve, you close. Every day you see what you've produced," he says. "I like to be busy."
He's got an enormous staff — 11 servers, four cocktailers (as he calls them), three bartenders, seven wait assistants, five dishwashers, nine line cooks, to name a few, on a typical Saturday night — but this day he runs around himself to get his guest a glass of water. Later, as the dish he's preparing for the Top Chefs book roasts in the oven, he grabs a customer's ticket off the line and cooks it himself.
Wohlfeil, now 32, started in the business at 15, washing dishes at Pearl's Diner in Fargo. 
"That was an experience I wouldn't suggest for everyone, but it's an experience you have to have in this business," he says. "You're the utility guy. You do it all. It's something to keep in the back of your brain today, so you're maintaining that level of respect" for the staff doing the dirty work.
Later he worked for Famous Dave's, helping the barbecue chain open new restaurants, then landed at Oceanaire nearly nine years ago. There, Wohlfeil experienced another number like many in the restaurant business: Chapter 11, when Oceanaire's owners filed for bankruptcy protection in 2009. 
Then operating on an out-of-the-way floor at the Hyatt hotel, the staff tried mightily to turn the place around, offering cut-rate brunches, for example, to draw in the crowds.
"The approach was bring people in any way we could, $20 prix fixe stuff," he recalls. "It diluted the brand, which was upscale dining." 
Landry's, the Houston-based restaurant giant that owns more than 450 properties and operates more than 40 brands, bought it in 2010, and the price was "cheap, cheap," Wohlfeil says ruefully. "We both had to adjust," Landry's and he.
But Landry's started pouring in money, including relocation in 2012 to street-level space off Nicollet Mall and Sixth Street, and a gorgeous renovation in which Wohlfeil had a major say. Business increased more than 50 percent, with the new location drawing happy hour crowds, early and late diners. "In the Hyatt it was strictly a destination."
Today he's part of the sustainable seafood and freshwater fish movement, and Oceanaire was the first restaurant to sign on to the Minnesota Zoo's Fish Smart program, in 2011. Members now number more than 30. "Are we doing what we can to make sure the fish will still be there," is the goal of Fish Smart, he says. "It's creating a future for the ocean."
He's also a fan of the straightforward. "The molecular gastronomy, the foams and the air, is very, very cool but it doesn't fit with what we want to do," he says. "I want the food to look approachable." He doesn't want the diner "to wonder how to eat it."
Wohlfeil is aware some would turn up their noses at such a high-volume restaurant, or one that's part of a chain. "I don't like to compare myself to local names because they're doing great things but they're different from me," he says. 
Being in the corporate world, with 13 Oceanaires company-wide, is its own challenge, and one that suits him perfectly. "It's huge," he says, referring to the size of the operation. "It's important to have somebody who can make it happen, and that's me."
---
Escabeche
Ingredients
½ cup red peppers; fine julienne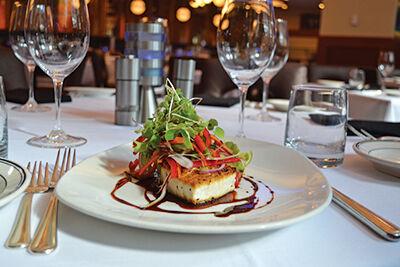 ½ cup green peppers; fine julienne
¼ cup jalapeño peppers; fine julienne
¼ cup red onion; fine julienne
½ cup carrots; fine julienne 
½ cup cider vinegar 
¼ cup water
2 ounces granulated sugar
½ Tbsp cumin; whole, toasted
2 ounces fresh cilantro; chopped
1 Tbsp salt
Procedure
Mix all vegetables together in a mixing bowl. Set aside. In a small saucepan, bring remaining ingredients to a simmer and pour immediately over the top of the vegetables. Toss together and cover with plastic wrap. Allow to sit at room temperature for 15 minutes. Add fresh cilantro and serve immediately atop choice of grilled or pan-seared white fish.
Guajillo Sauce
Ingredients
6 ounces sugar; granulated
3 ounces lime juice
3 ea Guajillo chilies; dried, deseeded 
8 ounces soy sauce
2 ounces corn starch
Procedure
 In a medium saucepan, caramelize the sugar over medium heat until melted. Add lime juice and chilies. Pull caramelized sugar from the bottom of the pan with a spoon or spatula. Add the soy sauce. Allow to simmer over medium heat, stirring occasionally, until the sugar is dissolved. Make a slurry with the corn starch and add gradually to thicken. With an immersion blender, puree the sauce. Serve.