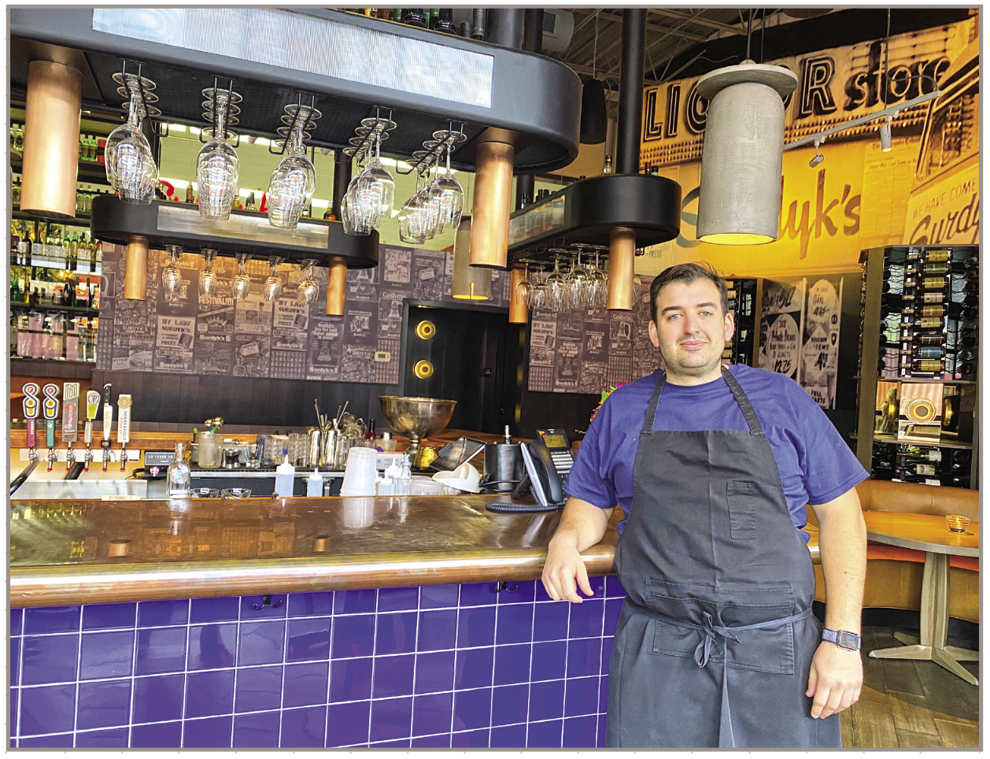 Randall Prudden took all the cooking classes his Chicago high school offered—Foods I, II, III—and then he took them again. And while he got his basics in the classroom, he learned the real story during the summers working at a burger place in Lake Geneva where his parents summered. "They were on vacation," he said about his parents. "We worked. My brothers worked on the marina and made more money for less hours."
His culinary training actually started long before high school, where he helped his grandmother make her homeland's pastries, relying heavily on walnuts and raisins. "I did the grunt work," he said, smiling.
After his high school failed to implement Foods IV and V, he attended a culinary school in Chicago, where he staged at some impressive restaurants, including a three-month stint at Alinea, which as a new restaurant at the time was considered one of the world's best. He waves away any idea that this makes him royalty. "At the time they did 15 to 20 people," he said modestly. But it did garner him some incredible experience on what it's like to work in the kitchen of a restaurant that's both the media's and the Instagrammers' darling. "There's zero horseplay," he said. It's all about focus, because what comes out of the kitchen is under the microscope of influencers' camera lens. "So every plate is perfect, if you don't get it perfect, you're out," Prudden said.
That gig led to working for the next generation restaurant, Next, where he met his now wife. "She works at General Mills and the agreement was always that this was home," he said about the Twin Cities.
There were lots of takeaways from his time in top-tier kitchens, the biggest being that he will not be that screaming chef that will send a cook home if a hair is found in the food or belittles people for minor infractions. It may be one way to ensure the mistake will never occur twice, but it's not how he chooses to run his kitchen. "We're a little more fun," he said about Sidebar, the trendy little restaurant located within Surdyk's Liquor and Cheese Shop on East Hennepin Avenue in Minneapolis. "I try to run a kitchen so they can learn without stress. I ask questions I know the answers to, to see how they're thinking and to open a conversation."
While much of his philosophy comes from time on his feet in the kitchen, it's also been shaped by attending the MAD Academy in Copenhagen in October 2020, a week-long class on culture and leadership.
He took over the top spot at Sidebar after the opening chef, Mary Richter, took over Surdyk's catering department. Prudden was recommended by Gavin Kaysen, who he had worked for at Spoon and Stable, just across the river. Kaysen was asked for a recommendation by David Shea, whose company had designed both restaurants, and Kaysen took it upon himself to write a glowing job reference for the former employee.
Prudden worked for Kaysen when Spoon and Stable first opened its doors in the North Loop. "It received a lot of attention," he said. "It was the biggest thing happening here. It was such a hit. We were ready for a busy restaurant, but not that busy."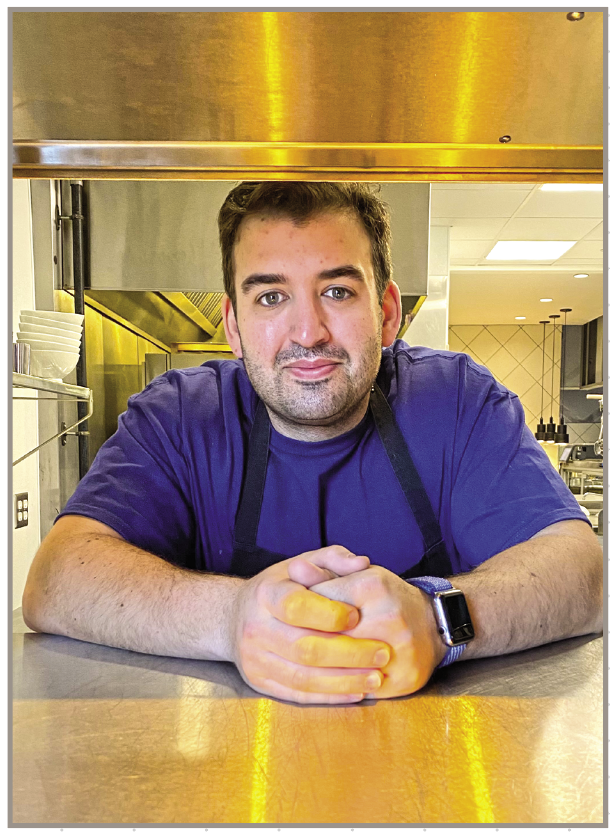 It wasn't the only time a reference from Kaysen had a tremendous payoff. Thanks to a mentor program Kaysen is involved with, Prudden received a grant to stage for eight weeks at top restaurants in Mexico and then Norway.
Squeezed in between Spoon and Stable and Sidebar, he also cooked at Canoe Bay in Wisconsin for a year and a half. A perk was a large garden a few steps down from the kitchen where he could harvest the vegetables and herbs in the morning he planned to use in his dishes that night.
As part of the interview for Sidebar, Prudden was asked to create a menu and cook it. He planned a menu that would encompass what he thought the neighborhood was missing in culinary fare. And it just so happens that he had already done the research: He and his wife have lived in a condo across the street from Surdyk's for several years, as he's moved around. He knew one thing that would not be welcome: "Food that's interesting but not good to eat."
The menus will take advantage of what's fresh and in season, and also what's in the cheese shop and liquor store. "We're cooking with a lot of cheese…and a good amount of alcohol," he said. "I cook as a reminder of where we are." Cheese? Liquor? No one in the Midwest is going to complain.
The menu offerings will change seasonably, but not all at once. Changing all the items in favor of a completely new menu is "menu death," he explained. Regulars will never forgive too radical of changes.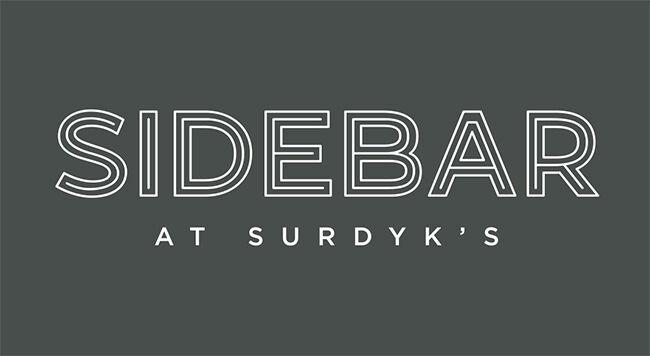 Some items will never be removed from the menu, such as the cheese curds, paired with hot honey, with the emphasis on both the temperature and the spice level. The presentation just may be altered. Another gimme are cheese and charcuterie boards, which are signature items.
He chose the halibut as his dish to share, because it's one of the most popular items on the menu right now and he likes the classic French feel of the sauce, a "marriage of vermouth and mushrooms."
But as he's learned during his international travels and right here in the Twin Cities, it's not all about the food—it's the experience, both for the guest and in the kitchen.
Some of what he talked about at the MAD Academy with chefs from all over the world is how the hospitality industry needs to change, to create a comfortable, safe atmosphere where workers can take breaks, have insurance and respectable pay.
"Cooking good food is the easy part," he said. "The rest is a testament to the chef."
Roasted Halibut with maitake mushrooms and vermouth
Vermouth Sauce
2C cream
2C whole milk
2 ea garlic clove, sliced
1 ea shallot, sliced
30 ea black peppercorns
Sprig thyme
1 ea lemon peel
⅓ C dry vermouth
Bring all ingredients except vermouth up to a simmer, steep for 1 hour. Add vermouth and adjust seasoning with lemon juice and salt.
Mushroom Puree
1 ea shallot, diced
3 ea garlic clove, diced
3C crimini mushrooms, quartered
1C white wine
2C water
1C heavy cream
Salt
Lemon juice
In a high sided saucepan, sweat shallot and garlic until fragrant and translucent. Add mushrooms and season with salt. Continue to cook until the moisture released from the mushrooms has evaporated. Deglaze with white wine and cook until dry. Add water and heavy cream and cook on low for 15 minutes. Transfer contents of the pot to a blender or food processor and process until smooth. Adjust seasoning with salt and lemon juice. Keep warm until ready to use.
Roasted Maitake
¼ lb. maitake mushrooms
1 ea garlic clove, diced
½ shallot, diced
salt
Trim maitake mushrooms into bite size pieces. Heat a thin layer of grapeseed oil in a sauté pan until it just begins to smoke. Cook the mushrooms until they start to brown. Add garlic and shallot and remove from heat. Stir the contents of the pan to make sure the garlic and shallot are cooked and are well mixed in with the mushrooms. Season with salt.
To prepare the halibut
5 oz halibut filet
Salt
Lemon juice
Preheat the oven to 350 degrees. Season the halibut liberally on all sides and allow the fish to rest for at least 5 minutes. Heat a nonstick sauté pan over medium high heat. When ready to cook the fish, apply enough cooking oil to coat the bottom of the saucepan then add the halibut. Cook the fish until a golden-brown color is achieved then place into the oven and cook until the internal temperature reaches 120F. Remove from pan and let rest for one minute, drizzle with lemon juice.
To plate
Mix equal parts mushroom puree and roasted maitake mushrooms and get hot. Adjust seasoning with salt and lemon juice.
Bring vermouth sauce up to just under a simmer. Using a handheld blender froth the vermouth sauce until a white foam is formed on top.
In a serving bowl, place a couple large spoonsful of mushroom ragout in the center. Ladle sauce around the mushroom. Place halibut on top of mushrooms. Garnish with fresh herbs.