The space at the corner of Randolph and View is cozy—about 50 seats plus a snug bar—and with its first-come, first-served style, waiting at Mucci's Italian in St. Paul becomes part of the experience. At any other restaurant that could be a bad thing, but Tim Niver and his front-of-house staff are at once deliberate and genuine, immediately folding guests into the comfort zone that is Mucci's.
Tim Niver is something of a hospitality guru in the Twin Cities. From his days at the likes of Pronto, Aquavit and Town Talk Diner, the convivial Niver is perhaps best known as one-half of The Strip Club Meat & Fish, the East Side restaurant he created with chef J.D. Fratzke that for nearly a decade was known as much for its warm service style as its grass-fed meats. 
Niver laughs as I point out he's been referred to in the media as a "front-of-house legend" and that his staff is schooled at some special, hospitality-focused "uNIVERsity," but he doesn't deflect the praise. 
"To have someone describe a place as a 'Niver-style restaurant' is a really high compliment," Niver acknowledges. And then, in the next breath, "But really, it's pretty stupid easy—treat people how you want to be treated."
At this, Chris Uhrich chuckles and nods his head. Niver's counterpart in the kitchen and the chef and co-owner of Mucci's, Uhrich is quite familiar with the Niver brand of restaurant service and says it extends beyond the front of house staff to the whole team and is one of the reasons he partnered with Niver on the New York native's third St. Paul restaurant (the other is Saint Dinette).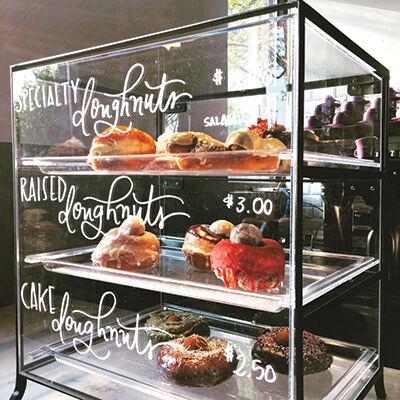 "I think the restaurant operates because Tim and I have a shared vision of what we want the food to be, what we want the experience to be," says Uhrich, who worked his way up to chef de cuisine at The Strip Club before joining Niver in this Italian-inspired venture. "And we're very open, we meet and discuss, there's nothing we don't talk about." 
"I think we have a common high standard," agrees Niver. "We know what our expectation is of each other, of everyone, and it's high."
It's one thing to state that high standard from an ownership level, but to extend it to the employees touching each dish, each table, and interacting with guests, that takes the Niver—and now Uhrich—touch. It involves taking the layers out, says Niver, "taking a little bit of the management hierarchy out of it and then there's mutual respect across the board."
"We kind of all do the same jobs, we all answer the phones … we all clean the bathroom from time to time," continues Niver.
"He's here," puts in Uhrich, tipping his head to Niver. "He has skin in the game and he does the work. Everyone sees that."
The duo's approach to hiring at Mucci's is one that focuses on the person, not their experience, and involves, as Niver puts it, finding "like-minded people."
"Our style comes from the people who do it," explains Niver, giving kudos to GM Heather Mady as Uhrich does the same for sous chef Kenzie Edinger. "They're allowed to be themselves but we place high expectations on everyone. … And we hire on referrals. Our people aren't going to bring in some lazy-ass person. Everyone has a lot of pride in their work and we respect each other."
In the kitchen, says Uhrich, it's gotten a lot harder to hire experienced cooks, "so when I post a job ad I say you have to have the right attitude and we can teach the rest." 
Uhrich himself was taught by Mucci's namesake, none other than Niver's mom, Audrey Mucci. It was her rustic Italian cooking that inspired the restaurant and she came to Minnesota to impart her red sauce wisdom to Uhrich.
"She showed me how to make the meatballs, the red sauce, the lasagna," says Uhrich. "The idea of the food for me is it has the same soul, the same heart as the food Tim's mom showed me how to make."
Thinking back, Niver says he probably knew from his first days working with Uhrich at The Strip Club that the young chef would be the right person to help execute his vision for Mucci's. 
"The first dish Chris made at Strip Club was a homemade pasta, pappardelle I think it was," recalls Niver. "That was kind of a moment." 
From then on, it was Uhrich's determination and hard work that demonstrated to Niver he was one of those aforementioned like-minded people.
"I could see he wasn't just someone who was there to be a cook—nobody worked harder than Chris," says Niver, as next to him Uhrich mouths a silent "thank you."
Uhrich has a unique appreciation for the position he's in—mostly because for a long time he didn't think a career in the kitchen was viable to attain. In fact, he was going to college to become a teacher and football coach when he finally decided to pursue what had long been his passion.
"When I was younger I didn't know that working in a restaurant could be a career," says Uhrich, who started out as a busboy at a restaurant in Richfield where he grew up. "But once I realized that, I just kind of went for it. I don't know what it was or why, but it just kind of clicked in my head that I could be a chef."
Uhrich has since established himself as a creative force at Mucci's, devising fresh pasta dishes and new topping combinations for the restaurant's signature pizza montanara, fried pizza where the dough is quickly dipped in hot oil before it's topped and baked. He's also become particularly adept at the art of donut making or, as they're called at Mucci's, doughscuits. The doughscuits, in flavors such as bourbon old fashioned and lime curry glaze with coconut cream, are only available on weekend mornings, and came about as an alternative to offering a full weekend brunch menu. 
"It's my interpretation of an Italian doughnut," says Uhrich.
Niver likens Uhrich's approach to doughscuit creation to that of a mechanic "with a really cool car." 
"He makes it better every time he touches it," says Niver of Uhrich's constantly evolving pastries. "Nobody else does them like we do." 
Whether it's morning sweets or dinner service, the overall success of Mucci's requires constant effort and attention, Niver and Uhrich agree. And an understanding that diners today have more choices than ever, and "you've gotta make sure you stay relevant," says Niver, adding, "It's constant experimentation and wonder." 
---
Rigatoni Alla Carbonara​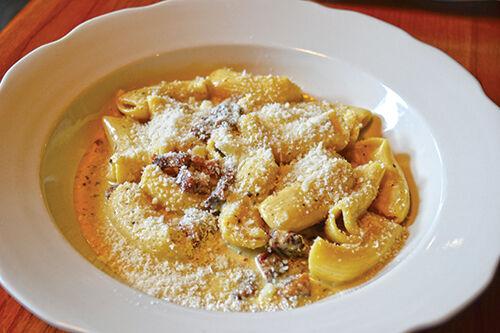 Yield: 1-2 portions
Ingredients:
4 oz dry rigatoni noodles
​3 oz Red Table Pancetta, diced
1 tsp cracked black peppercorns
Pinch of salt
Juice of half a lemon
2 Tbsp butter
3 egg yolks
1/4 cup heavy cream
2 Tbsp grated pecorino Romano (plus more for garnish)
Method:
Bring a large pot of water to a boil and season with salt (about 2 Tbsp salt per quart of water).
Add dry rigatoni noodles and boil according to the time instructions on the package. You want the pasta to be tender, but with a firm bite.
While the pasta is cooking, cook the pancetta over medium heat in a sauté pan until it is browned and crisp. Do not remove the fat!
Add about a half-cup of pasta water to the pancetta, then add the pepper, a pinch of salt, the lemon juice, and the butter. Bring to a simmer.
When the pasta is cooked, add it to the pancetta mixture and remove from heat. Add the cream, egg yolks, and pecorino and stir to combine. You want the sauce to be clinging to the pasta, but not too thick. If you need to, stir in a little bit of pasta water to loosen. Check the seasoning. Garnish with more grated pecorino.