In his role as chef de cuisine at La Belle Vie, Mike DeCamp has been a driving force in the Minneapolis food scene for nearly a decade. Now he is running the kitchen for both Monello and Constantine, the new duo from Jester Concepts in Hotel Ivy.  
It was during his tenure at one of the most famous fine-dining establishments in the state that DeCamp saw the local restaurant industry evolve into a chef-driven hub of great restaurants. 
"When La Belle Vie and Piccolo first opened, there were no chefs going out and opening their own place, that was unheard of," DeCamp says. "But now it happens all the time."
The chef-driven culture has traditional restaurants and upstart chefs attracting the same diners. But DeCamp doesn't see it as a contest; rather it's a coalition of chefs, buoying the Minneapolis cuisine culture. 
"I guess I don't really look at it as competing," he says. "Of course we're all competing for the same customers, but I think it makes everybody better. Better restaurants, better chefs, better everything. It makes you better—at least makes you try harder."
This collaborative culture put Minneapolis on the foodie map, bringing several James Beard Foundation nods and awards, including one for DeCamp's friend and chief influence, La Belle Vie owner/chef Tim McKee. 
"I'd take the Pepsi Challenge against Chicago anytime, here against there. I think we do very well for being a medium-sized city," DeCamp says.
At his new home DeCamp caters to a sophisticated palate, but he says it's not quite like La Belle Vie. 
"It's not fine dining, but not super casual either. We're still serving stuff on white plates."
But like La Belle Vie, it's something novel for the area. 
"We stick very close to coastal Italian, very crudo, very seafood driven," he says. "We really only have three or four meats on the menu." 
DeCamp doesn't try to follow trends or attempt to cater to existing tastes. 
"I like to think of it as just good food—not what people want to eat and what people don't want to eat," he says, adding he prefers to let diners evolve the menu. 
"If they don't want to eat something that's on the menu, you'll know that pretty quick. And if they do like something on the menu, you'll know that pretty quick, too, so we adjust that way," he continues. "I try not to think about changing things just because of what I think people will like. It never works that way—never ever."
Among all the unique flavors, from sea urchin to blue crab and stuffed branzino, DeCamp says his choice ingredient is something pretty simple. 
"I think my favorite thing to work with is flour, to be honest. It's really boring I guess to say that, but you can do so much with it," he explains. "We make our own bread here, we make our own pastas here. There's kind of endless stuff you can do with flour. I don't know that I could deal without gluten like so many people that have to."
And as for his favorite places to eat, DeCamp's fine-dining pedigree doesn't get in the way of some simple, hearty flavors. 
"On my day off, I go to Quang, I go to Hmong Village, I like to eat like that," Decamp says. "I like to eat like what we make here, but on my days off I like to relax and eat like that. It's definitely not Midwestern home-style food, but it is Vietnamese home-style food—I like that right now. I always go get a big bowl of pho especially when it gets cold out, that's my thing." 
---
Red Prawn with Chermoula and Pickled Ramps
(Serves 4 as an appetizer)
4 each Mediterranean red prawns (head on)
Clean prawn by peeling the shell starting at the base of the head and removing the shell completely, leaving the head intact. Split the prawn down the back just enough to remove the vein running down it. Start a pot of boiling salted water and blanch, just the head, for 20 seconds. Set aside.
Chermoula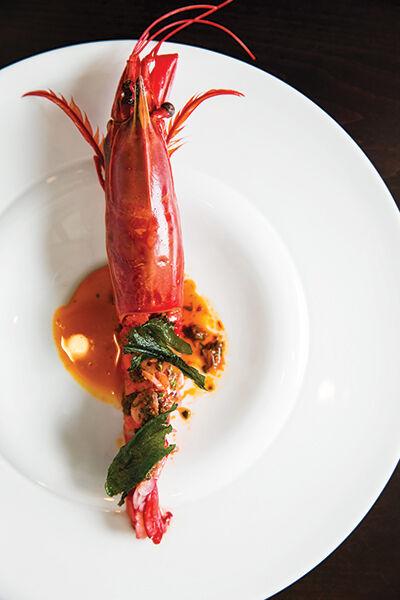 1 bunch parsley, chopped
1 bunch cilantro, chopped
4 cloves garlic
3 Tbsp paprika
1 Tbsp cayenne
2 Tbsp cumin
Juice of 4 lemons
1 Tbsp salt
1 tsp black pepper
Pinch of saffron
1/2 cup canola oil
Combine all ingredients in a bowl and set aside.
Pickled Ramps
5 ramps
50 grams champagne vinegar
50 grams sugar
50 grams water
Bring vinegar, sugar and water to a boil and pour over ramps. Let pickle in cooler overnight. 
Nettles
1 cup rice bran oil   12 nettle leaves
Heat corn oil to 350 degrees. Fry cleaned nettle leaves until crispy. Drain leaves on paper towel and season with salt.
To assemble: Place prawn down center of the plate. Spoon chermoula over prawn and some oil onto the plate. Slice the pickled ramps thinly on the bias and place on top of the prawn. Garnish the prawn with the crispy nettle leaves and some Maldon sea salt.