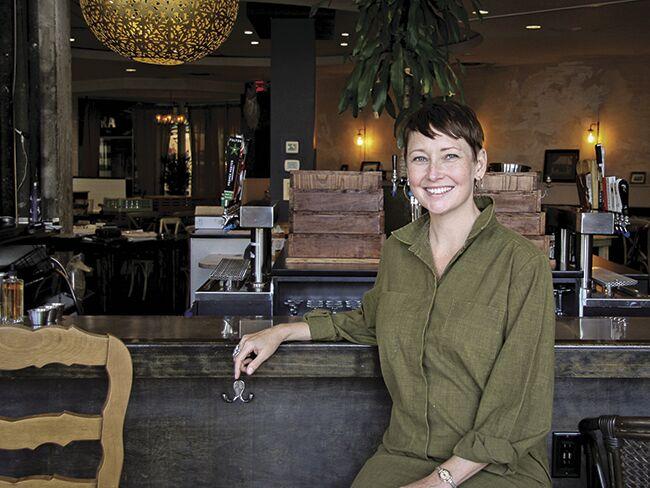 It was a sad day when Fig + Farro closed its doors in Seven Points (formerly Calhoun Square) in Minneapolis' Uptown, not only for the owner, Michelle Courtright, and her staff, but for the ideal of combining good food with doing good for the environment.
"We took all of our energies from the restaurant to get people to eat less meat and put them into a cookbook," Courtright says. "It's part recipes, part environmental with tons of recipes from the restaurant, all of our top sellers."
The book, Fig: Plant-based Cookbook with a Mission to Help Our Planet, was released in early November. It defines itself as a "Photographic Journal of Planet-Based Recipes, Global Food and Environmental Stakes." And it is coffee-table worthy with large artsy photographs of the recipes brought to fruition, along with moody shots of some of the most beautiful spots in the world that deserve protection. Courtright credits Ellen Hughes with the original illustration, design and photography of the book. Years ago, Hughes worked for her as an intern at Made, a custom-product design company Courtright owned and then sold when she was diagnosed with breast cancer. Hughes went on to Pratt Institute in Brooklyn, New York, then returned to Minneapolis, where she helped Courtright will the layout and design of the restaurant.
Courtright had a book agent and a publisher out of Boston that were interested in the book, but the agent told her that it could take years to sell the book and get it published. "I felt like there was an urgency here, that the drum is beating," she says, so she decided to invest her own money into the project. And from the appearance of the book, she spared no cost. The oversized, soft-bound book is printed on quality paper stock, with full-color photos and a gold foil design of the Fig + Farro logo on the cover and back of the book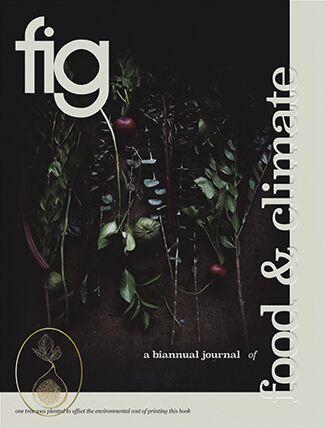 "The hardest part is after we closed (the restaurant), every day I'd say I'd work on the book," she says. "And the final edits were hard, (you're) so critical of your own voice. I kept procrastinating. I hired an editor, and before she started, I pulled it away. There was so much information that it would have taken as much time to explain. Some recipes were hidden in a binder somewhere else, or I needed to try out the recipe. It's such a personal thing."
In addition to recipes, the book details her experience at the United Nations Conference on Climate Change held in Katowice, Poland, in 2018, where she had a front-row seat to government officials from all over the world trying to decide how to deal with climate change issues. Courtright was selected as part of a Minnesota business delegation by Climate Generation, along with representatives from Target, BWBR Architects and Best Buy.
One of the many insights gained was that if she planted a tree for every diner who visited her restaurant, she could plant 5,000 trees a month to help offset carbon emissions. Not able to fulfill that mission, the cover of her book states that "one tree was planted to offset the environmental cost of printing this book."
"I'm a policy nerd, I've always been an environmentalist," she admits, and part of the reason she wanted to have a plant-based restaurant was that she could combine her love of food and cooking with environmental issues. She envisioned a place where people could sit down and have a meal and talk about the issues.
There's even two pages dedicated to Minneapolis Mayor Jacob Frey's proclamation in 2018 that in light of the U.S. pulling out of the Paris Agreement, Minneapolis "would make an effort to eat plant-based foods and choose plant-based products in furtherance of our environmental goals…"
Courtright has been a vegetarian for 20-plus years. "I had always wanted to open a restaurant," she says. "When I was sick it lit a fire under me." But it wasn't just about the food, although, that was a point of pride with her. It was the larger issue of climate change and the effect that food production has on climate change that was an important part of the restaurant's mission. It was the blasé deforestation to feed more people, the food waste, the water use and all the elements that went into harming the environment to feed people a traditional meat-centric diet that she hoped to call attention to at her restaurant.
In 2019 she worked with the Minneapolis School District to come up with a vegetarian meal plan for Southwest High School. "We created a Buddha Bowl that met the $2 in cost (requirement)," she says, and on Earth Day in April 2019, the bowl debuted in a strictly vegan cafeteria line. There were two other lines with meat options, she points out, but "our line went all the way out the door" and the Buddha Bowl was the most popular item sold that day.
Does she think in a couple of years down the road she may reopen Fig + Farro in a different location? "I don't think I can open another restaurant in the best of situations, I can't afford it," she says. "I do like the Fig brand, and may give my blessing to someone else wanting to do it."
Her favorite recipe in the book—and at the restaurant— is the Buffalo Cauliflower with Vegan Ranch.
"The whole meal is not healthy, it's just really good. We kinda need our comfort food right now," she says.
---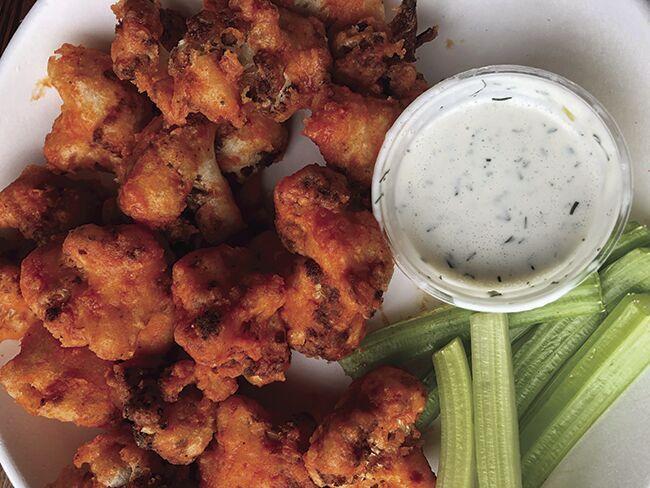 Michelle Courtright
Buffalo Cauliflower with Ranch Dressing
Ingredients
1 head of cauliflower, cut into florets
1 cup rice flour
1 cup corn starch
½ cup vodka
½ cup soda water
1 cup Frank's Red Hot
½ cup sunflower oil + ¼ cup
1 tsp. garlic powder
Salt and pepper
Oil for frying ( 3-4 quarts)
Instructions
Preheat oven to 350 degrees F
In a large bowl, toss cauliflower florets with the half cup of oil. Season with salt and pepper. 
Arrange florets on a baking sheet lined with parchment paper and roast 18-20 minutes, rotating the tray halfway through. Taste a piece — the cauliflower should be well seasoned and just tender when you bite into it at this point. Allow to cool. This step can be done up to 3 days in advance. 
Heat oil for frying in a large Dutch oven or similar pot to 350 degrees F. Use a fry/candy thermometer to maintain temperature. In a medium bowl, whisk together cornstarch and rice flour. Combine vodka and soda water and pour slowly into dry mix while whisking until you reach the consistency of thick pancake batter. 
To prepare the sauce, combine Frank's Red Hot with remaining ¼ cup sunflower oil and garlic powder in a small pot over low heat. Working in small batches, dip cauliflower into batter then lower gently into hot oil. Fry each batch for 3-5 minutes or until light golden brown and crisp. Drain well. Toss in the hot sauce and serve immediately with celery sticks and ranch dressing.
Notes
Feel free to use the stems and leaves of the cauliflower is you prefer zero waste. The vodka in the batter evaporates faster than water, leading to a crisper crust. Substitute ice water if you prefer. You can re-use the frying oil. Once cool, pour through a fine mesh strainer and store in the pantry.
Ranch Dressing
1 cup of vegan mayo
1 Tbsp. unsweetened soy milk
1 tsp. lemon juice
2 cloves of garlic, minced
1 small shallot, minced
1 tsp parsley
½ tsp. dried dill or 1 tsp. fresh dill
½ tsp. salt
¼ tsp. paprika
¼ tsp. pepper
 Mix together all ingredients in a bowl. If mixture is too thick add more soy milk. Store for up to a week.