Although Nyanyika Banda's Duluth restaurant is just nearing its first birthday, the concept itself has been a lifetime in the making. Growing up in the East Coast college town of Amherst, Massachusetts, Banda recalls being exposed to more progressive views on everything from farming and food consumption to feminism, and these experiences—plus countless more—helped shape Martha's Daughter, the small eatery she opened in February on East Superior Street in downtown Duluth.
"From a young age I've been a food advocate," says Banda, noting she was a vegetarian for many years and though she now eats some meat and incorporates it on her menu, those proteins are sourced locally "and as responsibly as possible."
That conscientious sourcing approach extends across the menu, which changes regularly as Banda aims to incorporate seasonal ingredients and purchase them from "as many female-owned businesses as possible."
"That's always top of mind," she notes, adjusting the knot of the red bandana tied in her hair and adding that female focus extends to her kitchen. "As much as possible being able to empower women and shift the misogynistic environment that I came up in."
Duluth diners have thus far embraced her mission and her menu, particularly the dumplings, a dish Banda says is universally liked and the one she selected to prepare when I visited in October. The current iteration is a mushroom-walnut dumpling, a combination that "mimics the texture and depth of meat" and is complemented by a drizzle of basil oil and sambal, a spicy garlic sauce, then served with tamari.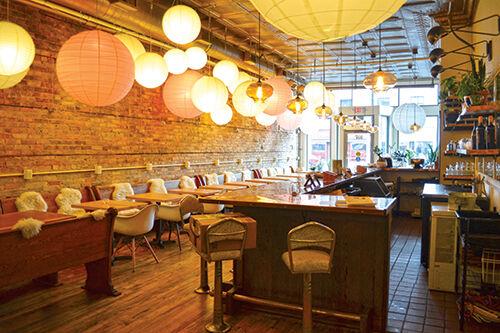 The recipe has undergone numerous changes over the years, born first as a take on Italian ravioli and slowing evolving to incorporate the Asian flavors it has today.
"I've progressively worked on this recipe," says Banda. "I conceptualized it on my own and keep rewriting it."
Like Banda's recipes, her ideas for her restaurant aren't static. Martha's Daughter (that's what many in her hometown called her, as the daughter of a woman heavily involved in the community) is also what Banda calls a "culinary arts space" in addition to being a globally influenced restaurant, and she regularly hosts cooking classes and events to extend the reach of her food.
"For me, being a renegade restaurant is about how many ways can we incorporate food outside this rigid structure of three meals a day," she says. In taking over the former Original Coney Island, Duluth's longest existing restaurant, she wants Martha's Daughter to be a place where the community can come together, and also where she can create the type of food she loves.
It was during Banda's second stint living in the Duluth area that she had the opportunity to cook with acclaimed Twin Cities chef Tim McKee for a chef's tasting dinner in Lutsen. She'd never had foie gras, which McKee incorporated on the menu, and Banda recalls, "It was just such a more elevated level of cooking. That was what made me realize I wanted to do more elevated food."
She'd later leave the Twin Ports to work in New York and San Francisco, where she helped open two Mission Chinese restaurants and was exposed to many of the flavors that continue to influence her cooking. A four-month internship as a recipe tester at Saveur magazine further refined her keen eye for ingredient selection, but upon returning to the area in 2014 to finish her bachelor's degree at the University of Wisconsin-Superior she was "almost burnt out of restaurants."
"I was a full-time student studying history and writing and just bartending at Pizza Lucé when I decided to start doing pop-ups, more for my own satisfaction than to actually make money," explains Banda. What she did was quickly make a name for herself, even hosting eight-course meals in her home, and when the Original Coney Island closed in May 2017 she decided to make her pop-ups permanent and completely refurbish the space.
She pays homage to the Original Coney Island hot dog with one from nearby heritage pig farm Yker Acres, while other dishes range from ramen to braised chicken tacos to an eggplant dish she added to menu because she loved the eggplant she found at the local farmers market. 
"The cool thing about Duluth right now, the young professional population right now, they've moved here from other cities and they're more open to experimentation," says Banda, adding she also wants to keep the restaurant approachable and affordable. 
As she balances the workload of both business owner and chef, Banda is brimming with ideas, though she continually comes back to the question, "How can you be profitable and sustainable?"
"I'm constantly trying to balance what people are looking for here in Duluth," she says. 
Whenever she needs to reset, the kitchen is always there.
"When I'm actually working with food is when I'm the happiest," she says. 
---
Martha's Daughter Mushroom-Walnut Dumplings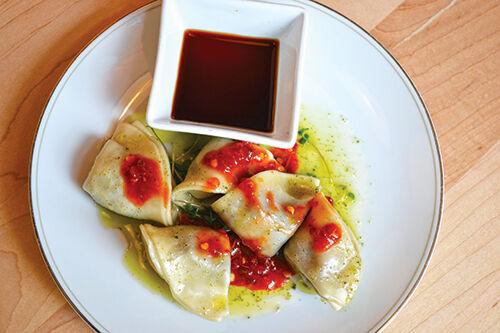 2 cups white button mushrooms, pureed and salted
2 cups walnuts
1/2 cup sesame oil
2 Tbsp minced ginger
2 Tbsp minced garlic
1 1/2 Tbsp soy sauce
Heat oil in a saucepan over medium high heat, add walnuts, toast until nutty smell. Add ginger, garlic and mushrooms and soy sauce. Cook until mushrooms and walnuts are soft, about 5 minutes. Lay out on a cookie tray to cool.
Dumpling Dipping Sauce
1 cup soy sauce
1 tsp each: dried ginger, honey, siracha, garlic powder, sesame oil.
Combine in a mixing bowl, add a little water to thin out.
Basil Oil
In a blender, combine equal parts fresh basil and vegetable oil.