A Buddhist meal prayer is front and center when customers visit the Birchwood Café in Minneapolis. "Innumerable measures bring us this food. We should know how it comes to us," reads the quotation above the counter. 
But this second day featuring Birchwood's latest menu — head chef Marshall Paulsen changes them eight times a year — doesn't feel very Zen. Rolling out a menu that relies on local and seasonal sources — in this case on mushroom foragers who've been scouring the woods to supply Birchwood for the next six or seven weeks — comes with plenty of logistical anxiety.
The café employs one person whose full-time job is to coordinate all those suppliers and deliveries, for example. Paulsen long ago abandoned the idea to change his menu by the calendar. "We just made up our seasons based on the Minnesota weather," he says. "A date doesn't tell me when a menu starts; the farmers tell me."
The prayer is soothing nonetheless. "It's in our brains all the time. It reminds us of where to keep our minds," says Paulsen, 34, who's worked at the Seward neighborhood restaurant going on eight years. 
His introduction to the café was frenetic, too. He showed up for a stage for sous chef one day, only to be told the chef had been fired the night before. He volunteered to stay and make a soup, and just kept coming back until he got the top job.
The prayer is more than a slogan for Paulsen; its sentiment sits at the heart of his work. "Food is such a personal thing. You're taking something someone made you and putting it in your body," he says. "Knowing who planted the seeds, knowing who received the food in the back of the restaurant … knowing that whole cycle is so important."
He spends time building his team in the kitchen, which begins with the interview process. He'll ask prospects to give an example of a conflict and how they handled it. "We want to weed out the people who yell and throw pans," Paulsen says. Job descriptions include items such as "demonstrate respect for food, equipment and people," and "have fun and enjoy your work."
Why does he spend time on such "soft" skills? "It came from the realization that unhappy people make awful food," Paulsen says. "Some people might think that's a waste of time, but if you want to look at it from a nuts and bolts perspective, good food comes from a cohesive unit. If you have conflict, if you have someone lone-wolfing it, pretty soon you turn out a sloppy dish. It affects the bottom line."
He's also watchful of the restaurant's bottom line, aiming to provide the best ingredients but still keep prices low so neighbors can come in regularly, not save up for a month to afford a night out. One tactic is to use every bit of food, which he admits explains how he came up with the halibut pizza he prepared for this interview.
"So Foodservice News is read by industry people, right?" he confirms before revealing his practical side. "It was driven by a desire," and he hesitates, "to clean out the freezer," he says with a laugh. "But a better way to say it is to use all the food."
Halibut featured heavily on a previous menu, and for each serving they'd always slice off a bit. "The stuff left is still 16 bucks a pound, so we roasted it and put it on a pizza and it was great," Paulsen says. 
For him, feeding people healthy and delicious food, knowing where it comes from, and welcoming them back regularly is a satisfying formula. While he often meets line cooks who aspire to work at five-star restaurants, that's not for him.
"It's mind-boggling that someone would want to attain a position where they only want to cook for rich people. Why not cook for everybody?" That's a belief even the Buddha would endorse.
---
Halibut Pizza
1 ea pizza crust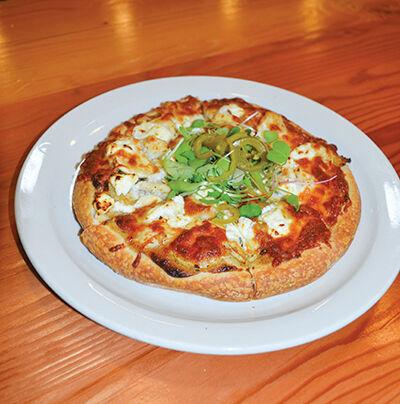 1 Tbsp horseradish mustard oil (recipe below)
¼ cup halibut scraps, diced & sautéed
2 Tbsp fennel, small diced & lightly roasted
1 cup parsnips, coined & lightly roasted
2 Tbsp leeks, copped & lightly sautéed
¼ cup provolone, shredded
¼ cup chevre, crumbled
Sprinkle with course sea salt, drizzle with Locust Lane Verjus, grind toasted black peppercorns. Cook in convection oven on a pizza stone at 425 degrees for 7 minutes.
Horseradish Mustard Oil
½ cup horseradish, grated
2 Tbsp whole grain mustard
2 Tbsp Dijon mustard
1 cup sunflower oil
Salt
Black pepper
Puree everything in a blender. Taste for quality and seasoning; adjust as needed. Yields approximately ½ cup.