Thirty-five minutes northwest of Minneapolis along I-94, Minnesota's food culture comes into focus as corporate campuses and strip centers give way to the fields of farm country. 
Just beyond Rogers, St. Michael is on the other side of our state's urban/rural divide, with a quaint downtown a few minutes from the freeway interchange. Along the way, builders are throwing up scads of new houses and harvesters are bringing in the fall's crops. The town's main drag is a gem with pointy church steeples, sleepy bars and a fabulous restaurant that sources the bulk of its protein and ruffage from the surrounding fields.
Rather than being a cosmopolitan outpost in a small town, chef Aaron Hagerdorn's Main Street Farmer Eatery is right at home in farm country. Walking in under a stained-glass tractor, it's a beautiful restaurant with barnwood doors and repurposed metal light fixtures, agriculturally themed local art and a barnwood-wrapped board listing the local farms supplying that day's ingredients. 
Breaking it down
After working at the Hyatt on Nicollet Mall for almost a decade, Hagerdorn is in a much different setting as he and partner Jonathan Campion build a new empire in downtown St. Michael. The 150-seat Main Street debuted in late 2016, and the pair just opened the BK Tap Haus next door in September, a brewpub with a unique menu influenced by German and Polish cuisine.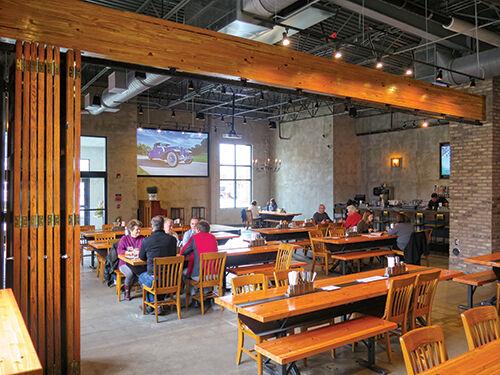 On a beautiful fall morning, Hagerdorn offered to cook for me one of his signature dishes, the Frenched Chicken, stuffed with garlic and sage cheese, wrapped in prosciutto over signature mashed potatoes. He chose this dish not because it breaks new culinary ground, but rather as an example of what he does best: preparing approachable food with the best quality ingredients within a short drive of the restaurant. 
Behind the line, he chopped up a whole bird from Wild Acres Processing in Pequot Lakes. The Frenched Chicken only uses the breast and part of the wing, but the rest will be used in everything from stocks, appetizers, a terrine and chicken nuggets for kids. 
"Every dish starts with a whole bird, which I really pride myself on—we break down 70 to 80 chickens a week," Hagerdorn said.
After a few minutes in the pan, the chicken comes off the heat and the chef cuts a pocket alongside the breast for an ample share of boursin cheese, garlic and herbs. Then it all gets a thin prosciutto wrap and heads into the oven to finish while he prepares the sides. 
"All of these rooms are different, which makes it kind of cool," he said showing me around the dining room while the chicken roasted. Like his ingredients, every light fixture, painting, sign and design detail has a story that comes from the surrounding area. One space is a children's playroom with towering barnwood doors, while another is for Hagerdorn's occasional chef's table events that give enthusiastic diners a clear look behind the line. 
"I came to Minneapolis [from Ohio] to help open the hotel from a renovation," he said of his own roots. "It's very nice, but it got too big for me and too convention-oriented in the food. Banquet cooking is a lot different than restaurant cooking and each one has its upsides and downsides."
Compared to the pressure of feeding hundreds of out-of-towers in one fell swoop, his current challenges revolve around splitting his time between the new taphouse next door and the large-format restaurant that shifts its menu with the seasons. 
Like nearly any restaurateur, staffing is a constant struggle, which is where the rural setting provides an ongoing challenge. Some employees drive in from Minneapolis and St. Cloud, while others come from closer areas on the fringe of the metro. 
"I don't want to just hire anybody off the street, I want them to enjoy what they're doing and want to learn," he said. "We lean heavily on high school and college students."
Preserving what's best
Our conversation shifted to the garden boxes along the sidewalk and behind the restaurant, where he and his staff grow fresh herbs, cucumbers and other veggies for that modern sidewalk-to-table flair. A few veggies hung on to life as the October nights cooled. 
Popping the chicken out of the oven, Hagerdorn plated it among browned white onions, creamy horseradish potatoes, green beans and cool, crunchy green onions on top. He takes any opportunity to add contrasting temperatures together on the plate, and we sat down to dive into the meal that was picture-perfect fall comfort. 
He covered some speed bumps along the way, including starting out with a "very aggressive" first menu that included a high-end, bone-in ribeye that took too long and was a price point too high. 
"It was about finding what we could still do within our concept and realm that would be approachable," he said, noting other tweaks along the way. "Instead of doing a double-cut, bone-in pork chop, we went to a smoked boneless pork loin that came out quicker, was more cost effective, but we still brined it, smoked it and cooked it ourselves, so we were still doing those things, but also reacting to the public." 
Before bugging off so Hagerdorn and his crew could prepare for dinner, we walked down the hall to BK, which was bustling with lunch as kielbasas, mettwursts, sausage and potato stews, and schnitzels rolled off the line. 
As the man steering a culinary new empire, Hagerdorn beamed showing off his international bar food that's an excellent counterpoint to his Minnesotan creations next door. Two unique presentations side by side, it all connects with his drive to recognize local traditions that pre-date refrigeration and factory farms. 
"Minnesota's culture and food is all based on Nordic heritage—that's why I pay attention to Magnus Nilsson," he said, naming the acclaimed Swedish chef. "Take yourself back in time, what's the No. 1 thing you had to do with your food? Preserve it. All of the preservation techniques come into play when I think of Minnesota foods. Anything and everything to preserve food."
There's more to preserve than just beans and beets out here in rural Minnesota, and our culinary scene is richer, fresher and crunchier because of it. 
---
Main Street Farmer Eatery Frenched Chicken
Yield: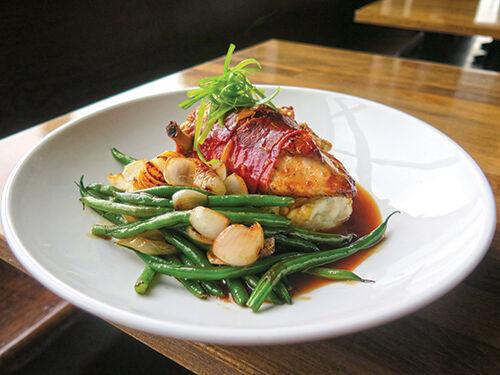 1-2 portions
Ingredients:
Wild Acres Chicken (whole)
1/2 ounce prosciutto
1 ounce oil
Salt and pepper
1 minced garlic clove
2 ounces baby green beans
5 ounces horseradish chive mashed potatoes
2 ounces chicken stock
2 ounces demi
1 1/2 ounces white pearl onions
1/4 ounce scallions
Method:
Heat a dry pan, add oil.
Season chicken and place skin down.
Cook chicken until it is crispy and releases itself.
Flip and sear bottom of chicken until crispy.
Remove from pan, wrap with prosciutto and place in oven.
In same skillet, add garlic, pearl onions, green beans and sauté.
Once cooked, deglaze with white wine until pan is clean, then remove vegetables.
Leaving the white wine reduction, add stock and reduce to a sauce. 
Remove chicken from oven and let rest before serving.