Rack up $60,000 in culinary school debt or learn on the job from an accomplished chef and get paid for it: Lucas Almendinger chose the latter, working at W.A. Frost under Leonard Anderson and then Wyatt Evans, soaking up every drop of knowledge during his transition from woodworker to chef. 
"I was building guitars and working in the cabinet industry and I got bored with it," says Almendinger, a simplified answer to a career change that's since led to his opening of prolific restaurateur Kim Bartmann's latest Minneapolis project, The Third Bird. "Leonard said he would teach me everything I needed — without being stuck with that debt." 
In the six years since his W.A. Frost beginnings, the 31-year-old has steadily built a resume chefs in the business twice as long would be jealous of, including working the line at Haute Dish and Tilia when they opened to rave reviews and leading the transition from Union to Union Fish Market. He's now drawing from each experience in different ways in his executive chef role at Third Bird, where expert technique is applied to simple flavor profiles.
"We're taking things that people are familiar with and preparing them in ways people are not so familiar with," explains Almendinger, pointing to a chokecherry pork belly dish on the menu and the plate of coffee-glazed roasted carrots prepared on this visit. "Everything is elevated, but they're still Minnesota dishes that are familiar."
Almendinger also brought home the over-embers cooking technique used at Saison in San Francisco — an approach he says creates clean, pure flavors. "That was a huge influence stylistically in how we approach things here," notes Almendinger, and a key reason he opts for a wood-fired oven to prepare much of the menu.
"And of course we have that local and sustainable approach Kim is known for at all of her restaurants," he adds of the seasonal rotating menus at the neighborhood spot overlooking Loring Park. "The whole menu is open to constant evolution."
So, too, is Almendinger, who grew up preparing prime rib sandwiches at his mom's South Dakota café and working at Subway, two experiences he says actually turned him off from cooking. When he did finally return to the kitchen, perhaps it was only natural that he connected with fellow Mount Rushmore State natives Landon Schoenefeld and Steven Brown and helped open their respective restaurants (the aforementioned Haute Dish and Tilia).
"It was a very eye-opening, very surprising time," says Almendinger of those experiences. "I think W.A. Frost is a really great spot for young cooks because they execute at a high level and a high volume—there's a lot thrown at you. 
"But," he continues, "Frost is a pretty well oiled machine where systems were already in place. Actually putting all those things in place while you're trying to open a restaurant…" Almendinger can only shake his head. 
Being asked about his rapid culinary ascent elicits a similar movement and fitting response: "I've only been cooking for six years; it's kind of ridiculous."
---
Coffee-Glazed Roasted Carrots
4 ounces carrots
2 ounces coffee glaze
Salt, sugar, lemon juice to taste
1 ounce buttermilk cheese
½ ounce chervil
½ ounce hazelnuts
Coffee salt to taste
Combine carrots and coffee glaze in pot; season with salt, sugar and lemon; glaze carrots. Plate carrots down center of the plate, top with chervil, buttermilk cheese, hazelnuts and coffee salt.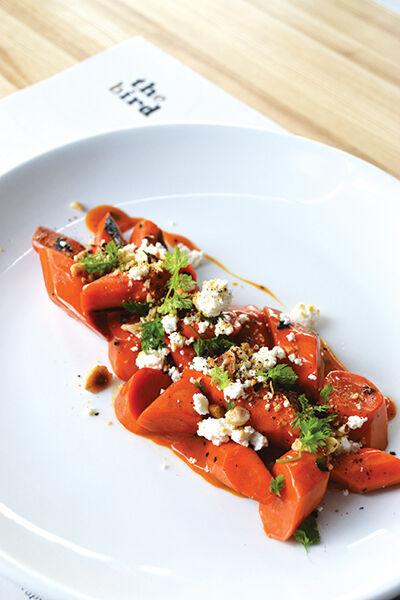 Sous Vide Carrots
100 g carrots
10 G sugar
4 G lemon juice
2 G lemon peel
1 G thyme
2 G bay
1 G malic acid
25 G buttermilk whey
2 G salt
Peel or scrub carrots, turning to remove the green tops and remove long roots from the tips. Combine all ingredients in vacuum bags, put a vacuum on high and cook at 85 degrees Celsius for 1 hour. Immediately remove carrots from bags, strain the liquid and cool the carrots in the cooking liquid. Cut into interesting shapes. Char carrots (fully cooled) on the French top, cool in the walk in.
Carrot Coffee Glaze
10 carrots
50 G coffee beans
3 g xantham gum
Juice the carrots and reduce by half. Add coffee beans, steep for 3 minutes. Strain blend with xantham gum on high for 2 minutes.
Coffee Salt
10 G Maldon salt
10 G ground espresso
Combine ingredients.