In the age of obsessive food TV, of Eater-brand myopic fetishism down to the signage on restaurant windows, of Fieri-style bellowing, it may seem that there's no such thing anymore as a pensive chef. One who seems relatively disinterested in press, or in branding, or in bellowing. 
And yet, that's pretty much what I found when I went to interview Leonard Anderson, chef/owner of Tongue in Cheek. Along with wife Ashleigh Newman and kitchen staff Dan Ohl and John Rossiter, Anderson has created something quite different in the up-and-coming Payne Avenue neighborhood of St. Paul.
While the space maintains a cool, casual St. Paul feel with marble slab bar, checkerboard floor and vintage, filigreed building facade, they're putting no such restraint on the plate. In an ambitious campaign to A) bring classic French cuisine with a heavy, Marcus Samuelsson-esque Asian inspiration to the east side, and B) advertise an equally ambitious stance on animal product ethics, the team brings forth their brand-new restaurant. 
The latter piece is the work of Newman, a longtime animal rights advocate, who's worked with PETA and similar organizations in the past. The couple insists their place is a restaurant with a mission, devoted to using only meat, fish and dairy raised or caught in a humane and sustainable manner.
They landed on the East Side after living in the area and dying for somewhere to eat besides fast food joints and taquerias. Anderson tips his hat to Strip Club Meat & Fish, which opened on Dayton's Bluff several years ago, taking a chance on selling finer food in the traditionally blue-collar neighborhood. "We are well aware of the hazards and caution signs, but we ourselves are the kinds of middle-class people who live here and want to eat here," says Anderson.
In further non-traditional chef style, Anderson says he hated cooking when he first took it up as a teenager — hated smelling like food all the time, especially. It wasn't until he circled back to it as a Le Cordon Bleu student that he decided the life was for him. "It was the knife cuts up on the screen," he says, simply. He worked for Samuelsson at Aquavit, and later at W.A. Frost, the Hanger Room in outstate Minnesota, and a private catering business, but always knew he wanted to have a place of his own "to go and to be."
He says he subscribes to the Momofuku/Travail models of restaurateering: "casual and non-pretentious," but still pushing culinary boundaries. On my visit he treats me to some "teasers," tiny, two-bite composed plates for an insane $2 each. A braised pork belly, for instance, with Asian rub, stone fruit salsa, sesame aioli and peanuts. The size could have been a holiday feast for a Barbie doll, but instead is sweet torture for a grown-up lady—one that leaves a smile on your face and wanting yet another bite. Slap down eight quarters, and it's yours. 
"That's the point," says Anderson. "We want to under promise and over deliver."
By this time, Anderson is smiling and loose. He's been hovering over his mise en place in the kitchen, and finally seems a little at ease with my presence now that we're hunkered over a table and I'm shooting down another teaser—this time a cocktail—Berries & Bubbly, where a berry sphere, submerged in sparkling wine and ginger explodes in my mouth. "That's so fun!" I exclaim. The chef's grin widens.
---
Scallop Crudo 
8-10 bay scallops, with their "shoe/boot" removed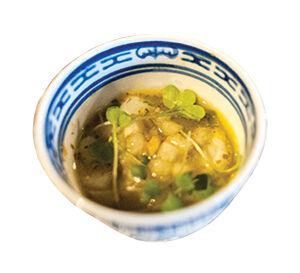 1 tsp fried garlic
1 pinch sea salt
5 sprigs micro wasabi greens
3½ Tbsp wasabi vinaigrette (recipe below)
1 Granny Smith apple, small dice
Method
Mix all of the ingredients except wasabi greens and apple together in a bowl and let marinate for about 2 minutes. Place in a serving bowl and garnish with the apple and wasabi greens. Serves 1-2.
Wasabi Vinaigrette
1 cup garlic oil
2 lemons, zested
1 cup lemon juice
3 tsp wasabi oil or horseradish oil
½ Tbsp coriander seed, toasted and cracked
3 Tbsp dark agave
1 Tbsp ginger juice
3 Tbsp cilantro, chopped
Method
Whisk the ingredients except for the oil together and then slowly whisk in the oils in a smooth steady stream. Season with salt and pepper, and store for up to a week. Makes 3 cups.
Braised Pork Belly
3 pounds skinless pork belly, with the fat side scored with a knife in a diamond pattern.
1 Tbsp ginger powder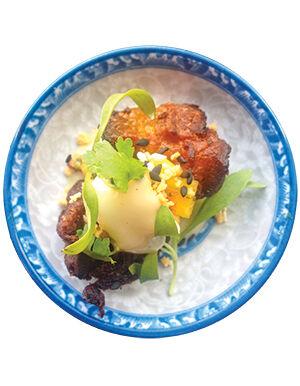 3 Tbsp brown sugar
1 Tbsp salt
1 tsp red pepper flakes
1 tsp black pepper
Method
Mix the salt, sugar and spices together and rub all over the pork belly. Place in a baking dish and roast fat side up for 5 minutes at 500 degrees, turn heat down to 250 degrees and roast uncovered until a tooth pick comes out clean with little resistance (about 4-5 hours).  Let cool in its own fat and once cool cut into bite size pieces. Once all the pork is portioned, fry in a deep fryer at 350 degrees for about 2 minutes until crispy. Garnish your pork with any condiments you like—it goes great with fruit salsas, aiolis, herbs or just by itself, too. Makes 15 small bites.