There's no denying the boldness of Surly's beers, as evidenced by their eye-catching names: Furious, Abrasive Ale, Coffee Bender, Bitter Brewer and Darkness, to name a few. Pairing those brews with equally forceful food is Jorge Guzman's daily charge as executive chef of both restaurants at Surly's massive, still-new destination brewery. 
Past the warehouse of tanks and tubes, separated by a wall of glass, Surly's Beer Hall & Restaurant is a cafeteria where beer aficionados local and afield come to meet the culinary side of the Surly experience. Rabbit rillette, pork terrine, fried chicken, beef hot links, mussels and smoked pork shoulder are a few of the menu items, and more than enough to know this isn't an ordinary brewery slinging workaday burger-and-fry baskets. 
Head upstairs to the more upscale Surly Brewer's Table for a menu that pairs four courses with beer in a quieter, more formal setting. Marlin crudo, squash soup, seared foie gras, grilled short ribs and saffron spiced cake are current entrants on this shifting, seasonally influenced menu. 
Leaves fell on the landscaped back patio in late September. As the brewery and its superstar chef, Guzman, adapt to the season, the brewery enters its second year on the industrial—but quickly redeveloping—eastern edge of Minneapolis. 
"When we were writing the first menu and struggling to focus on a particular genre or region, [owner] Omar [Ansari] was just like 'Make food that goes with beer,'" Guzman said. "It just kind of cleared everything up."
After considering basing its menus on the different regions of the country, the owner's looser dictate allowed Guzman to focus on the not-so-simple task of pairing destination-worthy food with Surly's roster of beers that have a cultish following beyond the borders of the Midwest. 
"Right now we're doing the Devil's Work (porter) with our short rib," Guzman said. "The Devil's Work has an almost licorice-y, caramel, caraway flavor to it, so we took that and incorporated those flavors into our short rib, so we cure it in caraway and molasses so it has that dark, sticky sweetness to it."
Only a casual beer drinker before being hired as Surly's head chef, Guzman has immersed himself in the flavor profiles of its beers. While simultaneously developing two very different menus, he also manages executive duties like building a staff and a corporate culture to ensure consistent results as the destination brewery heads into its second year. 
"It's two halves of a whole," he said of the differences between the Beer Hall and fancier Brewer's Table. "They both keep me really interested. As a chef, you tend to get in a rut sometimes, and I don't think that's ever going to happen here." 
With roots reaching 3,000 miles south to Mexico's Yucatan Peninsula, where he spent his earliest childhood years, Guzman's dishes reflect his split background with guajillo chiles, cilantro and poblano peppers alongside rutabaga and pork chops. 
"They're really bold flavors and fun to play with," Guzman said. "A lot of our staff is Latino and when they make family meals, sometimes we take some of those dishes and put them on the menu because they're good—everyone's got different strengths and we're always looking for something new." 
Minnesota's dominant influence comes directly from 25 local farmers that Guzman works with. The challenge, he said, is maintaining enough business with each farm to make it worth everyone's time. 
Looking back at the style his two kitchens have honed over the brewery's first 13 months, Guzman called it "restrained boldness" with a lot of thought put into each flavor. 
"We're not just going to roast a piece of lamb," he said. "We're going to do something before we roast it, whether it's dry age it or dip it in beef fat and let it sit for two weeks and then cure it—we really take each ingredient and give it a lot of thought in terms of flavor." 
---
Surly Salad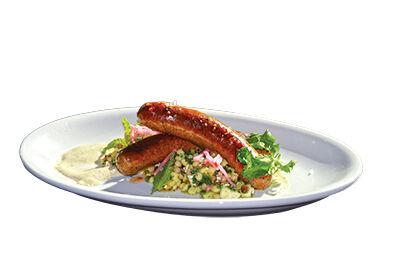 Accompanies a quality lamb sausage of your choice
2 cups cooked fregola
1/2 cup mint, cilantro, chives chopped
2 Tbsp pickled radish
2 Tbsp cumin yogurt
6 Tbsp diced cucumber
3 Tbsp olive oil
1 ea lemon, juice from
1 tsp garlic, minced
Mix all ingredients together except yogurt.  Taste for seasoning.  Place yogurt on bottom of plate and plate salad on top.