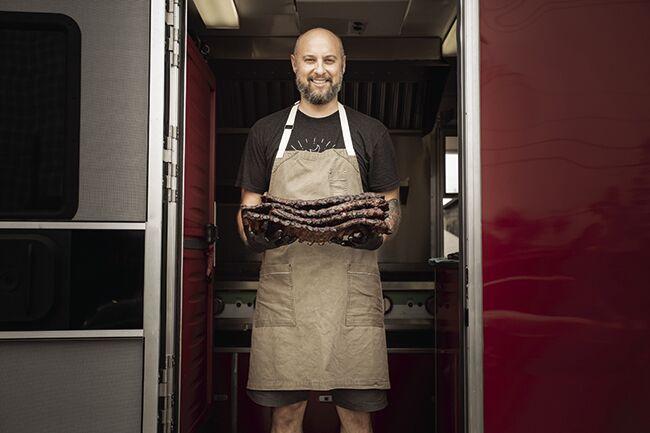 Inside the soon-to-be Petite León, Jorge Guzman was thinking through the menu and all the trials, tribulations and inspirations that brought him to the little space at the corner of 38th and Nicollet Avenue. There's a lot to think about: his unique Yucatán heritage, his French training, his supportive family and the not-so-great experiences that have punctuated his career.
The restaurant is named for business partner chef Benjamin Rients' and Guzman's sons. The former has a son named Leo and Guzman's son is a Leo (astrologically). The menu may prove to be as varied as Guzman's life.
"I have a great affinity for Spanish food and obviously a great affinity for Mexican food. Those are the flavors I grew up eating. We're also trained in French cooking, but it's a neighborhood restaurant," said Guzman. "We have a great burger, we're in Minneapolis—if you don't have that, good luck. Then we have this little snack section; it's very tapas-esque. Then you get into the heart of the menu, that's where you see a lot of dishes from Spain and Mexico, we have some things from Lebanon and Libya, our quinoa comes from Peru. So, all these flavors combine and it just makes sense."
That mantra shines through in his steak recipe, it looks like a good if simple steak on the plate, but behind it is a global mélange of flavors and ingredients.
"It's a black garlic and adobo marinade, with a piquillo steak sauce—it's like the best A1 you've ever had. Then we're just serving it with a charred habanero pepper and a wedge avocado with some togarashi," said Guzman. "That's the thing, if it was just Mexican food, we wouldn't be using togarashi or black garlic, there are so many flavors out there, we hate to be pigeonholed."
He said he thinks of it like another Minneapolis institution: 112 Eatery. You can't pin down exactly one flavor, it's just an eatery with some darn good food—some great-looking cocktails and an exclusive beer, too, for whenever the bar area can return. That's also been a guiding force, the existential issue of the COVID-19 pandemic. He signed the lease in February, and things were just getting started as the industry was broadsided by the pandemic. It won't be the party Guzman wants to throw, but the timing helped him re-think the menu at a foundational level, not the panicked pivots of some other restaurants.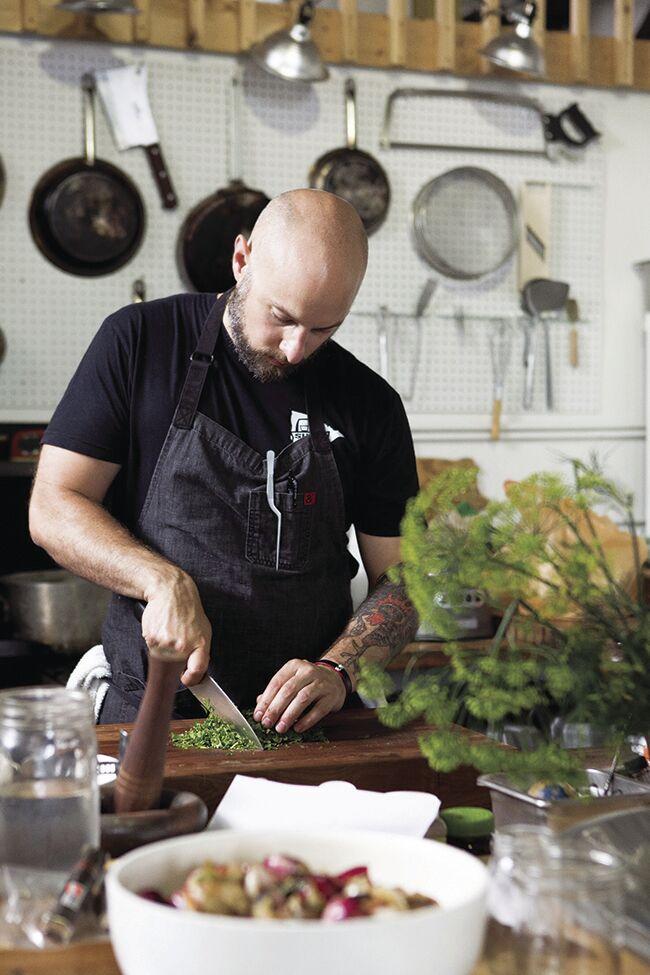 "Ultimately, if there wasn't a pandemic, we'd have this great grand opening, soft opening all these parties and people flying in, that's not going to happen. Obviously, we're not going to fill a restaurant with a bunch of people and maybe get someone sick," said Guzman. "We're going to have a really strong to-go game, so that has to change the menu. It has to be a little more familiar and travel well. It will still have the same flavor profile, but instead of being a fancy plated dish, it will be more something that will be comfortable to be served to family or people with kids, that's one of the biggest changes we've had to do, we just want to be smart about it."
Above all, he said Petite León will be a place for him to build the culture and business he wants. Beset by some of the ugliest experiences one can have in the restaurant industry, swindled by a previous toxic partner, antagonized by bad ownership and ground down by the long, sometimes thankless hours.
"They're definitely not easy when you're in them. I almost gave up on the last one. Leaving work and thinking I might kill myself—this industry is hard," said Guzman. "My partners have had their own shitty experiences, that was part of us coming together: Getting (expletive) by all these people. It's just so overwhelming, so let's just do it ourselves."
In some ways, he said he didn't really have a choice, through those ugly experiences, the pandemic, the civil unrest that meant boarding up the newly leased space, he's never had the luxury of just hunkering down.
"There are a lot of people that have a lot of means to feel safe when things are (bad) or not going their way because they have the ability to stay afloat, then there's people that don't have that. And you don't really have a choice to stop. You can't just say 'I'm going to take a break and see what happens,'" said Guzman. "I don't have that option, to sit and wait that out. That's kind of how my whole life has been, I haven't had the option to not pursue my dreams or not work. For me, it's just another day."
---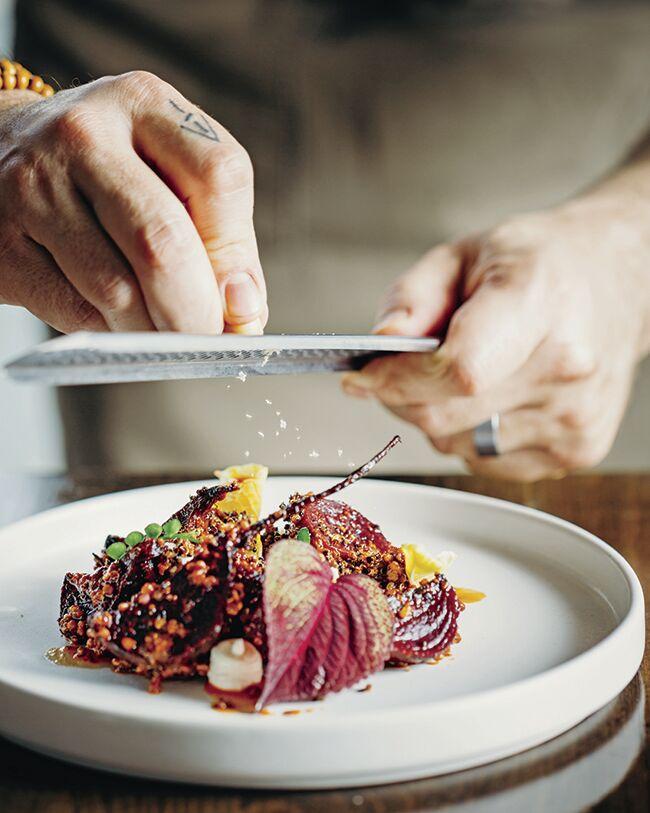 Jorge Guzman
Pork Steak Adobado
Ingredients
Piquillo sauce
6 piquillos
2 cloves roasted garlic
1 tsp. horseradish
1 tsp. Worcestershire
1 tsp. Dijon mustard
2 tsp. honey
½ tsp. black pepper
Directions
Blend ingredients together, season with salt to taste.
Adobo Rub
2 oz. dried oaxaca chile negro
2 oz. pasilla peppers dried
4 oz. garlic, roasted
2 oz. black garlic
4 Tbsp. brown sugar
8 fl. oz. dark beer
Steps
Toast chilis over open flame until they start puff. Remove and soak in water until soft. Remove seeds. Place all ingredients into a blender and blend until smooth. Season with salt.