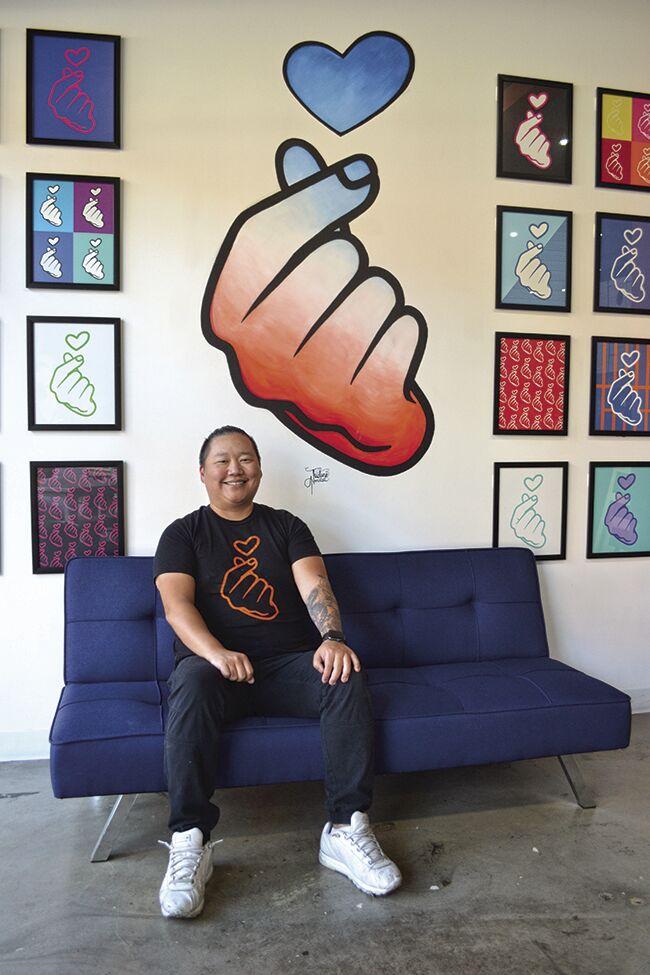 "Koreans love their processed meats," quips John Gleason as he ladles kimchi jjigae from a large pot, its simmering broth a rich fire-red courtesy of the gochugaru and gochujang chili paste combo. Cubes of Spam, that canned meat with a salted pork flavor, are a main ingredient, and Gleason describes the soup as "the epitome of Korean food."
"Koreans eat kimchi jjigae all year round," he continues, likening it to the eastern Asia country's version of chicken soup. "It's comfort food, not pretentious at all … and it makes you feel good."
Coming from the kitchen of a restaurant called Bap and Chicken, the kimchi jjigae is an unexpected menu item but, as it turns out, perfectly in line with Gleason's approach to defying expectations—and preconceptions—about Korean food.
Born as Sung Wook Yoon in Seoul, South Korea, and adopted by a South Minneapolis couple when he was 6 months old, Gleason's intertwining of personal history manifests itself in the restaurant he opened in July 2019 on Grand Avenue in St. Paul. "I've always embraced my Korean heritage," he says.
"Bap" is a Korean name for cooked rice, and while the chicken is a twice-fried, crispy tempura Korean version, the rice and chicken make it "actually very Minnesotan," Gleason says. Then there's the bibimbap bowls (mixed rice, meat and vegetables), including a "bulgogi" (rib eye) steak version and one called the Uff-Da with Spam wrapped in Korean fried bacon, fried pickles, cheese curds and rice tots. All which go along with KFC—Korean Fried Chicken—sandwiches, such as the Buffalo Brie and Seoul-style Sammie.
"I don't say it's authentic," Gleason notes of how he describes Bap and Chicken's menu. "It's the food of who I am."
Though not a classically trained chef, Gleason started cooking when he was 5 years old, making eggs to order for his parents and four siblings. It wasn't just preparing food that Gleason loved, but the hospitality component that came along with it.
"The special events of people's lives happen around food," he says, a sentiment that stuck with him through college at the University of St. Thomas, where he studied marketing and business management, but always thought about opening his own restaurant after graduating in 2002.
Gleason worked as a manager at a handful of Twin Cities restaurants, including Macaroni Grill and Giordano's Pizza, and was the first general manager hired by Jeff Sommers and Lara Hammel at Izzy's Ice Cream. But he always gravitated toward the kitchen. Years later, after visiting a friend (and eventual business partner) in Los Angeles and making trips to the city's Koreatown, Gleason solidified the concept of Bap and Chicken.
While Minnesotans are often stereotyped as risk-averse when it comes to food, that's been changing over the past decade, notes Gleason, coinciding with what he describes as the "culinary renaissance of the Twin Cities." The quality and diversity of restaurants in the area has pushed diners to expand their palates, and Bap and Chicken is positioned as approachable yet with opportunities to be adventurous.
"Korean flavors are actually very Midwestern," Gleason says. "It's not as spicy as people think."
He designed his restaurant, which took over the space occupied by Grand Shanghai for more than 30 years, to reflect that same approachability—with a little Korean flair.
"I wanted a clean, contemporary look," Gleason says, "but also to include some homages to my Korean heritage." The red and blue of South Korea's flag are dominate colors behind the bar, the finger heart gesture, a well-known symbol of K-pop, is depicted in a large mural, and trigrams, another element from the country's flag, are stylized on Bap and Chicken's menu boards.
Then there's what Gleason calls his "adoption wall," featuring his baby photo and a framed certificate alongside snapshots of customers who were adopted. "That's a big part of my story," he says, and he created the wall to recognize the experiences of other adoptees.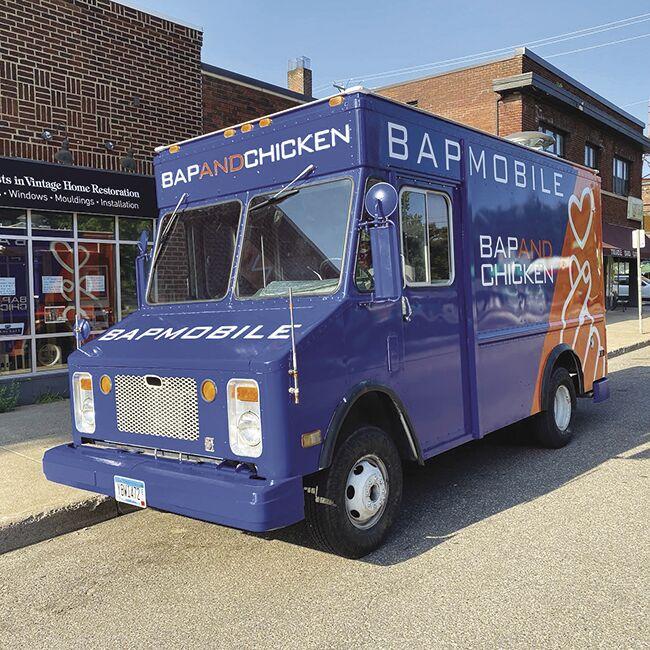 Like other restaurant owners, Gleason is still navigating the impacts of the COVID-19 pandemic on his business and consumer behavior. While the restaurant is open for limited indoor seating, sales are largely coming via delivery and takeout channels, along with the newest member of the Bap and Chicken family, the Bapmobile.
"That was a COVID-related but beautiful thing," Gleason says of the food truck that hit the streets this summer and which he plans to continuing operating through the winter.
"We don't know what's going to happen with people's dining habits," he continues. "Instead of opening a second location—that's probably been put off at least a year or two—what can we do that's going to generate awareness of the brand, generate income.
"I'm using it as a giant moving billboard."
The Macalester-Groveland neighborhood continues to embrace and support the restaurant, he says, and despite the challenges of 2020, Gleason envisions growth and maintains this mindset for himself and his restaurant: "It's all about love."
---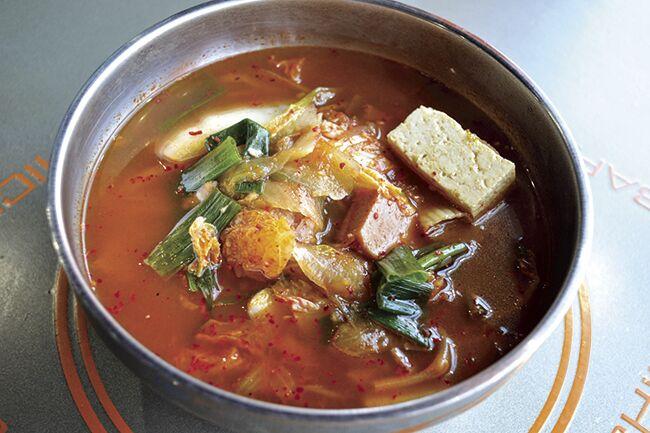 John Gleason
Kimchi Jjigae
Ingredients
2 cups kimchi
1 can Spam, cubed to 1/2-inch
1 box firm tofu, cubed to 1/2-inch
1 medium white onion, sliced
1 bunch scallions, cut in 1-inch slices
3 Tbsp. Gochugaru (to taste)
2 Tbsp. Gochujang
3 garlic cloves, minced
4 Tbsp. soy sauce
2 Tbsp. mirin
3 quarts chicken stock
Pinch of black pepper
 Preparation
Saute kimchi, onion, garlic and Spam until browned. Combine in a saucepot with all other ingredients. Bring to a boil, then hard simmer for 20 minutes. Taste throughout; add gochugaru as needed.
 Optional
Serve over white rice.
 Vegetarian option
Withhold the Spam and substitute vegetable stock. Ensure the kimchi is vegetarian.