It's not every newly graduated chef who dreams of showing off her fancy new skills in a food truck. But Janene Holig's past adventures placed her dream of cooking a global menu on a different sort of ride.
Holig was learning college wasn't for her, when a professor announced he was taking students to Birmingham, England, for a yearlong exchange program. "I got my GPA up just for that," Holig says. She was number 50 or 51 on the list—she thinks someone dropped out in order for her to make the cut. 
"I wasn't the best student," she says. And by the look of her—dreadlocks tucked tidily under a flat cap and a black, modified chef's coat with a turquoise logo that reads "HI" (for Hot Indian)—she has the self-confidence not to put too much stock in that.
During school breaks, she backpacked through Europe, soaking up the culture. When she returned home, she studied massage therapy, Chinese medicine and completed the prelims to get into chiropractic school. But nothing held her interest.
"I always loved to cook," she says. Her parents owned a bar/resort while she was growing up and she helped develop the bar fare. So when her dad invested in a hunting lodge, Holig convinced them to let her cook. It was in this setting that she developed her intense work ethic.
"Everything fell on me," she says. Sleep was in short supply, since she cooked, shopped, served and cleaned up. She spent hunting seasons at the lodge, and attended the culinary program at The Art Institutes International the rest of the year. 
An internship brought her to Ovada, Italy, where she drank Limoncello every morning, hunted for truffles accompanied by two dogs, went trout fishing and learned to turn all those ingredients, plus wild boar and homemade pasta, into mouthwatering meals.
Meanwhile, the lodge had fallen on hard times. Holig approached the ownership group to suggest they turn it into a weekend destination restaurant—with her at the helm.
"In February 2010 [when they opened], we sold out in a 300 population town," she says. She cooked elk, venison, pasta and homemade desserts for Friday and Saturday night crowds to critical acclaim. But she wanted to return to the Twin Cities.
With the food truck idea still revving around in her brain, she fortuitously was introduced to Amol Dixit, a corporate marketing expert who had an idea to put Indian street food in a wrap. 
To prepare for her interview, Holig says she ate and read everything about Indian cooking. She toasted raw spices, then dropped them into boiling water to see what flavors evolved. "Spice balances by when and how you put them in a dish," she says. 
She spent two weeks prepping. When she met with Dixit, "he told me he had to leave in a half hour because of his wife's obligation," she says. "We talked for an hour and a half." She grins mischievously when she adds that she has no idea what happened to his wife's obligation.
Two weeks later she had a second interview: cooking for Dixit and his wife in their kitchen. "I made 16 dishes and brought four to his house," she says. She was in the Philippines, a graduation gift to herself, when she got an email offering her the job.
Holig is charged with making Indian food accessible to the mobile masses, which is not without its challenges and extensive R&D. The idea is to add heat without causing the downtown business crowd to return to their offices with heartburn, she says. 
The truck had barely hit the streets when Hot Indian Foods set up in a permanent booth at the Midtown Global Market, and seasonally  at the Minnesota State Fair and Target Field. "We got slammed," Holig says. "The reviews were amazing." Her Indi Frites served with mango pickle aioli won a Charlie Award their first year on the street. Their signature item, the Indurrito, an Indian burrito wrapped in a house-made roti, is also a crowd-pleaser. 
Now armed with a well-seasoned staff, Holig plans to step up her executive chef role and grow the company. She even smiled when she turned over the keys to the food truck to its new manager. 
---
Aloo Gobi
Serves 6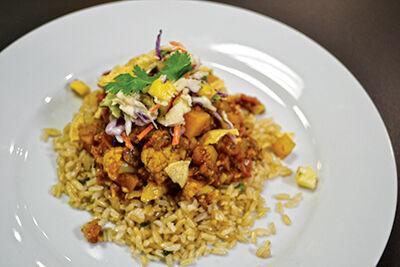 1 Tbsp canola or vegetable oil
2 tsp black mustard seeds
1 yellow onion, chopped
2 potatoes, skin on, diced into half-inch pieces
2 cups of butternut squash diced into half-inch pieces
1 head of cauliflower cut into bite size florets
3 Tbsp spice blend (recipe below)
1 Tbsp peeled minced ginger, about a 1-inch piece
3 cloves of garlic, minced
1-2 serrano peppers with seeds
1 can (28oz) chopped tomatoes with juice
1 tsp granulated sugar
1 tsp lemon juice
1/2 tsp salt, to taste
Spice Blend
1 Tbsp canola or vegetable oil
2 Tbsp coriander seeds
2 Tbsp fennel seeds
1 Tbsp cumin seeds
3 cloves
2 green cardamom pods
1/2 tsp black peppercorns
1/4 tsp allspice berries
Heat oil in small nonstick pan, add above seeds and toast while watching and shaking the pan until fragrant and oil has dried.
Add below spices to pan and toast for 1 minute.
Cool then transfer all spices to a spice grinder and pulse into a fine powder. Store in sealed container.
1/4 tsp turmeric
1/2 tsp cayenne pepper
1 Tbsp yellow mustard seeds or ground mustard powder
2 tsp cinnamon
2 tsp garam masala
Cooking Procedure
Heat oil on medium in a heavy-bottomed pot like a Dutch oven.
Add mustard seeds to oil and wait for them to start popping; you will hear it.
Add onions, potatoes, and squash; cook for 5 minutes, stirring to prevent sticking
Stir in your spice blend and toast for 1 minute.
Add cauliflower, ginger, serannos, and garlic, stir to coat.
Add tomatoes and sugar and bring to a simmer for 15-20 minutes until cauliflower is tender.