Being a woman on the line isn't the rarity it once was, but it's still nice to have a mentor in your corner of the kitchen.
Irina Kolosov, 30, however, is no shrinking violet. She has hair the color of copper-bottomed pots and the sturdiness of her Kazakhstan ancestry. "You have to be tough emotionally, physically strong," she says, taking a short break from her duties as chef at Parma 8200 in Bloomington to talk about her journey. "You don't want to show the guys you're weaker. If you want to play with the boys, you have to act like the boys."
The youngest of four kids by 15 years, Kolosov was raised in a strict, Russian household. "My brothers would never let me cry," she says. She was always told she was too big for that childish behavior—even when it was age-appropriate.
Perhaps it was this no-nonsense, no-crying-over-spilt-milk approach to prep work that captured Mike Dalton's attention when he was heading up the kitchens at Parma and sister Italian concept, Campiello. When she was hired on at Parma, after a stint at Lurcat, Dalton says his first question was: "Irina, have you ever cooked pasta?" It didn't matter if she'd said yes or no, she had the confidence to take on this crucial station. "I'm passionate about pasta," Dalton says, so this was not a responsibility he gave lightly. 
Kolosov didn't let him down. "That pasta station was hers," he says, proudly. "She started to blossom, come up with ideas. I could see the wheels turning." And she began to think of herself as being able to be a leader in the kitchen.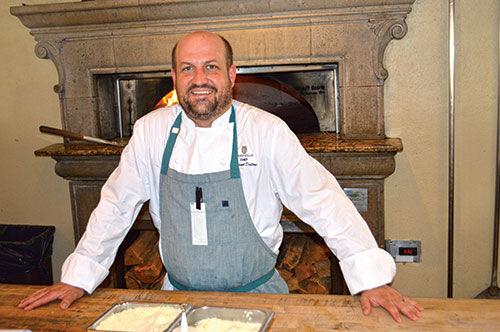 There are a lot of cooks in the kitchen, but what singled out Kolosov is her insatiable appetite to learn. 
"Mike was awesome," she says. "He took me under his wing." What made him different than a lot of supervising chefs is that he didn't just show her a skill and walk away, he'd walk her through reductions for sauces, how long to cook different types of pasta, whatever it took to make the steps memorable.
"Mike is passionate [about cooking]," she says. "What you see is what you get. He's never fake; he speaks from the heart."
Some of that passion for pasta comes from his time living and cooking in Italy. Dalton grew up in Santa Monica, California, where he got a degree in criminology (the degree is totally separate from his work now, he says in response to my lame attempt at a joke). He moved to Minneapolis at the suggestion of some college friends and started working in various kitchens for D'Amico and Partners (he currently lives in Naples, Florida where he runs Campiello there, as well as Parma here, both D'Amico restaurants).
He left Minnesota for Tuscany and Umbria, where he was hired on at the storied Il Falconiere, where he was fortunate to land both an internship and a place to live. 
"Talk about farm to table, this is the real deal there," he says. His schedule begs for a soundtrack: Walk to work (in Italy!); 7 a.m. have a cup of espresso and work until 11 a.m.; break for a staff lunch in the gardens overlooking the vineyards; return to the kitchen from 1 p.m. 'til 3; return home for a nap; 5 p.m. return and either cook the staff dinner, or enjoy it; 7 to 9 dinner service. "Twenty espresso shots later, back at it again," he says. 
In 2002, Dalton moved back to the Twin Cities where he applied his Italian schooling to the menu, first at Campiello and then in 2010 when he opened Parma. He moved to Naples to run the kitchen at Campiello Naples for what was supposed to be a season. "I've been there three-and-a-half years," he says. Since he still oversees Parma, Dalton is still evaluating Kolosov.
"Her food speaks for itself," he says. He dined there recently, and while she wasn't working that night, "the food was great. That says a lot. It made me proud."
Not only are the Parma systems working, but so is the Russian slant to Italian cooking.  When Kolosov told her mother she was studying to be a chef, she says her mother shook her head and told her, "You should be behind a desk, that's where the money is." Perhaps her mother's reasoning was that she cooked every single day of her life and saw nothing romantic or economically enticing in it. But she was a good cook, who Kolosov never saw use a recipe. 
In a dumpling version of the old adage, "eat what you kill," Kolosov learned to cook Russian food making dumplings. "How many you assemble, that's what you eat," she says. When she was adding her mother's borscht to the menu at Parma, she tweaked her mother's recipe, using oxtail instead of beef shank. "But it's different when you make a huge [batch] as opposed to six [servings]," she says.
Her parents moved to Vermont when she was 6. She hasn't been back to Kazakhstan because of the expense and the amount of time required. "I'm afraid to take that much time off," she says. "I do so much my sous chef may not know."
But she does have a recording of her home. Before they left, her parents videotaped her hometown and the area, from the beaches to the neighborhood, to their dog, relatives, friends—all the things you think you'll never forget, but you do. 
While Kolosov claims to not have a plan—"I go where life takes me," she says—she has thought about someday owning her own restaurant. But "now seeing the openings and closings, I think a food truck might be the first start." What would she serve? "Comfort food," she replied. "Mongolian dumplings, shish kabobs, mixed with American, some kind of fusion."
Her advice to other women in the kitchen—or really, to anyone in a kitchen—is to stay calm. "I've learned from other chefs not to yell, it doesn't help," she says. "Just take a deep breath. We're not saving lives; we're cooking food." 
---
Parma 8200 
Borscht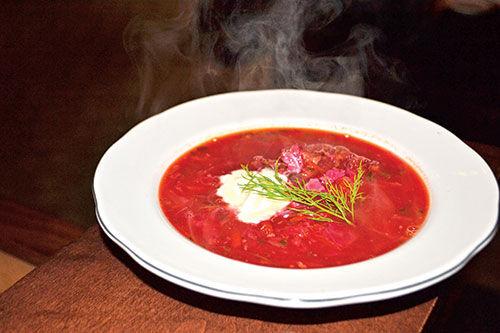 3 pounds Thousand Hills oxtail 
2 beets, cooked and shredded
2 Russet potatoes, peeled and diced
2 yellow onions, small diced
6 garlic cloves, minced
1 head green cabbage, julienned
2 large carrots, shredded
2 bay leaves
1/4 cup parsley, chopped
1/2 cup tomato sauce
1/4 cup lemon juice
1/4 cup sugar
1/4 tsp cayenne pepper
1 tsp pepper
1/4 cup oil
Salt to taste
Procedure:
Simmer ox tail in a large pot of water, approximately 3 hours or until it falls of the bone. Strain the stock and let the meat cool slightly. Pull the meat off the bones and discard the fat. Sauté the onions in oil for a few minutes in a large stockpot. Add carrots and garlic and sauté for another 3 minutes. Add the potatoes, bay leaves, pepper and the stock. Bring to a boil and add the cabbage. Let cook for 10 minutes and add the beets, lemon juice, sugar and tomato sauce. Cook for a few minutes or until potatoes are soft; adjust seasoning. Enjoy with a dollop of crème fraiche or sour cream.