Fourteen years ago, a 26-year-old Ben Pratt was fresh off a cooking stint at the fancy Cosmos restaurant in downtown Minneapolis, and ready for his opening night as chef/owner at Ingredients Cafe in White Bear Lake. The northeast St. Paul suburb is known for its fish fries and boating culture centered on its eponymous lake.
Excited, he prepared a dish with hanger steak and topped it carefully with delicate micro-greens, all the rage at the time at places like Cosmos and Lucia's in Minneapolis, where he had interned during his education at the prestigious Culinary Institute of America in Hyde Park, New York.
Then came his first review on Yelp: "The new chef put grass clippings on my food. It stuck in my teeth."
And so his big debut went thud. "I was mad," he recalls today. "It was all on the line" now that he was owner and not merely an employee. But he ended up turning the moment—eventually—into a vow to talk to customers and adapt to their wishes even while sticking to core cooking principles.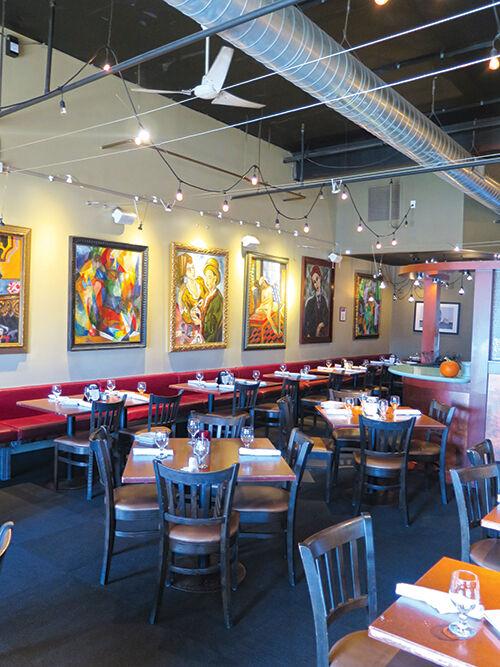 "If I don't necessarily think it's the greatest thing," like a super-popular pasta dish on his menu that he thinks is just OK, "instead of having a big ego, I learned from that. I quit being offended." Rather than "thinking I'm trying to teach somebody how to enjoy food, let's work together I guess," he believes today at age 40.
The stance is not always easy, like when he created a pork dish combining a black bean mole brightened with asada pineapple, a dish he picked up after extensive traveling in Mexico. "People would say it's too spicy, too rich. It doesn't mix well," he says. "People don't like it, so off it goes" from the menu. And did that hurt? "It does! Because it was so beautiful." But such is life for this anti-diva chef.
What he won't compromise are two key principles, the first learned from Lucia Watson, chef/owner of the late, great Lucia's and a local pioneer in farm-to-table cooking. "I learned so much from Lucia about building flavor in a dish. It's what you put into it," he says. If you're using a generic carrot, the dish tastes blah. One time at Lucia's he was working on a huge bunch of rough carrots, all different sizes and shapes. "I'm questioning it. She said, 'taste it,'" and the lesson was learned. "It just opened up my mind. That was a big influence on me."
His second bedrock principle: "Take these steps. Don't deviate. Don't get lazy," and the results can be tasted in the mouth-watering plate of braised short ribs with horseradish crème fraiche and a julienne of root vegetables on top, which he shared for this feature in the Top Chefs book.
For squash soup Pratt style, for example, the vegetables are seasoned on a steel pan, then cooked in butter in a pot. "I sweat 'em down. It takes time," he says. Fresh apple cider and white wine are added and reduced, then the squash simmers for hours. "You can't rush. There's no cheating, otherwise people notice and they stop coming."
For his newest venture, Burger Bar that opened in May across the street, he's applying the same cooking philosophy but in a fast-casual place, something he's wanted to try for years and wishes to expand beyond its one location. He spent hours in San Francisco's chef-driven burger places to see what works and what doesn't, and then featured slow-cooked roast beef and fried chicken on the menu in addition to burgers.
"We're using free-range chicken, putting a brine on that. It goes into a seasoned dredge, for that nice crunch on the outside," he says. "A lot of thought went into it," although he admits that may hinder his expansion plans because it's hard to scale when everything is house-made.
As for the 14-year and counting successful run at Ingredients Café—"It's dog years in a restaurant," he says. "I attribute that to the support of people around me," many who've been with him since the beginning. "You try to have a positive place. People feel safe, people feel comfortable here," but there's no personal drama allowed. "If somebody's having a bad day" they need to leave it at the door. "Let's elevate the world. Show's on. You're not going to come in here and be poopy," he says.
And in Pratt's restaurants, you're not going to tune out the customers. "People wanted more variety here. You'll talk to them and they'll tell you," he said about his clientele. "I'd rather that than see it on Yelp." 
---
Ingredients Café Braised Short Ribs
Pot Roast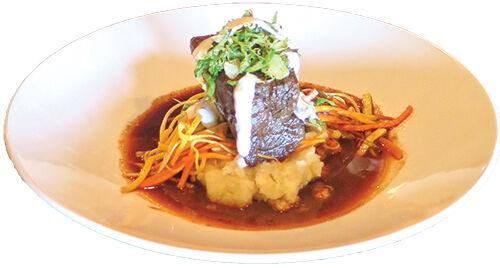 6-8 servings
2.5 pounds beef chuck flap
1 medium onion
3 stalks of celery
3 large carrots
1 bulb garlic peeled smashed
3 sprigs rosemary
3 sprigs thyme
3 cups red wine
2qts beef or chicken stock
1/2 cup tomato paste
2 each star anise
1 cinnamon stick
1/4 cup olive oil
Method
Cut chuck into equal size serving pieces, remove any silver string, season with salt and pepper. Heat olive in heavy bottom pot until smoking; sear beef on all sides until brown. Remove beef. Turn heat to medium, add vegetables and cook 5 min. Add tomato paste and herbs, deglaze with red wine, reduce by half. Add stock, bring to simmer. Add back beef, cover and place in 325 degree oven for 3 hours. Beef should be fork tender. Remove beef from liquid and strain liquid through fine mesh strainer. Add beef back to liquid.
Roasted Root Veggies
1 medium size rutabaga
1 medium carrot
2 medium parsnips
1/4 cup olive oil
Peel all vegetables; cut into thin julienne; coat in olive oil, salt and pepper roast on sheet tray at 325 degrees for 30 min, stirring occasionally. Do during last  half hour of short rib cooking time.
Shaved Brussels Spouts
Core and cut Brussels thin
1/4 cup olive oil
3 Tbsp butter
Heat sauté pan with oil and butter until slightly brown, add sprouts and cook until golden brown.
Horseradish Sauce
1 cup sour cream
1 lemon zested on juiced
1/4 cup prepared horseradish 
Combine all ingredients and season with salt and pepper.
Mashed Potatoes
3 pounds Yukon gold potatoes
Salt, pepper
1/4 pound butter
1 cup heavy cream
Peel potatoes in a pot. Cover with water and bring to a simmer. Cook until fork tender, 1 hour; strain and pass through food mill. Add cream and butter; season and serve.