On the first Friday in October, Chef Jamie Malone and her crew were preparing to accomplish a bucket-list feat for her young restaurant, Grand Café in south Minneapolis: prepare pressed duck, tableside, front and center at the restaurant's most visible booth. 
They would use a 120-year-old duck press, found on eBay and refurbished by a St. Paul man who fixes up motorcycles, to make a dish whose history dates to the 19th century in France and made famous by La Tour d-Argent restaurant in Paris.
"You press the carcass of the duck to get the blood and marrow to make the sauce. It's kind of really gory," said Erik Anderson, who started the restaurant with Malone but recently left for a new gig in San Francisco. He knows all the lore about pressed duck, which many consider the epitome of French classic cuisine.
"You get a number for each dish, and they keep a record," he says, about La Tour d' Argent's practice, "so you know that Charlie Chaplin ate No. 253,652," he says, for example.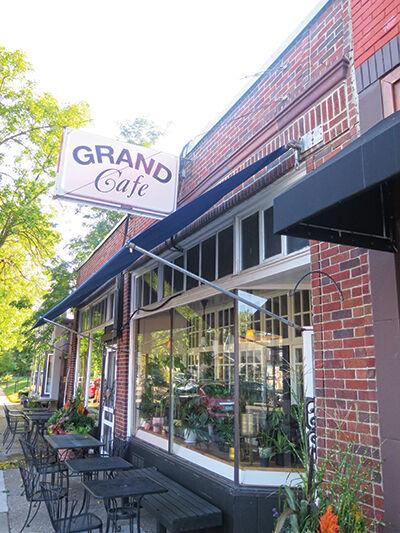 It's not a typical dish for a neighborhood restaurant, as Malone considers her south Minneapolis gem to be. She bought it from long-time owners Dan and Mary Hunter, remodeled and then re-opened in May. The move brought one of the Twin Cities' powerhouse chefs to the humble Kingfield bistro, and she quickly added a sophisticated menu that's surprisingly—and deliciously—high-brow for a neighborhood joint.
"There's a lot of soul in this place," says Malone, and she believes part of its appeal rose from the modest budget she and an outside investor worked with. "It's an intimate restaurant. It's very sweet," she says, with 47 seats in the dining room and a private dining area that seats up to 20.
The budget was similarly modest, especially compared to her former gigs including the opening of Porter & Frye, now departed, in the Ivy Hotel, and the executive chef job at Sea Change at the Guthrie Theatre, where they'd serve 150 people in an hour, pre-show. "We really bootstrapped and that's a good thing," says Malone, whose background also includes La Belle Vie and Georges Chambers Kitchen. "There are lots of things you can solve with money and you have to find another way to solve it." 
A soothing mural of tropical ferns graces one wall in the dining room, along with scarred wooden banquettes and pale pink pillows for accents. Plants are packed into the restaurant's front porch, and in the back, cozy couches around a large table form the perfect spot for a crowd of diners.
"We're benefiting from the easiness of the dining room," Malone says. "Our food can be perceived as fancier than it is. I think this dining room, it's kind of disarming."
Chief among the restaurant's weapons is Nikki Klocker, who joined Grand Café at Malone's request, first as culinary and hospitality liaison and then elevated to general manager. "People say fine dining is dead, but it's not," Klocker declares. "Pretentiousness is dead."
Malone was the chef at Klocker's wedding and they had become friends. When Grand Café's first front-of-the-house man Marco Zappia, formerly of Bittercube, opened the restaurant but then left for another assignment, Klocker came in to take her first restaurant position.
Says Malone, "Restaurants are about food and wine but they're really about serving people," and at that, Zappia is a master. "Marco truly thinks in terms of hospitality and the guest experience, and that's rare. Marco sets the tone for the dining room."
Klocker agrees, saying she joined the staff when Zappia was phasing out. "He's wonderful on the floor," making each guest feel he's focusing only on him or her. "He just brings elegance." 
She similarly praises chefs Malone and Anderson. "It's fantastic watching them work," she says. "They're geniuses. I leave here buzzing (each night). I have to have a cup of chamomile tea when I get home."
Klocker traces her penchant for hospitality to her eight years as a stay-at-home mother to her daughter, now 11. "I want everyone to always feel comfortable. If I invite you in, I want you to know, I want you here. I want to create that safe, happy place," she says. 
At the pre-shift meeting with servers each day at Grand Cafe, she will discuss everyone on the reservation list, and share if they're celebrating an anniversary or birthday.  "I want to make it seamless," she says.
That includes when everything goes wrong, a common occurrence at a restaurant. Malone recalls the worst day ever, so far, at Grand Café, shortly after they opened—the first truly busy Saturday night and the exhaust fan went out in the kitchen at 4 p.m. They sent their chef de cuisine to the Ace Hardware down the block to get a few Weber grills, then cooked ribeyes and served beer. 
"Ninety people on the books and we're grilling outside," Malone recalls.  "We turned it into a party."
 Although newer to the game than her chef, Klocker is a pro. "Never let them see you sweat," she said about her approach. "Do it cool, calm and collected. It should not be your issue," meaning the guest's, and she talks like a veteran when she explains how she can manage to keep calm during chaos. "Some people can do it and some people can"t.  It's in a sense what you train to do."
That includes the latest shock to Grand's system, when Anderson announced he was leaving for Coi, which in October received its third star, Michelin's highest honor. Would his departure disrupt the restaurant? They'll be fine, Klocker says, although he will be missed.  "We're super excited for him," she says.
Klocker adds this coda: "Our guests are taking the time to come here. We better be on our A game." 
When it comes to that pressed duck dinner, served tableside—or the Foie Gras Royale with Crème Gitanes or Pike Quenelle in Crayfish Sauce, a few of the items on a recent menu—Chef Malone and GM Klocker will have their A game on full display. 
---
Foie Gras Royale
Ingredients: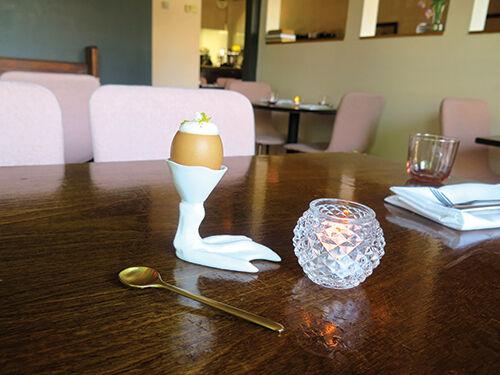 500 grams diced raw foie gras, grade B
500 grams heavy cream
500 grams duck consommé/chicken stock
15 grams cornstarch
5 eggs
10 grams madeira or grand marnier
salt (to taste)
25 grams sucrose
Equipment:
1 vita prep
1 chinois
1 small rondeau
1 large mixing bowl
1 whisk
Procedures:
1. Bring cream, chicken stock and cornstarch to a boil in 2-liter pot and let cool slightly.
2. Add eggs to vita prep and blend on low speed.
3. Slowly add half of the hot cream and chicken stock mixture to the eggs in the vita prep.
4. Add the diced foie gras to the blender and blend on high to fully puree and emulsify.
5. Whisk the remaining cream and chicken stock with the foie gras puree in a large mixing bowl.
6. Season with the madeira, 25 grams sucrose and salt to taste.
7. Pass through a chinois and cool over an ice bath.
8. Measure desired amount into bowl and steam at 200° F. until set (15-20 min.)