It's 3 p.m. at Spoon and Stable, the hottest ticket in town since it opened a year ago November. Three bartenders prep cocktail makings behind the bar, backed by exposed brick, logs of wood and at least 145 fancy bottles of booze. 
But the star of the show, Gavin Kaysen, is an hour behind schedule for our interview, then an hour 15, as one meeting goes late and another, unexpected problem arises. 
Such is life for an executive chef/restaurant owner, operating in his hometown since he left his mentor Daniel Boulud in New York to strike out on his own. 
"That's the beauty and the beast of this business, isn't it," says Kaysen, apologizing again and again, when he's finally free to talk. 
The pace has been insane since Spoon and Stable opened. 
"I've never experienced anything like it," he says about the opening last year. When reservation lines opened, they sold out two months' worth of seats immediately. 
"I felt like Guns & Roses in the '80s," Kaysen jokes, even though at age 36 today he could hardly have remembered what that was like. "I felt like Ticketmaster."
When Kaysen says his opening was unlike any other, that's saying a lot for a chef who achieved celebrity status in New York. While working as chef de cuisine at Café Boulud in 2008, he received the James Beard Foundation's Rising Star Award, an honor he says means the most because fellow chefs cast the ballots. 
Kaysen says he learned "two major things" from Boulud. 
"One is spontaneity. He's always curious," and willing to change a dish to fit a guest's request, for example, or go to the market and find something special for a regular. 
"Second is genuine hospitality, which is the core" for Boulud, and the open kitchen in Spoon and Stable is one example of how Kaysen is trying to achieve that principle. 
"There are no obstacles for your eyes," between guests and chefs. "The burden isn't just on the servers" to provide hospitality. 
"The terminology of front of house and back of house does not exist in this restaurant," Kaysen continues. 
At Spoon and Stable, many menu items change every month, but only after Kaysen and his chefs make a dish, eat it, and then answer seven questions, such as: Is it accessible? Is it Midwestern? Is it our collective voice? Is it profitable? 
"And is it delicious—that's the most important."
Kaysen is majority owner of Spoon and Stable, backed by 15 investors including Boulud, Thomas Keller of French Laundry fame, Andrew Zimmern of the Bizarre Foods franchise, and others who wish to remain anonymous. They mostly leave him alone, Kaysen says, except to talk about food, or life, or other pressing topics when asked. 
Does owning a restaurant himself seem like a risk? "Big time," Kaysen says, but he's unfazed. "I'm the type of person that likes fear. I believe without fear there's no success." 
He also believes he has a solid foundation underneath him. "I had a lot of bungee cords and a big safety net" when working for Boulud's restaurants. "I made a lot of mistakes there that I haven't made here."
Kaysen is asked to reflect on the closure of two towering restaurants, just announced before our sit-down: Tim McKee's La Belle Vie, and Vincent Francoual's Vincent A Restaurant. "It makes me sad, because it's the reality of our business," he says, and notes that even his restaurant, only one year old, "will close at some point. Our lease is for 20 years." 
But he believes more in celebrating those chefs' contributions to the local restaurant scene, and then rattles off several local names, indicating he'd like to take his place among their storied restaurants one day. 
"Tim, Vincent, Isaac Becker, Alex Roberts, Russell Klein—if they didn't do what they've done, I wouldn't have been able to do this," Kaysen says. Then it's time to handle the next crisis on his list. 
---
Bison Tartare with Harissa and Dehydrated Olive
Harissa Paste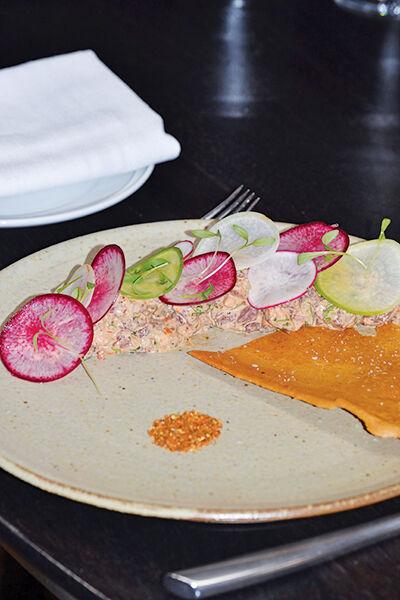 20 ea red bell peppers
6 ea fresno peppers
50 grams garlic
30 grams spice mix (recipe below)
Sugo finto
Aioli
Roast peppers, then peel the skins away. Add to a robot coupe with garlic and spice mix (below) and process until thoroughly chopped. Add sugo finto. Place in a pot and cook on low heat until dry. Cool. Mix with plain aioli and season with lime juice and salt.
Harissa Spice
50 grams cumin
30 grams coriander
20 grams black mustard seed
20 grams yellow mustard seed
1.5 grams chili flake
10 grams smoked paprika
Toast the top four ingredients. Once toasted add the rest and grind in a spice grinder. 
Dried Kalamata Olive
Process olives in a robot coupe until finely chopped. Place in dehydrator and dry at 140 degrees until dry, about one day.
Cured Egg yolk
Scramble 35 egg yolks and place in a cryo vac bag. Seal the bag and freeze. Take frozen log and pack into a cure of 55 percent salt and 45 percent sugar. Place in walk-in for 10 days. Remove from walk-in and wrap in cheese cloth. Hang in dry storage until dry. 
To assemble:
Mix 2.5 ounces chopped bison with salt, brunoise shallot, chopped cornichon, chopped cilantro, harissa paste, olive oil and lime juice. Dust the plate with harissa spice, add bison mix. Top the bison mix with dried olive, cured egg yolk, socca chips, watercress and micro cilantro.