Kari Davi's food says so much more about her than she does herself. While not shy, the co-head chef at Forager Brewery in Rochester is reserved. I knew when we sat down in the old-fashioned library at the rambling brewery—which has its own walking tour brochure—that Davi was not one to over-share.
When asked how she would describe the style of the food she cooks in the scratch-only kitchen, she replied "farm-to-table, it's as simple as that." And then she was ready for the next question. No waxing poetically about the ingredients, no bragging about her resume, no pretending she was a fine-dining chef. Very much down to earth, and sturdy and friendly, too, don't get me wrong.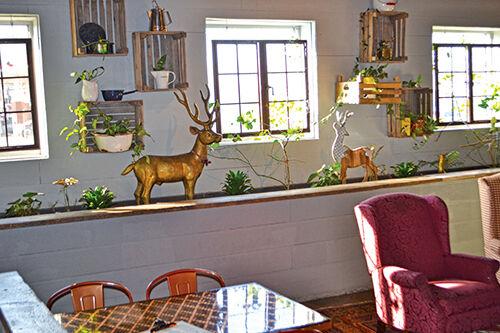 And while she wasn't wild about talking about herself, she was extremely animated when it came to talking about the farmers whose produce and meat are a large part of the seasonal menus.  
"The farmers are my favorite part," she says about her job. 
The 28-year-old shares kitchen duties with Pete Wilcox in a facility that employs 27 cooks. He does the scheduling, they share the ordering and they both cook, without the help of microwaves, as one of their quirky signs—a wooden sign with a rendering of a microwave with a thick red line through it—announces. "Pete's like a genius," she says about her co-chef.
The cuisine influences run the gamut from Asian to Mexican to American, but with one stipulation. It has to have ingredients her farmers can contribute. "If it has local ingredients, it's on the menu," she points out. Since the beer flows from taps on a regular basis, it's not surprising to find at least one of the brews in a variety of recipes. There are two kinds of beer in their French toast, a bit of a welcome surprise for brunch fans, and even a hint of beer in the creme brulee. The picture, left, is an artist rendering for one of their seasonal beers' labels.
The recipe she chose to share was for beef stroganoff. "This is what I make for friends when I stay at their homes," she explains. And it's the dish her sister asks her to make when she comes home to visit her family.  
There were lots of thoughtful reasons behind the choice. First of all, it was the first recipe that she ever wrote by herself for her dad, although it's been tweaked many times from that first effort. The recipe for the pasta is based on her grandmother's, which is based off of two cups of flour. Her second reason is because it uses ingredients from her favorite farmers, such as duck eggs from Four Daughters Farm in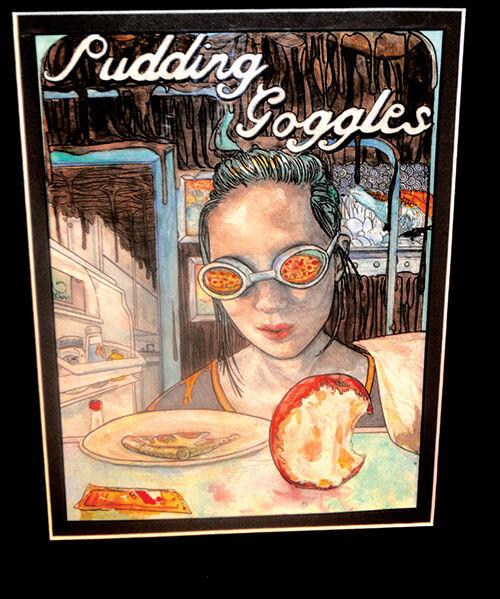 Orono. A chicken egg is so mainstream, she says, believing ducks to be the superior poultry. "Duck egg noodles are brighter and fresher," she says, because the eggs are more base than alcohol. She uses local mushrooms and "lots of cream and lots of butter."
And last but not least is that she loves making pasta. Her father's parents owned a pasta company, she says, and as a kid she helped feed the sheets of dough through the pasta machine. The beauty of pasta, besides the taste, is that it can be made into any color or shape, she adds. 
While her beef stroganoff isn't a mainstay on the menu, it does show up frequently as one of the daily specials in the winter. The perfect season for its warmth and richness.
Davi grew up in Wyoming, where she learned to fish and forage and hunt. Her father worked construction, but at the end of his shift he'd come home and cook. "My dad cooks every day," she says, but unlike her, never wanted to do it professionally. 
When asked whether she gets her ideas for putting a different spin on standards like burgers and soups from travel, she shook her head and said, "I can't travel internationally, I'm a felon."
She said it so casually I thought for a moment that I had misheard. It was 10 years ago and it was for possession of a drug that's now legal in a handful of states. She spent a year in prison, where they let her finish college. She has a bachelor's degree in culinary arts from the Art Institute of Tucson, and she spent a lot of time cooking during her incarceration.
She's not at all bitter, nor is she embarrassed. Prison wasn't so bad, she adds; she was in a facility where the population committed "paper crimes," such as fraud, marijuana possession, not violent crimes. 
"I don't judge people for what they did," she says, matter of factly. "I met people there that were good people. There's lots of things against the law."
So maybe it wasn't reserve that I was sensing when I first met her, but stoicism.
Davi showed me around the restaurant, from the doughnut shop that rents space in the front of the brewery through the large and busy kitchen to a room where she does pop-ups with food and beer pairings, to a patio that in warmer months is bustling with people, dogs, and herbs growing wild, back to the main dining room with a stage for live music. The actual brewing of the beer takes place in a building across the street from the restaurant. 
Her roots are now in Minnesota, not just because she has extended family here, but because in Wyoming farm-to-table is not as accessible as here. She especially loves the pop-ups that happen at the restaurant frequently because both the brewers and the farmers take turns talking after each course. 
She's quite comfortable letting the food and the farmers speak for her. After all, for her the farmers and all their hard work deserve to be the stars of the dish.
---
Forager Brewery Beef Stroganoff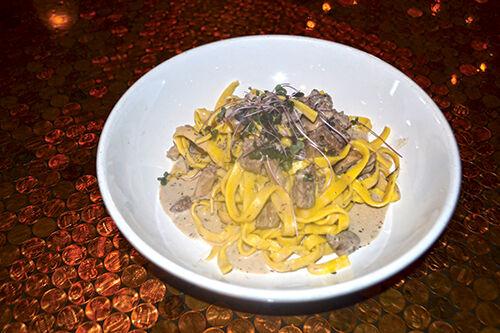 10 pounds beef (diced)
1 cup butter
4 onions (diced)
5 pounds mushrooms (quartered)
10 cups beef stock
3 quarts heavy cream
5 cups sour cream
1/2 cup dijon
1/2 cup, plus 2 Tbsp dill
1/2 cup, plus 2 Tbsp fresh parsley
Salt to taste  
1 cup garlic (minced)
Sauté onions until soft. Add beef, brown. Add garlic, mushrooms, cook until all liquid has left mushrooms. Add stock. Simmer with lid on for 20 minutes. Add Dijon, heavy cream and sour cream. Bring to a simmer. Turn off. Stir in dill, parsley and salt to taste. 
Notes on pasta:
Ingredients
10 cups of flour
10 duck eggs
1/2 cup, plus 2 Tbsp olive oil
3 Tbsp, plus 1 tsp salt