When Diane Yang heard that famed New York City Chef Gavin Kaysen was returning to his hometown to start a restaurant, she didn't believe it. 
"Everyone was in denial about it. Why would this Café Boulud chef come back to Minnesota?" she recalls about the Daniel Boulud protégé.
She had met Kaysen a few years back, on a trip with local chef Tim McKee. Yang worked for McKee for more than 12 years, starting as an intern out of culinary school, and ending up as executive pastry chef at La Belle Vie, McKee's crown jewel in Minneapolis. McKee arranged a get-together. 
"I didn't know who Gavin was," she concedes today. "I Googled him, and thought, 'Oh wow, I should know this guy.' "
Today Yang knows Kaysen very well, as she is executive pastry chef at Spoon and Stable in Minneapolis, providing the delicious finish at a restaurant that hit its one-year mark in mid-November, and still serves 200 to 250 people every night. 
"The ending of the meal has to be special," she says.
"Simple is good," Yang is known to say, but achieving simplicity is more complicated than it looks. Her creation for this feature, for example, honey cake with quince, takes a classic tres leches cake and adds crunch and other flourishes, but the key is to cook the quince, a cross between apples and pears, just so to obtain the distinctive red color.
At fine dining La Belle Vie, every dessert had at least 15 ingredients. 
"Going from there to here, with 250 people a night, we've simplified," she says about Spoon and Stable, yet each dessert still has up to eight components. 
"Simple is not boring," Yang declares.
Yang creates five or six new dessert menus each year, and lately has been turning more to savory cookbooks rather than sweet. She doesn't like to create dishes in front of a crowd, as her boss likes to do. 
"I can't process that," she says. "When I'm in the zone I need to just work up that dish."
When she gets an idea, she sketches it on paper. "If I don't draw it I can't remember it."
One of Yang's biggest mentors is Adrienne Odom, who was executive pastry chef at the late, great Aquavit in Minneapolis before moving to Solera, and Yang followed Odom to become her assistant pastry chef for four years. She recalls once when Odom put up a dish, "and I said, it needs this or it needs that." Odom walked away in anger, and then came back, correcting Yang pointedly: "Your palate isn't even there yet," Odom said to Yang.
Today, Yang tries to pass on her own lessons to assistants. 
"Everyone I take on—it shouldn't be a stint. I want when you leave Spoon and Stable, you leave to be better," she says. "When you leave, I want to be proud of you." 
Yang is first-generation Hmong, and grew up with her five siblings on a farm in Wisconsin. She recalls a recent appearance with fellow chefs at the Minnesota State Fair, where her counterparts talked about growing up cooking with their grandparents or parents, and absorbing those traditions.
That wasn't Yang's experience. Her mother worked two jobs to support the family, and her father worked an early shift and then came home to take care of the kids. 
"He taught me how to cook rice, how to do the dishes, and how to kill a chicken," but that's it, she says.  
Spoon and Stable is drawing attention from all over, and Yang has fun meeting the celebrity chefs, although she won't admit she has become one of them. 
"Ferran came through last week," she says, referring to Spanish avant-garde chef Ferran Adria. "That was the highlight of my life. I took a selfie with him!"
But she spreads the love around. "A lot of chefs in town are doing amazing things," she says. "You can have everything here."
Although the work is hard, and the industry is brutal—she laments the closing of La Belle Vie in October—she can't see ever making a career change. 
Sometimes, "I think maybe I shouldn't do this, you know? I miss my kids' life a lot," she says about her two children. But she recently had three days off and then returned to work. "I thought maybe this is me, because I was really happy walking back in here." 
---
Honey and Cream Cake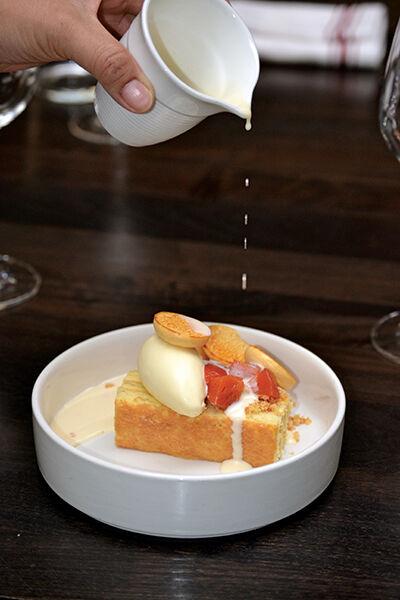 Sponge Cake
(makes 2 ½ sheets)
12 ounces egg yolks
7 ounces sugar
17 ounces egg whites
10 ounces sugar
5 ounces flour, sifted
Whip yolks and 7 ounces of sugar until super thick, set aside. Rinse and dry bowl. Whip whites until frothy; slowly add 10 ounces sugar. Whip to medium stiff peaks. 
Fold in yolk mixture; fold in flour mixture. Take two 1/2 sheets and spray the sides and lay fitted parchment paper down. Divide batter and spread flat.  Bake at 375 until the cake bounces back.
Honey Mousse
6 egg yolks
Pinch of salt
1/2 cup sugar
1/2 cup honey
1/4 cup water
1/4 cup water
2 cups cream
4 sheets gelatin
Bloom gelatin in ice water. Whip the cream to medium peaks, set aside. Whip yolks and salt on high. Bring sugar and first part of water to amber color; immediately add second half of water. Whisk rapidly to incorporate; take off heat (be careful, it will splash out). 
Turn KitchenAid to medium-slow speed and pour in hot caramel. Add bloomed gelatin, whip until cool. Fold in cream. Taste.
Sweetened Condensed Milk Ice Cream
2 cups milk
2 cups cream
8 ounces egg yolks
8 ounces sweetened cond. milk
Scald milk and cream. Temper in yolks and condensed milk. Cook until slightly thick.
Milk Crumble
5 ounces butter
3 ounces sugar
6 ounces flour
2 ounces malted milk powder
Salt
Put everything into food processor until crumbly. Bake at 350—there should be no color. Cool and store in tightly closed container.
Milk Soak
1 cup cream
1 cup sweetened cond. milk
1 cup evaporated milk
Whisk everything together. Refrigerate.
Crispy Honey Meringues
3 ounces egg whites
3 ounces honey
Whip together until stiff peaks. Spray Silpat mat with nonstick pan spray. Pipe small, dime/quarter-sized rounds onto Silpat. Dry in oven for 2 hours at 180-200 degrees. Peel off and store in tight closed container.