In the pre-opening hours at Burch, it's plain to see how much work goes into running the vast upscale restaurant. Servers are busy arranging plateware; cooks have their heads down, prepping alongside the roaring pile of logs that fuel the wood-fired grill; and bartenders carry all manner of cocktail components for the impending Friday happy hour. And downstairs, a chef brings the wood-fired pizza oven to temp. 
Owner and executive chef Isaac Becker said unlike his other restaurants—112 Eatery and Bar La Grassa—Burch is still a "massive, massive" work in progress. 
"Opening up a third restaurant wasn't like being 33 percent more busy; it's like being 300 percent more busy," said Becker. "This place is still in need of constant attention."
Burch co-executive chef Daniel del Prado gives the restaurant the utmost attention, and without him, the restaurant might not even exist. 
"The fact that Danny was willing to sign on helped us make the decision to do this project. I was scared, but knowing that I had Danny coming back helped me," said Becker. "Danny was here all day every day for months—that really kept us alive. Then all the sudden we kind of turned a corner and it started working out." 
Del Prado is a former ski bum with a heavy Argentinian accent who started cooking during summers off the slopes. He gained experience and moved up to sous chef before working his way to Bar La Grassa under Becker as the two, along with Erik Sather (who now co-owns Lowry Hill Meats next door to Burch), created the initial menu. 
"Erik was going to be the chef, I was a good friend of Erik's, and I wanted to work for Isaac—everybody wanted to work for Isaac back then," said del Prado. 
Becker said it was an easy working relationship, and when an important event fell on the night of BLG's soft opening in 2009, the pair left Sather to manage the kitchen as they took a road trip. 
"He was really pleasant to be with. At the event, it was kind of this demonstration, and he did most of the talking because it was clear with his accent he was so charming and everyone loved hearing him talk, I just stood back and let him answer the questions and it worked out really well," said Becker. "I knew that day he was a good guy."
Del Prado said that was his first experience during what would become a formative time in his career. 
"I call him a mentor after Bar La Grassa. He doesn't maybe like to talk about it, but he is a mentor," said del Prado. 
To Becker, he's just making sure the food is done right. 
"The whole notion of being a mentor, I don't have any interest in that," said Becker, who said there's not many hugs in the kitchen. "Experience is great, but it's not my job to make sure you're being nurtured. I don't care."
The clearest form of that mentorship (or training if you ask Becker) comes when a new recipe is being tested. 
"I used to put too many unnecessary things on a plate, like micro greens. I can't stand micro greens anymore and I think I got that from him. I can't stand unnecessary things," said del Prado. "He's a really great food editor. I remember dishes how I showed him (then) and what they are now. They are so different, the essence is the same, but when I look back I say, 'That was stupid.'" 
There were other lessons in the business as well, namely, don't skimp. 
"He never once got mad at me about food costs or labor," said del Prado, who added Becker did ask why there weren't more cooks time to time. "The focus should be getting good food to the table, not trying to cut labor and costs, especially not right away. That's where I learned that." 
Becker said that's one of the benefits of being a chef-owner—it's all about the food.  
"Sometimes, restaurants are owned by people who are owners. They like food and they like service, but they're looking at the spreadsheets and the numbers, and after a while, they start making decisions for the kitchen that the chef wouldn't make," said Becker. 
"But when I started 112, in the back of the house, every decision I made was getting the best product on the plate out hot to the customer. Because it was actually my money and my skin, I never made decisions based on how I could save some money. I think about it, and I don't give things away, but I never thought, 'Oh, if I got this crappier olive oil we could save $20 a week;' I'd never do it."
Becker's brusque approach came directly from his own teacher, D'Amico executive chef Jay Sparks, who had a straightforward approach to menu editing. 
"He was the most honest chef I've met," said Becker. "But he would say things like, 'Have you tried it?', which is a terrible insult." 
Despite his position as owner, Becker said it's got nothing to do with special insight or talent; it's just a fresh set of eyes. 
"I think it would probably be the same way if our roles changed, if I were here every day, all day trying to make new dishes as often as he is and he came in two or three times a week, I wouldn't be surprised if it would be the same outcome because he's not as invested in it," said Becker. 
Del Prado is a consummate learner who while starting Burch pursued his sommelier certification in the little spare time he had left. While that dedication to learning, research and experimentation mostly makes Becker wish he wasn't so lazy, it's a central part of their partnership. 
"Here's a perfect example of our relationship, I'm in Eastern Europe doing research for [Burch] and I'm in Prague and I have this big meat dumpling," said Becker. "I don't think I even told him what it was called when I sent him a picture. By the time I got home, he had already researched it, developed it and made it delicious, so that's the way this place is operated."
While the line between teacher and friend has been blurred, del Prado said he's not going anywhere soon and neither is Becker.  
"You always want to work with whoever is one of the most successful people, because eventually you think you'll become one, at least for me," said del Prado. "Eventually, I want to be like Isaac, obviously, to see if it was just working for him or that I was talented."
---
Burch Steak 
Grilled Spanish Octopus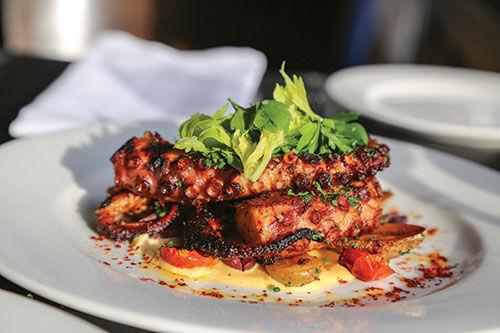 For the octopus:
3 cloves garlic, sliced thin
3 shallots, diced small
1 ½ Tbsp smoked paprika
2 cups Fino sherry
1 Spanish octopus
In a large pan, sear the octopus on all sides. Remove from pan and add shallots and garlic and sauté for 3 minutes. Add smoked paprika and sherry. Add octopus back to pan. Bring to a simmer. Cover and place in 350-degree oven for three hours or until tender. Allow octopus to cool in braising liquid. Once cool, remove arms from octopus and grill them just long enough to get color and to get them hot. 
For the aioli:
1 Tbsp smoked paprika
1 egg yolk
1 Tbsp lemon juice
1 Tbsp lime juice
1 Tbsp cooking liquid from the octopus
1 Tbsp salt
1 cup blend oil
In a food processor or in a bowl with a whisk, combine all ingredients except oil until well combined and foamy. Slowly stream in oil. Season to taste.
For garnish:
12 fingerling potatoes
12 cherry tomatoes
2 cloves garlic, shaved thin
1 Tbsp fresh thyme
Olive oil
12 kalamata olives
Celery leaves
Parsley leaves
Lemon
Blanch fingerling potatoes and allow to cool. Slice in half and sauté in 1/4-inch blend oil until brown and crispy. Season with salt. Slice cherry tomatoes in half and combine with 3 Tbsp olive oil, garlic, thyme, and salt and pepper. Lay flat on a sheet pan cut side up and bake at 350 degrees for 20 minutes. For the salad garnish, combine the celery and parsley leaves. Season with salt and toss with 1 Tbsp lemon juice and 1 Tbsp olive oil.