Every Sunday morning Robert Tewes fires up the mighty pipe organ at Grace Lutheran Church in Albert Lea, where he is music director. It's an old-school instrument with tracker action, he explains, meaning the organist can't just click away like on an electronic keyboard but actually has to lean in to press each key and sound each note.
"It gets to be more vigorous," explains the 54-year-old man with a master's degree in church music from Northwestern University.  "You feel you're really making the music. You're releasing the notes." Then he tries another analogy, this one a little bit more down to earth, which is something he'll do again and again in our interview: "It plays more like a sports car drives."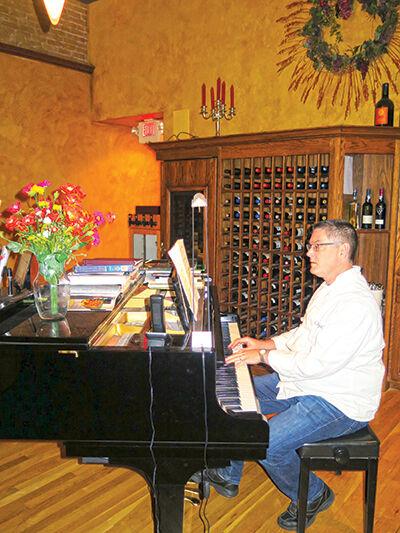 But that's only one-half of his weekly gig. Every Thursday, Friday and Saturday evening since May 2001 he's on a different stage as chef and owner of Crescendo, his white-tablecloth restaurant in downtown Albert Lea. When he started it was the only fine-dining game in town with entrées nearing $18 into the high $20s, in stark contrast to the Tuesday taco nights that were the norm. 
"We were exorbitantly priced for the area," he says, but he had a different idea of how his restaurant should be. "It's the notion of not rushing people through. It's an event," he says. "That was unheard of at the time."
He and his wife, Patti, often entertained in their home, gaining a reputation for leisurely evenings filled with good food and almost always a piano performance at the close. "We end up in the living room and it was—'Bob, play us something.' It seems to have resonated," he recalls.
Because of those beautiful evenings, he was asked to cater a gala event at the local community college, for which he created a gorgeous spread to rave reviews despite his lack of formal training as a chef.  "I'm largely self-taught," he says, having become sick of fast food when he was in grad school and starting to pay careful attention whenever he went to eat at restaurants in Chicago. "I had a knack for tasting the flavors and I could re-create it," he says, then puts it another way. "I have the ability to taste in color." 
He also hit the books. "I put my hands on every book and publication out there. I spent time in front of the TV with Emeril," he says with a laugh, and the other celebrity chefs whose shows were exploding at the time. 
When one full-time job ended and only a part-time job took its place, he decided to try something he had thought would wait until he retired. "I had three young children so I had to up my game," he says. He, Patti and artistic friends got to work renovating the 1886 building on Broadway where Crescendo still stands today, with golden textured paint on the walls and a glowing blue on the sky-high tin ceilings. A friend who's an artist created original paintings for the restaurant; another friend restored the woodwork and crafted the stunning buffet and wine rack at one end.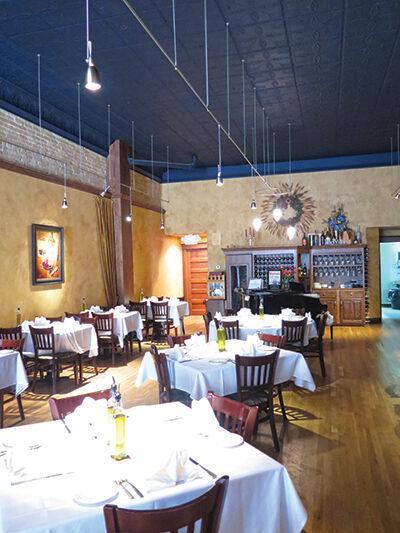 Tewes (pronounced TAY-vez—it's German) doesn't think his two seemingly different roles as music performer and chef are disparate at all. "It's not resting on last night's performance," he says.  "It's the preparation, and a little bit improvisatory." 
Then he puts it another way: "Being a performer is not a bashful thing. You have to stand in your own shoes and live in the moment." That's true whether performing music or putting together a harmonious menu. "I am not happy if I am not creating something," he says.
"There's a sacramental element to it," he says, describing how his restaurant has a place in people's entire life span. The engagement party is held there. The pregnancy is announced. The anniversary is celebrated, all the way to "families burying their mom or dad," he says. "That's really kind of awe-inspiring."
Asked to expand on his meaning of "sacramental," he obliges. "How I'd define that is, simple things can be imbued with deep profundity, with layers of meaning. They connect deeply with you. Unhurried conversation, food not to just slam calories in your head." 
The emphasis is embracing the seasons, he says, and he changes the menu every six or seven weeks. For his signature dish for this feature, he prepared a sweet potato ravioli, crunchy with pine nuts and hot with chili paste, in a savory brown butter sauce finished with fresh sage and shallots.
"It's simple, with fresh ingredients. It mimics the things we started with," he says, and in fact the dish tastes just like the day, a perfect autumn morning in late October. 
At my request, he sits down at the baby grand piano in the restaurant and plays a classical piece, just like he does each evening after the dinner rush calms down at Crescendo. And so he sends one more person back into the day, having made harmonious music on two different stages. 
---
Crescendo Sweet Potato Ravioli
Sweet Potato Filling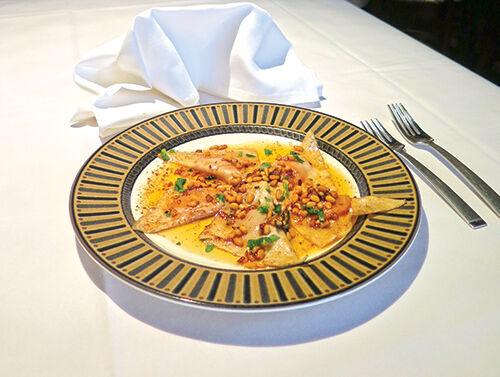 3 large sweet potatoes, cut in half lengthwise (leave skin on)
1 Tbsp butter
Pinch of salt
2 Tbsp brown sugar (or more to taste if desired)
Roast potatoes in 375-degree oven until fully cooked and caramelized.
Scrape potato pulp from skins into food processor, discarding potato skins.
Add butter, salt and brown sugar. Process until smooth puree is achieved.
Refrigerate for at least an hour. Mixture should be cold.
Pasta Dough
3 cups  all purpose flour
8 large egg yolks
1 tsp kosher salt
1 tsp extra virgin olive oil
2 Tbsp water
Combine ingredients in food processor and process until mixture clumps together into a ball. A bit more water can be added if it is too dry. 
Turn dough out onto lightly dusted counter. Knead by hand until it forms a smooth ball. Cover with plastic wrap and let rest for about a half hour.
Cut into six equal pieces. Use one of the pieces at a time, keeping the unused dough covered with plastic wrap to ensure it does not dry out. Run through pasta machine until long strips of thin pasta are achieved (setting 5 on my machine).
Cut long strip into 4-inch square pieces. Paint egg onto outer two edges of each square forming a wet triangle. Put a small scoop of sweet potato filling in the center of each square. Fold dry edge over to wet edge to form small triangular football. Lay on parchment-lined sheet pan. When pan is completely full place pan into freezer until service.
At service:
4 Tbsp unsalted butter
Chiffonade of fresh sage
A generous sprinkling of pine nuts
Dash of chili flakes
1 tsp minced shallot
In a sauté pan melt butter over medium heat. Add pine nuts, a dash of chili flakes, and small sprinkle of fresh sage chiffonade. Reduce heat and continue to cook, swirling pan, until a brown butter sauce is achieved. Add minced shallot and remove from heat.
Bring water to boil in a sauce pan. Cook frozen ravioli until al dente (they will begin to float in the water), about 2 minutes. Add ravioli to brown butter and toss to combine. Garnish with minced chives.
5 pieces for appetizer portion/8 pieces for entrée portion.