Casablanca's moment of silence started as a way for Chef Youness Bojji to catch his breath. There were 42 people in his original restaurant's tiny dining room and he was the only one in the kitchen. "I told my wife (Amber), I have 36 bucks in my pocket, go to the liquor store and buy champagne. I need a minute," he says.
His minute came once everyone in the dining room quietly held a glass of champagne. After some welcome silence, he went around the room until everyone had shared what they were grateful for. They then raised their glasses and toasted one another. One diner was so touched by what he'd heard that he picked up the tab for three tables, Bojji says, and his wife told him, "maybe we should make this our tradition." 
What worked then, still works today. Every Friday and Saturday night the music stops, the kitchen pauses and diners at Casablanca in Rochester, as well as kitchen staff, all take a moment to practice gratitude out loud before raising a free glass of champagne to toast each other. 
On that harried night, $36 in his pocket was a big deal. Bojji's first Rochester restaurant was a hole-in-the-wall where he made Thai tacos eight scallops at a time. Once they sold a few tacos, Amber would take the money and run to the grocery store to buy more scallops and mangoes. Some days she went to the grocery store 10 to 15 times, he says. They could only have one daily special because there was only one wok, which he had picked up at a thrift store for $6. 
 "We told people we 86'd the lettuce, because we couldn't afford it," he says. Their success led to a second wok, and then "I got cocky and bought a third and every time I plugged them all in, I blew a fuse."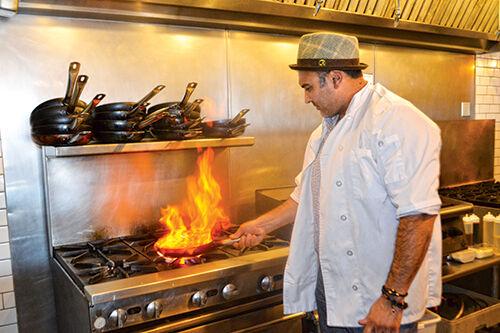 Bojji had cooked his way around the world with stops in exotic places like Paris, Barcelona and Thailand, but in essence, he admits, he started his career as a restaurateur with a restaurant that didn't have a kitchen. The couple, who co-own Casablanca, are much further along in their culinary journey than that inauspicious start. Casablanca is now located in Barlow Plaza, just a short stroll from the local Hy-Vee grocery store, if needed. But today, Amber is preoccupied with the latest POS system, not grocery runs.
But even though cash flow no longer makes it necessary to buy in limited quantities, Bojji still picks produce one piece at a time. "I don't buy by the case. I spend my therapy session at the grocery store. I'm the guy who takes one grape to taste," he says, smiling mischievously. 
A native of Morocco, Bojji grew up "where food is hard to come by," he says. "My mom would take me to the farmers market every day and she'd make me sniff the tomatoes" to learn. In the U.S., he points out, food has a much deeper meaning than filling one's belly. "You can go to a gas station to get food," he says. "Here we don't eat just to live, so it's an experience. We cook to express our feelings." 
Food should connect you to something in your life, Bojji believes. Whether a paella takes you back to a trip to Spain or a fish fry reminds you of your childhood spent at the lake, our food talks for us. 
When I ask what I was telling my children when I used to make them Kraft Macaroni and Cheese for dinner, he missed just a beat before answering compassionately, "That you were busy."
His own children, he says, only taste their dad's cooking at the restaurant; around the house he rarely cooks. 
Casablanca does have a set menu, but Bojji likes to also create on the fly. The dish he prepared on the day I visited was impromptu. "What do you feel like eating?" he asks, grabbing a pan. "Seafood?"
And armed with an enthusiastic affirmation, he began chopping fresh tomato, garlic, onions and celery; selecting the perfect scallop, fish cheeks, deftly smoking a lobster tail with rosemary and setting the pan on fire with top-shelf scotch. The end result was a beautiful Scotland Seafood Soup that was perfectly spiced. When I asked if he had a printed copy of the recipe, he looked at me in surprise. "You just watched me make it," he says, as if I could easily duplicate that performance—on paper or otherwise.
He asks his cook to make me a rather large portion of Moulin Rouge, a thick Gorgonzola sauce garnished with roasted pecans. It's usually served as part of a chicken dish, but as an appetizer it does perk up the day. "It's so basic," he enthuses. "It's that dish that you go home to after a bad day," and it fills you with joy. 
His showmanship in the kitchen is on view at a special chef's table that overlooks the kitchen. "This table is a ticket to Paris," he says, referring to the French-inspired dishes he prepares. 
Originally, he was going to call it Rick's Place, after the fictitious club in the classic movie, "Casablanca." While he altered the name, his piano player is named Sam, as in the famous line uttered by Ingrid Bergman, "Play it again, Sam." Sam Anderson says he dons a suit and tie on weekends and plays a four-hour set. And yes, the most requested song is the one from the movie, "As Time Goes By." "I must play it four times a night," Anderson, who just happened to stop by while I was there, says with a laugh.
"This is like my house," Bojji says about the restaurant, which may be one reason he skipped naming it Rick's Place. 
---
Casablanca Scotland Seafood Soup
This serves one, and is a bit of a free-form recipe (but delicious).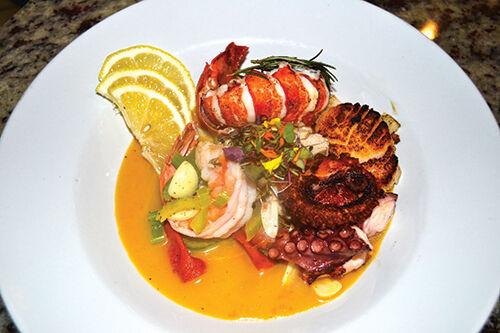 1 tsp garlic, sliced thinly
1 tsp capers
1 tsp lemon zest
1/4 stalk of celery, diced
1 tsp oregano
1/2 fresh tomato, diced
Butter
3 ounces scotch
2 ounces chardonnay
One small lobster tail
Three clams in shell
Three pieces of octopus
One large prawn
One large scallop
Fish cheeks
In a warm pan add butter, garlic, capers, lemon zest, celery, thyme, oregano and caramelize for about 30 seconds. Flambé with scotch, then add chardonnay and clams; cover to let clams open, then add the rest of the seafood. Cook for 6 to 7 minutes on medium heat. Finish with tomatoes and 1/4 stick of butter. As soon as the butter melts, take off the burner. Pour the liquid into a bowl and arrange seafood and top with micro-greens.