Just steps from the CC Club, Uptown's hallowed dive, lies Nightingale—one of the city's most ambitious neighborhood restaurants. The curving, navy booths against big windows contrast with the studded, cream-colored chairs lining the dim bar with its bottles against a light brick wall. 
It's standard stuff for an upscale neighborhood restaurant, but a lot of the excitement happens away from customers down in the basement, where chef and owner Carrie McCabe-Johnston is pickling and fermenting an ever-growing list of ingredients used to differentiate Nightingale's potent menu of snacks and entrees. 
While subterranean fermentation and experimentation might conjure images of Grandpa Munster, McCabe-Johnston's basement is the epicenter of her latest cooking adventures. The fermented hot peppers atop the pork confit, which she prepared during our interview, are just one example where creativity and attention to detail elevate Nightingale's high-comfort menu. 
Three years in business this fall, her experiments are growing in scope. The chefs also use a dehydrator to make in-house onion powder, bitters and Hungarian paprika that she says is "light years" ahead of the store-bought stuff. For space to tinker, she's working to convince husband (and front of the house/bar manager) Jasha Johnston to convert a portion of their home's basement into a second lab for curing meats and additional fermentations. 
Following accolades and financial success, McCabe-Johnston says the best part of Nightingale is its balance—putting equal attention and creativity into the food, drinks, ambiance and hospitality. 
"When we opened, we wanted everything to be equal," she said. "We wanted the feeling of the space to be as important as the bar offerings, to be as important as the food, to be important as truly hospitable service, and I think we've achieved that, which is a difficult thing."
Relaxed and friendly, but animated while talking food and cooking on the line, she said every year is an important mile marker, but as Nightingale turns three, she feels at a point where both the staff and the general public knows what the restaurant represents. 
"When we opened the menu was all small plates—there were no entrees," she said. "It was all made in the way that my husband and I like to dine out, which is to order a bunch of things, share them and go slowly; that's the kind of restaurant we wanted to have, and we learned pretty early on that's not what this neighborhood wanted."
Seeing customers leave having ordered just a plate of scallops with almond gazpacho and green grapes—but only getting two or three scallops on such a small plate—McCabe-Johnston knew they weren't satiated, so the restaurant quickly pivoted to larger, more traditional plates. 
"It's still the same type of food we make, it's still as creative—maybe even more so," she said. "Every year we get better, which is great and the public has allowed us to do that. You have to pay attention to what your customers want without losing your own identity."
That identity includes items like deviled eggs with Lake Superior herring roe and caviar, roasted mushrooms served with a quail egg sunny side up, smoked sturgeon chowder with bacon and a grilled swordfish with wild rice and sweet and sour squash—a team effort between McCabe-Johnston and sous chef Dan Berger, who's been at Nightingale since the beginning. They first met years ago when they worked at Alex Roberts' Restaurant Alma. 
"There are a couple things on the menu that are just him and quite a few that are just me, but the best dishes are the ones, I think, where we really tackle it together," she said. 
As a present to the restaurant on its birthday, the staff added a new department to the basement lab—an inversion table, foam rollers and yoga mats. Given the long hours put in by its owners, as well as the staff, McCabe-Johnston says they've already been getting a lot of use. 
"It's a testament to how we all take care of each other and it's great," she said. "I think it would be very difficult to work in this proximity with people and not be able to have that." 
---
Pork Confit with Spaetzel and Fermented Hot Peppers
Pork shoulder brine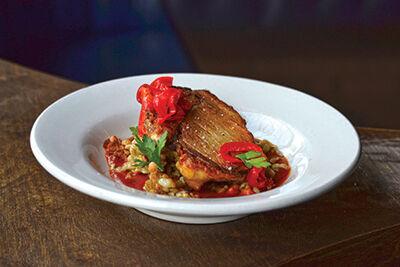 1 pork shoulder
1 gallon water
1 cup salt
1/2 cup honey
1 onion, sliced
6 garlic cloves, sliced
2 Tbsp black peppercorns
2 Tbsp caraway
1 Tbsp juniper
1 Tbsp mustard seed
Small handful each thyme
and parsley
Bring all to a boil, allow to cool. Add pork shoulder. Brine in cooler for 2 days. Melt down pork fat and add to 1/2 hotel pan. Add brined shoulder, cover with parchment and foil. Cook in a 300-degree oven for 4 hours. 
Rye Spaetzle
1 ¼ cup all purpose flour
3/4 cup rye flour
3 eggs
1 cup milk
1 Tbsp yeast
1 tsp salt
1 tsp baking soda
In stand mixer, combine flours, eggs, yeast and salt. Paddle for about 15 minutes. You really want to develop the gluten, so this extended mixing will change the matter from being quite wet to more structured. Let rest 15 minutes. 
Add baking soda to a gallon of salted boiling water; reduce to a simmer. 
Place a perforated pan, large holed colander or a spaetzle maker on top of the pot of water, press the batter through the holes using a spatula. Cook 2 minutes. Drain.
Paprika Sauce
4 ounces bacon, diced
1/2 onion, diced
5 garlic cloves, sliced
1 serrano chile, sliced
1 green pepper, diced
1/2 cup good quality paprika
1 quart chicken stock
2 ounces peeled and diced potatoes
1 tomato, quartered
1 tsp caraway
Sauté bacon in a bit of olive oil until it renders its fat. Add onion, garlic, serrano and green pepper until softened. Add paprika and stir for a minute as it becomes aromatic and deepens in color. Add the rest of the ingredients and simmer for an hour or until reduced by half. Puree in blender and pass through chinois. Season with salt.